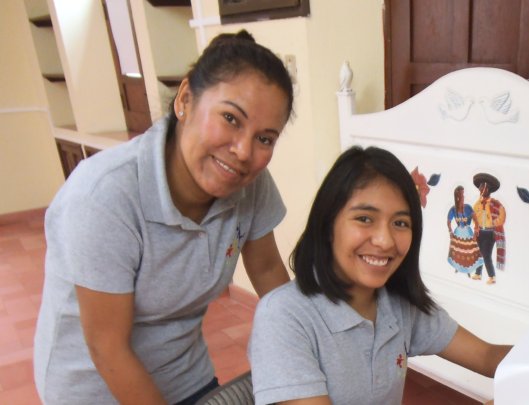 Two short years ago, Elena, a young woman of 27 years, was curious about the school for special education, Escuela de Educación Especial in Spanish, which had recently opened its doors in her community. She learned about the school from friends taking classes there. Because, like her friends, Elena is deaf she explained to us in Mexican Sign Language "I was unsure how I would fit in. I was afraid that my sign language would not be good enough". Overcoming her fear, Elena got up the courage to ask if she might be considered for a part-time cleaning job at the school. The school's staff were more than pleased to give Elena the opportunity and she certainly didn't let them down. She proved herself to be conscientious and dependable and her sign language skills were indeed good enough, in fact, more than good enough to communicate with others. This opportunity gave Elena, for the first time in her life, the chance to earn a little money of her own to contribute to her family.

A few months later, Elena enrolled in adult education classes at EEE with the aim of obtaining her primary school equivalency certificate, a dream she had thought would never materialize. For the first time she was attending literacy classes specifically designed for the deaf and, we are happy to report, is making good progress. Elena's self-confidence and happiness is in stark contrast to what it was when she first knocked on the school's door. It is obvious to all those who see her smiling face every day that she has found a place where she can come to feel valued, appreciated and be in the company of others who understand her. The school is a special place made up of some very special people, who apart from teaching academics, encourage all who are deaf or hard of hearing to join together in a culture and community that is uniquely their own.

Recently EEE began offering vocational training classes to the older students to teach skills with the view of giving these eager and ambitious young people a better chance of acquiring future employment. It was a surprise to everyone when Elena demonstrated an amazing talent for sewing! She had been taught to use an electric sewing machine as a young girl by volunteers from the United States but had never put the skill to good use. In fact, Elena is such a talented sewer that the school has offered her the paid position as a sewing instructor to the other students. What could be better than one deaf young woman teaching her special talent to other deaf young women?

Elena has experienced many "firsts" since coming to school and in the process has found her calling while living her dream of attending school and improving her sign language skills. Elena comments "I love coming to school every day".
Thank you for your generosity in supporting EEE and making these important "firsts" happen for Elena and her fellow students. We would be happy to hear your comments and suggestions. Please email us at info@eeesma.com
Links: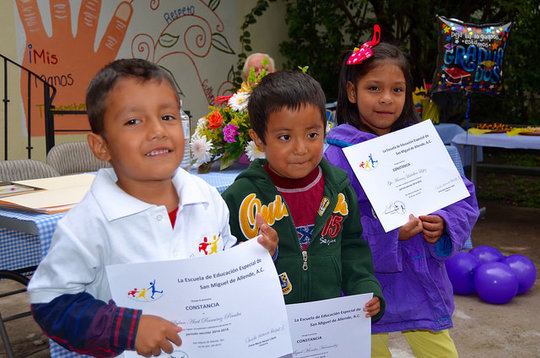 Thanks for your ongoing wonderful support and encouragement!
2015 continues to be very productive, educational and joyous for the students of EEE! Aside from regular classroom learning activities, the school continued with professional Mexican Sign Language classes conducted by Laura Navarro Tejeda, professional sign language interpreter from Universidad Politécnica de Querétaro, as well as with internet conferencing with Professor Tricia Wilmore from Flagler College, St Augustine, Florida and with our newest sign language instructor Ernesto Escobedo Delgado of Mexico City.
The Vocational Training Program continues to flourish with some excellent volunteer support from various skilled craftsman and instructors. The vocational programs focus on sewing, carpentry, silversmithing/jewelry and cooking. The older students are becoming very proficient in many of these areas and we can hardly wait to introduce for sale many of the crafts that they have designed and made by with their own hands.
The students and faculty are now on summer vacation after celebrating 2014/2015 graduation ceremonies on July 3rd. This year's event was a big success with all of our students progressing into new levels and with two of our students, Laura and Juan, graduating from middle school. Your generous contributions through Global Giving have made this possible. We hope that you enjoy viewing some of the smiling faces of students at the graduation event and will have a moment to view others at: https://www.flickr.com/gp/ronfel/0258H2 .
The new school year begins on August 22nd, and we can hardly wait!
Links:
Recently the school has introduced Vocational Training Programs to help the older students develop skills in sewing, cooking, silversmithing and carpentry. The programs are designed to teach the students real life job skills enabling them to find employment and to be more self-sufficient after they graduate. Most of the programs are currently taught by dedicated volunteers, residents of San Miguel de Allende, who generously offer their time and talent to pass along their knowledge and expertise. Following several months of training and instruction in after-school workshops, several of the students will be placed with local businesses as apprentices, initially along with a teacher/mentor to provide sign language interpretation.
One older adult student, José Luis, recently asked to attend EEE to learn to read and write and to learn Mexican sign language. Being profoundly deaf he had rarely attended public school during his life (there is no sign language available in Mexican public schools), and although he was starting his education late, asked the school if there might be "room for one more". José Luis has shown a real passion to learn, not only in regular school classes, but especially in woodworking and jewelry making workshops. He participates each day with determination and enthusiasm with the hope of learning a craft that will help him oneday earn a living.

Your generous donations, by helping to provide scholarships to these needy young deaf students, have helped them to recieve an education, one which they previously had no access. And now will also provide job skills training to assist them in becoming employable and productive citizens of their community. On behalf of the students, we can't thank you enough!
Links:
WARNING: Javascript is currently disabled or is not available in your browser. GlobalGiving makes extensive use of Javascript and will not function properly with Javascript disabled.
Please enable Javascript
and refresh this page.