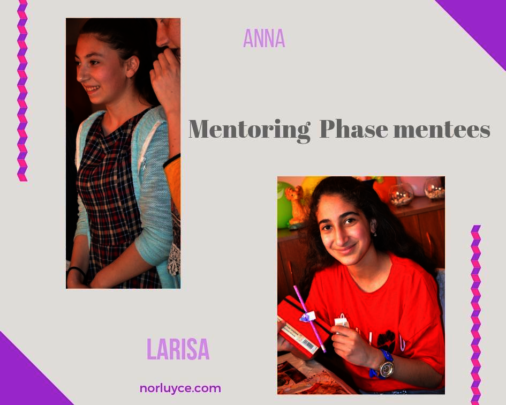 Anna is one of our mentees in our mentoring phase, which is the first phase of our program. When Anna first started at Nor Luyce, she was lacking in self-confidence and was very shy in big groups. Our first experiences with her showed us that she was very timid to speak in our group meetings and slightly embarrassed to share any of her opinions. As time went on and as we were able to interact with Anna more, she gained the confidence to speak her mind and share many of her opinions in group discussions. Anna has developed a sense of self and confidence here at Nor Luyce that has prepared her for taking the steps towards our next phase in the programs.
The next success story we want to share is another mentee in the mentoring phase, Larisa. Like Anna, Larisa was very shy and quiet while participating in group settings. Now, we are proud to report that Larisa has experienced a big change within her own self-development and has become one of our more active mentees. While in group meetings, Larisa now has the confidence to join in, in our group discussions while also starting many thought-provoking discussions with other mentees. She has many friends in the group and according to her mentor, she also makes interesting initiatives in organizing individual meetings.
Over the past 3 months, the mentees in this stage have participated in 3 group meetings, "Conflicts, Conflict Mitigation Strategies", "All Problems Have a Solution" and "Self-Assessing".
During the "Conflicts, Conflict Mitigation Strategy" meeting, the mentees revealed what conflicts they were experiencing in their lives and how those conflicts manifested. Once they discovered the conflicts in their life, they worked on discovering how to overcome those situations with minimal losses.
The goal of the ''All Problems Have Solutions'' mentoring group meeting was to provide the mentors and mentees with the ability to identify and solve problems. This allowed them to understand that they have the ability to control their thoughts and skill to find solutions for the problems that they face.
The last meeting was on the subject of self-assessment. The meeting helped our mentees and mentors identify their level of self-esteem and gave them the tools to help measure the impact their self-esteem has on their lives.
Within the mentoring phase, mentor-mentee couples have held a total of 144 individual meetings.
Currently, Nor Luyce has organized English Language classesfor the mentees and all the girls are excited to attend the classes.
Over the last few months, volunteers of Nor Luyce have participated in 2 mentoring trainings on "Leadership" and "Discrimination" topics. The meetings contributed to the increase in mentoring skills. Both meetings were held in a safe environment where all participants were able to speak openly and freely on these topics. This was a space and time provided to the mentors for developing open-minds and addressing all challenges associated with the topics. These trainings allow mentors to conduct better work with their mentees and share their learn knowledge and skills with them.