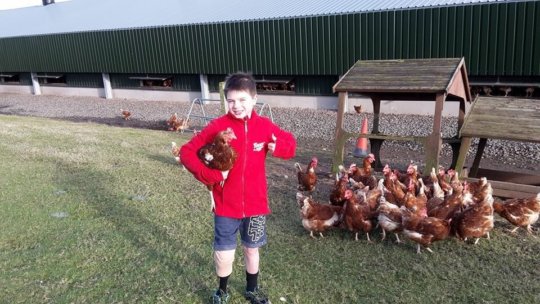 Glasgow Children's Hospital Charity is raising £150,000 to fund a surgical microscope at the Royal Hospital for Children. This piece of equipment will be used to help children such as Lewis, who required a lower leg amputation following an accident on his farm.

When Lewis, 8, fell off the back of a quad bike on his family's farm in Dumfries in October 2015, a lawnmower attached to the back of the bike almost entirely severed his leg.
Brave Lewis remained conscious throughout his ordeal and was even able to comfort mum Emily as he was air lifted to the Royal Hospital for Children in Glasgow. There, the medical team amputated his injured leg.
In the first of seven operations, parts of Lewis's ankle were attached to his knee to allow a below-the-knee amputation. This will give him greater mobility and significantly benefit his recovery, helping him to get active and back into sport more quickly.
At the beginning of the year Lewis received his first prosthetic leg and is currently receiving physiotherapy as he learns how to adapt to it. He has already had a taster session of amputee football, and hopes one day to be able to ride a bike again.
Mum Emily said: "We have been on a rollercoaster ride since October 2015, none of which we would ever want to see or experience again. Lewis has been an absolute megastar throughout and has never once complained about losing his leg. He has charged on regardless and sees everything as a challenge but he was always that kind of boy anyway, a real outdoor kid.
"Glasgow Children's Hospital Charity has played such an important role in Lewis' recovery. It sounds very strange but thanks to the charity it was all a very happy time. All the kids were enjoying themselves and forgot why they were there. Everything seemed 'normal'. We will be eternally grateful to them".
The Lead for Paediatric Plastic Surgery NHSGGC, said: "The new surgical microscope would have greatly helped Lewis who sustained a significant lower leg injuryvery recently.
"Part of his foot was attached to just below his knee as the bits in between were destroyed in the injury and not salvageable. While the operation was a success, he had to have extra operations to revise the reconstruction.
"I saw him recently as he was wheeling himself out of the hospital in his wheelchair. He was telling me how once he gets his prosthetic leg he is looking forward to learning to ski and snowboard. Without the operation he had, the options for this would have been more limited as he would have had to have a much more proximal amputation.
"While his multiple surgeries have been a success he and his family would have had a much less traumatic treatment course had, on the night of the injury, we had access to this equipment".
Links: