The corona virus continues to impact everyone worldwide. In Eswatini, the country has cycled back and forth between full and partial lockdowns. Essential services were allowed to continue operating and crossing roadblocks (with proper documentation of course). Public transport (which most everyone relies on) was shut down, allowed, and then restricted again. Mask had to be worn by everyone, which led to mass confusion as people were just sharing masks as they got on and off the busses and khombies (vans).
But the population Kudvumisa Foundation serves usually don't have the resources to travel to the closest real grocery store anyway. So life hasn't changed that much.
Kudvumisa Foundation still receives numerous people from the surrounding communities selling the marula nuts they have shelled or moringa seeds they've collected. While our markets have dried up altogether during this time, we continue to but the nuts and seeds from the surrounding community. The money they make can be critical even in the best of times as to whether they have food or not.
Kudvumisa Foundation is also upgrading our economic development work area during this time to become more hygienic for processing and storing the nuts, seeds and oils. Please help us come out of the Covid-19 season stronger and better able to serve the most impoverished, isolated and marginalized.
Links:
The last couple of months globally have been turned upside down as we learn how to live with COVID-19 in our communities.
Here in Eswatini (Swaziland) we have been through a couple months of borders closed (borders are closed between USA/South Africa, South Africa/eSwatini and Eswatini/Mozambique), and partial locking down the country trying to keep the spread low to assist our already strained healthcare system. Our partial-lock down has been extended through June in an effort to minimize the spread. Currently we are just over 230 national COVID-19 cases with only 2 deaths.
Having placed all new COVID-19 precautions into practice at the clinic, we continue medical outreach to our communities that are vulnerable and isolated! Our hope is that by helping the communities to stay home and out of the health facilities, public transport, and town for their HIV treatment, blood pressure medications, or basis health ailments, we help limit their risk of exposure to COVID-19 that has spiked within the towns.
Your monthly donations help us to continue to provide healthcare to the people within their communities. Our communities we serve in the north eastern region of eSwatini has yet to have a COVID-19 out break and we hope to do all we can to promote health wherever we go!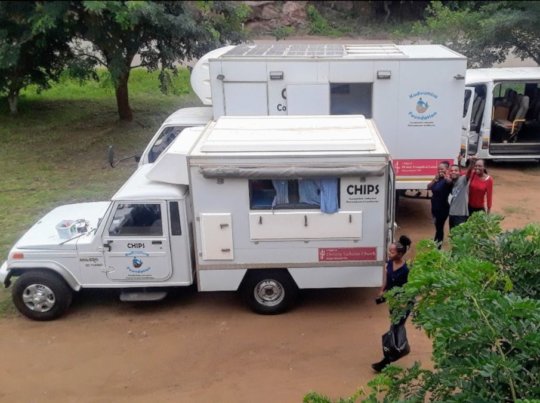 Links:
Last week, we were able to host a weeklong clinic outreach from our clinic facilities in Maphiveni. Visiting dentists, dental techs, specialist doctors, physiotherapists and general practitioners from private practice and the Ministry of Health all converged on the clinic to provide services to this impoverished and isolated region of Eswatini.
Many hundreds were helped with dental services, cervical cancer screening, HIV testing........
Kudvumisa Foundation:
78 tested for HIV, 2 positives found and both initiated by our nurses on ART (Anti-Retroviral Therapy)
7 linked to Voluntary Medical Male Circumcision (VMMC services provide in the clinic by JHPiego)
60 women screened for cervical cancer
JHPiego VMMC:
Rotary & Ministry of Health (MoH):
962 patients Registered
433 Received Dental Treatment
748 Treated for various medical conditions
102 received ENT consultation and treatment
48 underwent Physiotherapy
What was the cost? Nothing to the many hundreds who came every day for care. The actual value of services is still yet to be calculated.
Kudvumisa Foundation bore the cost of the facility. It cost roughly E2000 for electricity for the week of services. If there was a solar system for the facility, this money could have been saved and the money used for things like medicine and supplies.
This is E104000 for keeping the doors open for a year. This is about $7173/year depending on the exchange rate. How much better use of money if it could go to medical care versus lights? Please help us finish the solar installation for the clinic!
Links:
WARNING: Javascript is currently disabled or is not available in your browser. GlobalGiving makes extensive use of Javascript and will not function properly with Javascript disabled.
Please enable Javascript
and refresh this page.