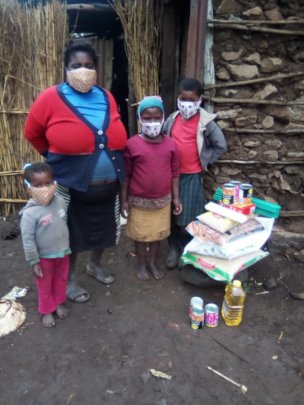 Economic empowerment requires two things: identifying under or unutilized local resources or skills and then connecting them to markets where the resources and skills have value. That is Kudvumisa Foundation's model. Covid-19 has thrown a wrench in being able to access local resources and broken the connection to markets. In some case, the markets have completely disappeared as borders have remained closed for months now.
Until things begin to return to something close to the old "normal", life has become very hard for many that Kudvumisa serves.
An example is Phindile in Vuvulane in eastern Eswatini. She is unemployed and raises her children alone. She relies on the Kudvumisa mobile health outreach for her health care. On this day, it was their second day going to bed without food. Thanks to donors, Kudvumisa is able to battle food insecurity caused by the complete breakdown of markets that Covid-19 has caused. Phindile shared "The Bible says we should not worry about tomorrow because God will take care of it." She thanked Kudvumisa Foundation for what they have done for her and added they must continue doing it for others as well.
Unfortunately, Phindile and her children's situation is not unique. Kudvumisa Foundation will continue to try to develop markets and open opportunities for Phindile and the hundreds like her in eastern Eswatini. In the interim, malnutrition and food insecurity are the major daily hurdles. Your donations help families weather this storm and prepare the way for future economic empowerment.
Links:
At 76, gogo (grandmother) Chazekile has only her daughter to take care of her. But her daughter is not working and stays at her marital home though her husband passed away some years back. So, her daughter is in no place to help her either. She did receive help in the past as a home was built for her by an MP (Member of Parliament) and she receives the old age social grant from government. But the grant has been delayed for three months and was barely enough to survive on when it did come.
Gogo takes care of a neighbor's little child who is epileptic in exchange for small amounts of food.
Kudvumisa was able to step in in to help her with basic food stuffs to help her tide over until the government social grant is actually paid. Donors make it possible for our medical outreach staff to identify those most vulnerable and needing emergency nutritional help. Basic nutrition helps the vulnerable fend of disease and infections.
Gogo Chazekile shares what she has with the even more vulnerable. We're thankful we can step in and help her in these precarious times where the Corona virus has made a desperate situation even worse.
Links: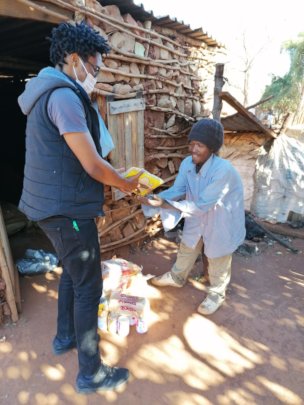 During this pandemic, it is even more important that the people we serve in rural Eswatini avoid being exposed to the Corona virus in public transport and at the clinic itself. Providing care directly in the community helps this impoverished population avoid exposure. So while the clinic is still open for those who might walk in from the surrounding communities, community based care provides additional protection to this population. The clinic is still in desperate need of funding to complete the solar installation! Every dollar spent on electricity could have been used to buy medicines.
In the community, the outreach provides access to health care and even food supplements. Sabelo is 42 years old and lives alone at Mgidzangcunu, an informal settlement in the sugarcane fields of eastern Eswatini. He is living with a hunchback (kyphosis) and is unable to get any decent job, especially during the pandemic. He cannot provide food for himself and relies on handout primarily. He relies on Kudvumisa's community outreach services to cater for his healthcare needs. When Kudvumisa gave him a food parcel this week he was at a loss for words. He thanked the organization and said the handout was timely since he had run out of food earlier in the week.
Links:
WARNING: Javascript is currently disabled or is not available in your browser. GlobalGiving makes extensive use of Javascript and will not function properly with Javascript disabled.
Please enable Javascript
and refresh this page.