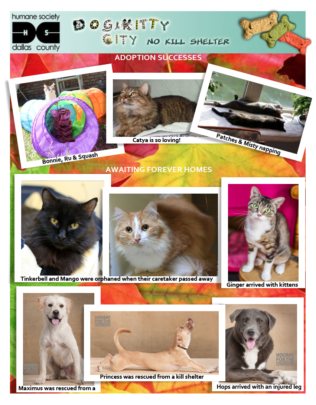 YTD 2015, you have raised $12,647 through GlobalGiving for Humane Society Dallas County/Dog & Kitty City. This has helped our shelter immensely and we're grateful! We rely solely on donations and you are helping to make an impact to create better, healthier lives for orphaned, abused and neglected companion animals that arrive at our shelter.
To date during 2015, we have rescued 467 dogs and cats and placed 406 with their new families. During the past few months, your support has helped defray the costs to spay and neuter 122 dogs and cats, get bloodwork completed for 6, dental care for 4, X-Rays for 5 and ensure that every companion animal leaves our shelter with a microchip.
Here are a few of our success stories:
Bonnie and her kittens -- Baby Carrot, Baby Lettuce, Baby Arugula, Baby Kale, and Baby Squash -- were abandoned in a box in front of the shelter when the kittens were only 10 days old. Bonnie was all skin and bones and grit. She practically inhaled all the food she could see. Her little ones hadn't even opened their eyes yet; you could fit three in each palm of your hand. The staff rescued them, worked through several medical issues and placed them in foster care. After several months, they were all adopted and are cherished by their families.
Catya was abandoned on the balcony of a third story apartment when her owner moved out. Luckily, a caring neighbor rescued her and brought her to HSDC. She is the most affectionate cat and adores people. Recently, she showed her new family how compassionate she was when their daughter started crying. She kept coming close and calmed her by nudging her for some petting.
Patches and Misty were abandoned at our shelter as kittens. One of our wonderful volunteers provided foster care to ensure that they received important socialization and love so they could be happy and healthy when adoption time rolled around. They were recently adopted and are doing great in their new home! A play/climbing area was built for them and they can get from the floor to the top in about 1 millisecond.
Thank you for making an impact on these furry friends.
Links: