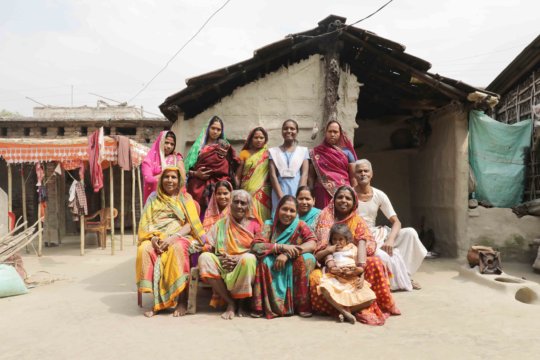 When hero girls are in stories (because there are not so many hero women at home)
Preeti with her cycle repair shop, Bijali and her carnival, Farah who is determined to learn how to drive, Seema who knows she can build her own swing, Aarti knows that girls can do everything, she's read about these girls in stories she's given, and is allowed to keep, at school.
She also knows and smiles as she shares her secret, that boys can do what girls are supposed to do. They're very good at cleaning. You just need to find a way to inspire them to share the work at home. And unfortunately, it's not often that your Mum or Aunts will insist boys help too.
Under the light of faintly shining stars, Aarti wakes up at 4am every morning, collects her books and walks to her coaching class. In an ideal world, her school would have enough teachers to teach all subjects and you would not need to go to coaching before school. Music plays on a loud speaker. Just any other day, Aarti cleaned up her room, made her bed, made tea and had a cracker for breakfast. She keeps track of each second on the clock. She has a lot to finish before she can actually go to school, and she does not want to be late.
About the cleaning and washing and housekeeping, Aarti's mother has left it to her, she's too old she explains to us now, too old.
Aarti has a brother but her mother does not think that he needs to share the work.
No one asked Aarti, if they did, she'd tell them what she thinks.
The songs in the background are the songs of a wedding day. Lyrics about when a girl leaves her parents' house and takes on the role of a wife, daughter-in-law, mother. The role of washing and cleaning everything, the floor, clothes, babies, food, plates.
'Cleaning' Aarti notes.
It's the time of a year when lots of people get married in Bihar. Leftover decorations in Aarti's house signal her cousin's wedding a week ago. For Aarti, who goes to school every day, and dreams of finishing Grade 12, marriage is not something people are talking about yet, though they may, soon.
Aarti's dreams are not really in line with what her mother has planned, or rather what her mother refuses to plan.
"What is the idea of doing anything for a girl's future, sure she should finish school, she should not get married before she's 18 because that's what I'm supposed to say, but then girls must learn to take care of the house.Women do not work outside of their house, once married, who are we to interfere in her new life."
'Cleaning' and it's this time that we make notes.
"If I get my way, I will never marry. There are many newly married people in my family, and I know the truth, that is, marriage stops you from being young. It cuts short your dreams. Young women, we lose our voices. We have to do what we should not be doing."
Her mother explains: "If Aarti finishes school, that would be the highest level of education she can get. And whether she works after that or not, will be her in-laws' decision. When my son marries I want a good daughter-in-law to look after the house. Sure if she wants to work I'll let her, but then my dream of help with the house will be lost."
A lull between the storm, quiet, unshaken, unafraid, Aarti encourages herself, she does not depend on anyone else, she does everything she must do to get to what she wants. She tells us that heroes are in stories. Role models don't need to be in your family. In real life. They can be other places. Like stories. TV. Cycling by.
What she thought was written in stone before: young men = no cleaning, fathers = no childcare, she's now realized is not so permanent. In the stories she's been reading she's seen young men share the household work (and clean!) and fathers look after children.
"Is my brother who is moving to the hostel this year, not going to cook and clean his room when he'll be on his own? Yes he will. And he can clean some more once he is married."
"Most of the stories are about girls. And that's good. Because boys have always gotten most of the attention before. I'm glad the stories are about girls. That's what's new about them. And they are about girls who have dreams other than getting married, they think out of the box, get wild yet stay focused, other girls are too distracted right now - about marriage."
Aarti says with confidence. "I thought if I speak my mind, my parents will think I am the worst daughter ever, now I know they will not. If I manage to succeed in work, to make it, then they'll have to be happy with me as an imperfect not-to-be-yet bride."
That's a good title for a girl hero story Aarti.