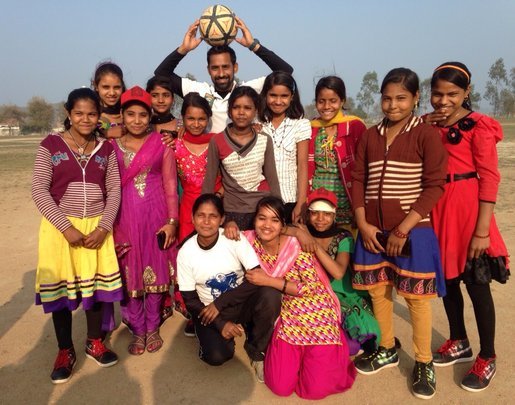 Thank you to our valued donors for your contribution and moral support. Since our last update, we have been able to raise and surpass the $6000 goal that was set. With this good news and a newly energized sense of hope, we have raised our goal to $10,000 and are now further motivated to reach out to a greater number of girls than the initial estimate of 130 girls.
In our last update written in early December, we mentioned that, as part of CREA's IMB Programme, sports camps and trainings were being organized and set up for the months of January to March across 65 villages in 9 districts of the states of Uttar Pradesh (U.P.), Bihar, and Jharkhand in India. Since then, the sports training and coaching camps have kick-started in January 2015 and will be coming to a close in the upcoming month. These camps have been a major success, with a major turnout of girls and a greater level of support from parents and communities than anticipated, particularly in the state of Uttar Pradesh (U.P.). Without your invaluable contributions, this success would not have been possible.
Both male and female coaches (Shakti Singh, Nikhil Naudiyal, and Swati Singh) from Coerover Coaching Academy, an academy based in New Delhi and led by Bikram Singh Tockchom (Chairman of Soccer Foundation India and President of AMMA Football Club Andro – Manipur), facilitated the camps and trained a cohort of 300 girls across the states. From these girls, a selected group of 130 girl leaders from various gaons (villages) were given specialized training and guidance to mentor and coach other girls within their gaons. Sports equipment (including footballs, caps, shoes, and shirts), and food and water were provided to the girls during the days of the camps as well as transportation to and from their villages when necessary.
In the district of Mahoba, U.P. in particularly, the turnout of girls was unprecedented, with the number of girls that showed up far surpassing the expected 25-30 girls. The girls also brought along their families, including mothers and brothers, in support of their training, helping CREA reach out to the wider community that sees girls participating in sports as something to be proud of. Kalpanadi, a CREA staff member who helps facilitate the IMB programme in U.P., stated that "[T]here are so many people from the community here to see these girls – this is a wonderful sign and gives us hope for the future of these camps in Mahoba" (Translated from Hindi).
Towards the end of each session, the girls got together and shared what they had learned, whether they had enjoyed the experience, and if they wanted to continue to learn past the camps. Based on their stories during these closing meetings as well as their informal conversations with CREA staff, the girls were extremely enthusiastic and every single one enjoyed the camps and learned at least one thing about football. A vast majority wanted to continue to learn. CREA cannot thank its donors enough for your support to allow for these stories to occur and for giving our girls a new sense of joy and fun in their lives.
As one of our first IMB participants, Deepa, said:
"The biggest change in my life has been that I am now not scared to go out of my house alone. I never used to play kabaddi, kho-kho, and other games in my village, but now, not just me, but all girls, come out and play. We all support each other and we all go to school in Mahoba together on our bicycles. This is the biggest change in our lives—that our parents are supporting our decision to study until we want to."
We hope that, with your support, more stories like hers can take place. Our current aim is to reach out to a greater number of girls - 200 girls - and continue to recruit and provide for the girls during these camps. We hope that you will continue to support our programme and help us reach our new goal to impact the lives of a wider community of girls in India.