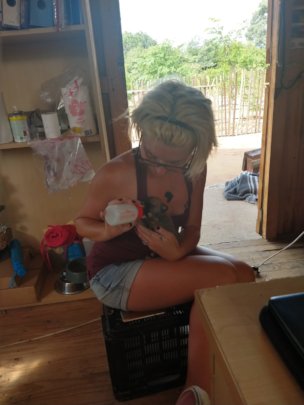 These last few weeks and months have been tough --- as funding has been quite slow. We also had the added expense of PUPPIES. We found a bag of discarded new born puppies, and one of our staff decided to rescue it ( proof that our animal kindess campaign is working, so thats good)
however finding a bag of 7 puppies is no small deal... two died in the first 24 hours from the sheer exposure and being squashed in a bag and thrown away overnight... 5 however survived. needing every 3 hours feeding, and having closed ears and eyes, thats how young and vulnerable they were. So this has been priority, feeding, keeping alive and raising these 5 puppies, called Survivor, Houdini, Moana, Joey and Batman...
We have still continued our sterilization campaign albei slowly--- but finding bags of puppies like this make me realise more than ever the IMPORTANCE of sterilizing to prevent unwanted ( and unaffordable ) puppies. You cant always blame the people who throw away their dogs, this isnt a decision they might have made lightly.. but when your living on the breadline, the idea of 7 more puppie is an imposssibiliy. Its your families food, or your dogs.. thats why the funding and ongoing support for our campaign to support this community in sterilizing their dogs, and educating is so so important.
thank you as ever for everyone who HAS funded and follows our progress!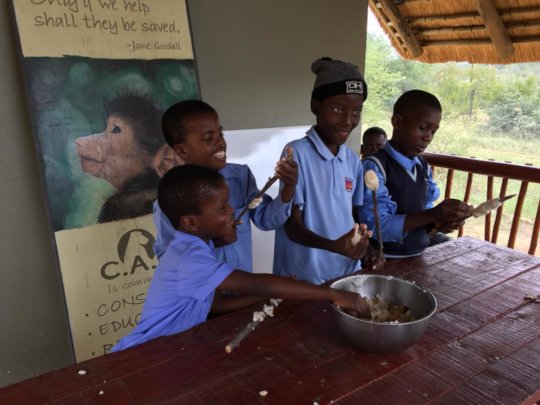 Schooling or education does not only mean classroom time--- but also havign the opportunity to broaden your horizons, expand your perceptions and learn by immersing yourself in new experiences in the world around you.
This is one of our focuses in our CONSERVATION pillar of Nourish, and is a big part of our EDUCATION program too, after all the two are so linked, one needs to understand and love what one wants to protect.
With the children we sponsor and donate to, we apply the Maslows pyramid of need, after base needs such as food ( our feeding scheme) and protection ( such as clothing ) one can then focus on education, and more abstract ideas such as dreams, hopes, goals, and conservation is one of these.
Look how cute these children ( in their SCHOOL UNIFORMS) are, on one of our Green Kidz field trips visiting a local baboon project and learning about these important primates. Having school uniforms allows them to go to school with pride and dignity, and take part in all the extra field trips at no cost. Saving funds on school uniforms allows parents to spend their money on food, hygiene and health... leaving us with these special learners - happy healthy and with their heads held high.
Thank you all for your constant support!
Sarah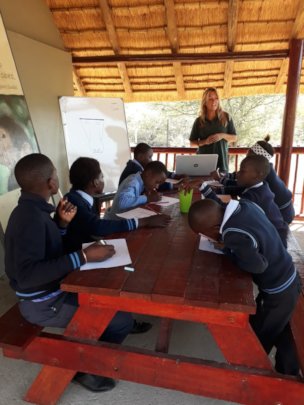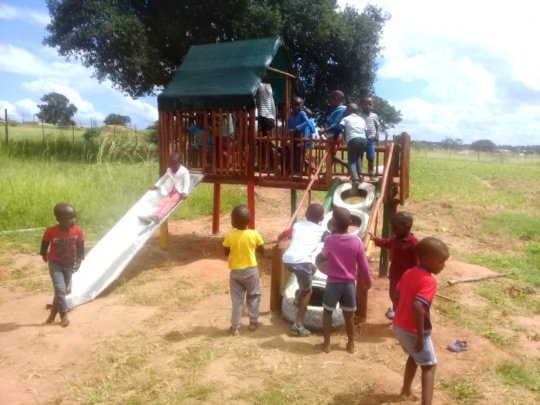 There is always so much Happiness and Excitement working not only with the Nourish creche - but also through the RISE Creche outreach ( supporting 6 pre-schools/creches in our surrounding communities. ) It has been a special few months as we have experienced an outpouring of love support and donations for these creches.... many of whom are run by community volunteers who take no salary and care for anything from 15 - 80 children daily, keeping them clean, fed, safe and stimulated.
One of our special Creches run by a caring but strict lady called Limmy is Bhoikhotso - set half an hour on a bumpy dusty dirtroad deep in one of the rural community villages. Limmy has 59 children that call Bhoikhotso their safe space, and even though they dont have much the children happily sit under the big tree in the yard and sing songs and recite the alphabet...
Thanks to generous donors from Holland ( who i wont name here) we have gotten the funds to build Bhoikhotso a playground complete with Jungle gym and swing set. The photos speak for themselves, the children LOVE it. Happiness truly is the freedom to play. We remember our basic human rights, the right to food, water, freedom.... the right for a child to be a child.
thank you to every sponsor small and big, for helping us find a childs life, their freedom, their childhood.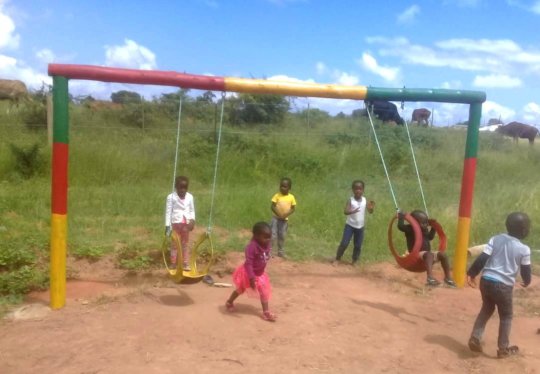 WARNING: Javascript is currently disabled or is not available in your browser. GlobalGiving makes extensive use of Javascript and will not function properly with Javascript disabled.
Please enable Javascript
and refresh this page.