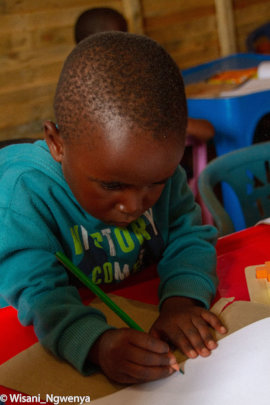 Isnt is amazing to see how we are creating ripples!
Through your support and the love each of you give ( whether its been once off, or those that have monthly donations set up, THANK YOU!!)
We now have a creche with 35 children aged between 6 months and 5 years old... we are at the point that we are now actually looking for funding for a second wendyhouse or building as we cant fit all the children into our container creche. Isnt it amazing to think just over 2 and a half years ago we started, with a few children and 2 mothers who came with hearts full of love to volunteer their time, and now thanks to all the support of donors and the community our teachers feel empowered and proud of their creche, and boy how it has grown! The children come daily and get 2 warm healthy meals and a snack, thanks to our chickens, as well as healthy Nutrilite supplements to makje sure the children are growing healthy!
In addition our RISE early childhood development outreach now supports 5 community based preschools (creches) throughout the area, and we are fortunate enough to see the happy faces when we get feedback and reports. We have had warm blanket donations, as well as toys, and through partnerships have even managed to put paid salaries into place for a few teachers... ( although this is a constant funding challenge ) but todays report is just to show you how amazing it is to be in this position of expansion and growth, growing not only young minds, but also to more projects, and this is all thanks to YOU!
Thank you, and look at all the happy faces you made possible!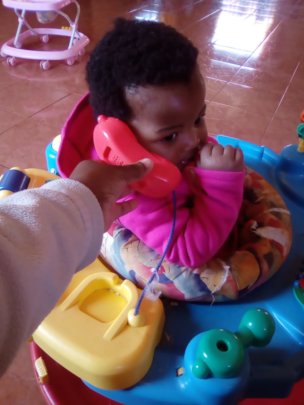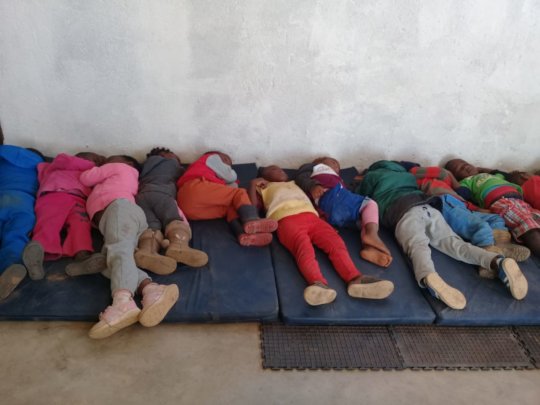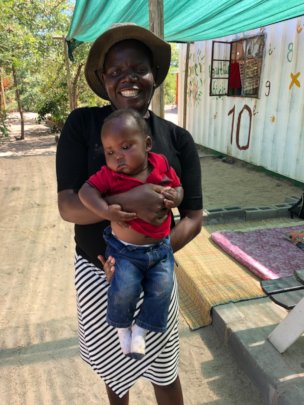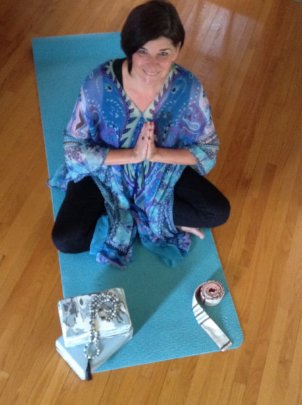 In order to raise funds for the Ubuntu Yoga deck at Nourish Eco Village, we have set the target of some serious fundraising, to raise around R 100 000 to be able to start covering the costs of building the foundations, roof, storeroom and blinds.. and then start to kit out our commuity based studio with mats, straps, blocks and bolsters...
At the same time, we are continuing to identify and train young women, nurturing the love of yoga and supporting the skills sharing process. This is happening slowly, but as we all know, Rome wasnt built in a day... and nor is Africa. Valencia is slowly working her way towards accreditation, coming to classes whenever she can and practicing by teaching her colleagues at the place she works. In the meantime we have indentified two other potential Yoga candidates and Jacquie is heading out in the next two weeks for their first Intro to Ubuntu Yoga class. So watch this space.
In the meantime we have taken the first step towards our building, we have been collecting Eco Bricks ( plastic 2 L containers filled with unrecyclable scrap plastic) and storing them, ready to use them to build our buildings foundation. Also Jacquie has hosted two wonderful Ubuntu Yoga Classes in her home country of Canada. All proceeds from these classes and any sales come straight to the Ubuntu Yoga project, so we are super excited now that she is back, with funds in hand ( and thank you to those that donated via this GlobalGiving platform).
We are ready to get going, so will set out the pegs next week and start digging the foundations, making our dream of a yoga space at the Nourish eco village a reality.. we are already putting together a Yoga Retreat in early September!
Thank you to everyone for your support and for sharing our dream!
Until next time, Namaste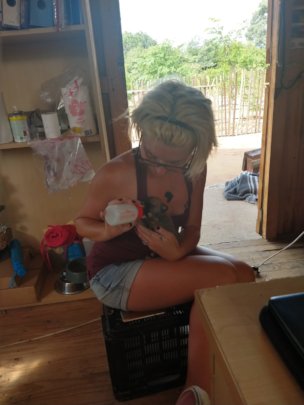 These last few weeks and months have been tough --- as funding has been quite slow. We also had the added expense of PUPPIES. We found a bag of discarded new born puppies, and one of our staff decided to rescue it ( proof that our animal kindess campaign is working, so thats good)
however finding a bag of 7 puppies is no small deal... two died in the first 24 hours from the sheer exposure and being squashed in a bag and thrown away overnight... 5 however survived. needing every 3 hours feeding, and having closed ears and eyes, thats how young and vulnerable they were. So this has been priority, feeding, keeping alive and raising these 5 puppies, called Survivor, Houdini, Moana, Joey and Batman...
We have still continued our sterilization campaign albei slowly--- but finding bags of puppies like this make me realise more than ever the IMPORTANCE of sterilizing to prevent unwanted ( and unaffordable ) puppies. You cant always blame the people who throw away their dogs, this isnt a decision they might have made lightly.. but when your living on the breadline, the idea of 7 more puppie is an imposssibiliy. Its your families food, or your dogs.. thats why the funding and ongoing support for our campaign to support this community in sterilizing their dogs, and educating is so so important.
thank you as ever for everyone who HAS funded and follows our progress!
WARNING: Javascript is currently disabled or is not available in your browser. GlobalGiving makes extensive use of Javascript and will not function properly with Javascript disabled.
Please enable Javascript
and refresh this page.