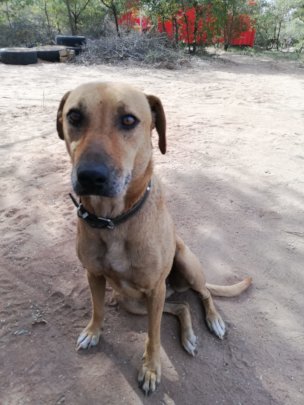 Things are slow at the moment due to a lack of funding for our weekly TVT treatments and dog sterilizations, so we are really hoping this will pick up. Whilst we do continue especially with TVT treatment, a lack of funds leaves us scrambling to reallocate different project funding to cover the much needed shortfall.
In addition we have had a vehicle breakdown -- so have a vehicle in for repairs, giving us a fundraising target of R 14 500 just to pay off the vehicle bills! So if any of you are able to continue to support the project with even 5EUR or 5 DOLLARS this would really help us! Even a monthly donation of 5 DOLLARS will go a long way towards our running costs!
In the meantime, ---why dont you meet some of the happy rescue dogs that call Nourish "home". Lilo was rescued with her brother Stitch in the village about 3 years ago, they were in terrible condition-- filled with mange, ticks, fleas, skin scabbed and bleeding, starving ribs showing... because they looked so scary and would often try to steal food, people would chase them away, throw rocks or boiling water at them.. when we found them the vet said they would either make it and survive, or they would die in a few days time. For weeks we kept both pups indoors, rubbing coconut oil on them as they lost all their fur, and slowly started to heal... we kept them at my house for over a year, with Stitch the little male, happy and so so loving, but never fully recovering. Whilst sadly Stitch passed away, Lilo flourished-- her hair grew back, and she is the happiest, most protective, loyal dog you will ever find. She now lives at Nourish and is the matriarch of the pack... if you ever come visit she will be the first to jump up at the gate and bark, and the first to roll over for a belly rub. Meet Lilo-- the most special rescue girl.
In the beginning she was terrified of the children coming to the aftercare center, due to all the abuse and neglect she had suffered... the children similarly were scared of dogs, its been a slow journey teaching the children how to stroke and wash lilo, how to stroke a dog... and its been special watching the love and healing take place on both sides. so for today, LILO- our special girl!
Thank you for everything everyone makes possible!