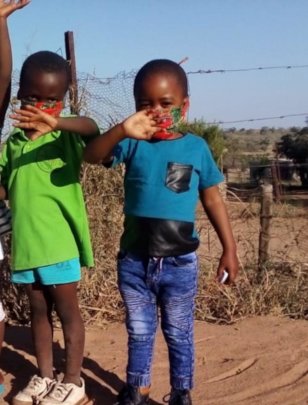 Another newsletter ( and season ) comes and goes and South Africa is still firmly in Lockdown to ride out the Covid-19 pandemic, trying to restrict movement to keep the spread low, especially in poor, and vulnerable communities, where overcrowded homes and already compromised immune systems make the vulnerable even more so.
Over the last few weeks it was decided that Early Childhood Development Centers could open at their own discretion, so we decided to use funds from your amazing donations, to make sure our Nourish creche as well as the RISE creches and creches around us had the best possible chance to open safely. We called together 2 teachers from every creche and hosted a workshop at Nourish on Covid-19 awareness and safety.
The focus of the workshop was how to maintain best practice in terms of handwashing and hygiene, and it was a fun, facilitated and interactive session, including in true Africa style a song about how to wash hands and wear a mask.
Each teacher after the workshop got vegetable seedlings to take back to her creche to start or support food security for the children and their families, as well as a mask for every child. The teachers were also shown how to make simple 'tippy taps' handwashing spaces using recycled bottles, so that if they choose to open their Creche, they can do so whilst making sure the children can stay safe.
Life is about adapting, and we are so grateful to have had the funds from your donations and support to make this worthwhile workshop possible. We have 38 children in our Nourish creche and 265 children in the RISE creches, so this workshop went a long way towards keeping almost 300 children safe.
We are now busy making resource packs for the children from the Nourish creche ( which has chosen to stay shut, as this was the community parents request) so sending home weekly booklets with lesson plans and resources for the parents and homebased carers to use for their children! This week will see our first distribution of Nourish creche resources to our homes, so we will share about this in our next newsletter
Thank you for believing in us, for supporting our work and for believing in us! Your contribution makes a difference in the lives of children! We are so grateful!