As many other countries in the world, Argentina is getting ready for the corona virus peak in the coming months. Schools didn't start their classes and restrictions for moving around the city are getting stronger every day. It is more than possible that in the coming days the national government will declare a total lock down.

As you can imagine, this has affected all our activities and put on stand by our programs with the community. However, we are adapting to this situation and developing ideas to get in contact with our participants by phone and digital networks in order to help out were possible and making sure everyone can get the services they need. We are also working with the city goverment and other organizations sharing information, mediating and putting on the spotlight problems that our kids and their families faces. In this crisis one of the most vulnerable group are those living in extreme poverty conditions. But we keep on going, adapting and being resilient in difficult times for the world planet. It is time to put in practice everything we have been preaching and working for years: being good at uncertainty, building trust and condifence we need in societies to go trough this with the less impact possible, realizing that we are all connected and we need each other.

These are times to reflect on what kind of world we want to live in and to value things we took for granted. Let's learn together and create the best version of ourselves. From all species living in planet earth, we are the only one with the capacity to take of all the others (including ourselves), and that's great. Let's be great, then. Thanks for your support in this difficult moment, stay strong and take care of your beloved ones and your community.

Please continue to follow us through our social media accounts - Facebook - Twitter & Instagram

All our hugs and love, Mario Raimondi
As many other countries in the world, Argentina is getting ready for the corona virus peak in the coming months. Schools didn't start their classes and restrictions for moving around the city are getting stronger every day. It is more than possible that in the coming days the national government will declare a total lock down. As you can imagine, this has affected all our activities and put on stand by our programs with the community.

However, we are adapting to this situation and developing ideas to get in contact with our participants by phone and digital networks in order to help out were possible and making sure everyone can get the services they need. We are also working with the city goverment and other organizations sharing information, mediating and putting on the spotlight problems that our kids and their families faces. In this crisis one of the most vulnerable group are those living in extreme poverty conditions.

But we keep on going, adapting and being resilient in difficult times for the world planet. It is time to put in practice everything we have been preaching and working for years: being good at uncertainty, building trust and condifence we need in societies to go trough this with the less impact possible, realizing that we are all connected and we need each other. These are times to reflect on what kind of world we want to live in and to value things we took for granted. Let's learn together and create the best version of ourselves. From all species living in planet earth, we are the only one with the capacity to take of all the others (including ourselves), and that's great. Let's be great, then.

Thanks for your support in this difficult moment, stay strong and take care of your beloved ones and your community.

Please continue to follow us through our social media accounts - Facebook - Twitter & Instagram

All our hugs and love,

Mario Raimondi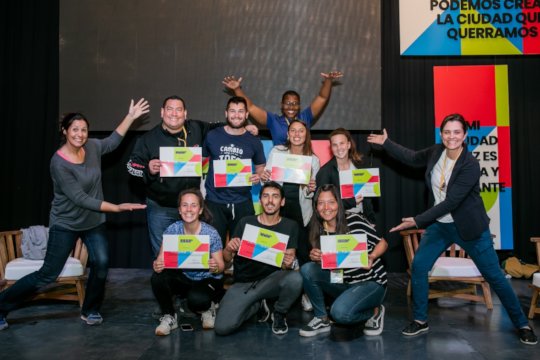 As a new year is coming to an end, girls had the opportunity of traveling to Buenos Aires- the country capital, where they shared a day with a friend organization- Defensores del Chaco, and visited some touristic attractions.
To make that trip a reality, they fundraised some money by selling empanadas- typical Argentinian dish- and got help from their families during the cooking day.
Once back in Rosario, they had a year end activity shared with friends and families in the local park, filled with games and lots of fun. No doubts it will be a year to remember for every participant of the 2019 team.
Before all of this, during september, El Desafío had the 6th Happy Cities Festival, where we discuss how cities help develop youth and for the first time we had a "Sports for development Academy"- a week long intensive training for sports coaches from the country to share our knowledge on how to use sports for develpment.
It was definitely a year filled with new experiences, lots of knowledge and we are looking forward for an even better 2020.
As always, thanks for your support, and please continue to follow us through our social media accounts - Facebook - Twitter & Instagram
WARNING: Javascript is currently disabled or is not available in your browser. GlobalGiving makes extensive use of Javascript and will not function properly with Javascript disabled.
Please enable Javascript
and refresh this page.