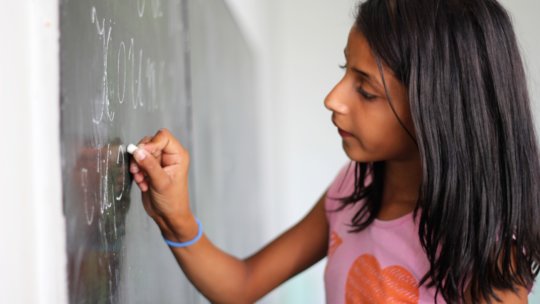 Dear Teach For Bulgaria supporters,
Thank you for contributing to our Bulgarian as a second language project!
Your donations are going a long way to help the creation of materials for language support for students in primary school who are not native Bulgarian language speakers, thus allowing them to receive a more equitable start at school.
The COVID-19 pandemic and the resulting emergency state in Bulgaria exacerbated inequalities which already existed in the education system and resulted in many children from economically disadvantaged backgrounds, including students from the Roma minority, having no way to participate in the online distance learning process.They either had no access to the internet, no device to work on or both. Many of them could not receive support for their studies at home, as for 55% of Roma families the main language of communication is different from Bulgarian and 19% of Roma adults are illiterate. This has left a huge gap in these students' learning experience and knowledge acquisition and this is another need that this project will address.
Even before the pandemic, children in this type of situation were having difficulties at school and within their wider community. Rosa, who lives in Sheker Mahala in Plovdiv, Bulgaria is in such a position. She is often scared to leave her neighbourhood as she has been the victim of insults. She rarely participates in class. She tries to copy letters from the board, but the teacher usually erases everything before she has had a chance to catch up. She knows a few words in Bulgarian, but she struggles in all subjects. However, everyone around her simply acts as if she just has to be fluent in Bulgarian.
According to the Ministry of Education and Science, the percentage of children who entered the classrooms for their very first time at the beginning of school year 2019-2020 and whose mother tongue was not Bulgarian was between 25 and 30% of all first graders.
Once we finalise the development of the language support materials for all primary levels we can begin the dissemination process and reach all teachers in the system who would benefit from using the methodology to better address the needs of their multilingual students.
Thanks to your continued support we are able to keep doing this!
During the next calendar year we will be developing the language support materials for 2nd grade students and if the generous support of our donors continues, we will be working until we complete those for 3rd and 4th grade and begin the dissemination.
We hope you will continue to support this project and help us reach as many teachers and students as possible.
Thank you for believing in our cause!
TFB Team