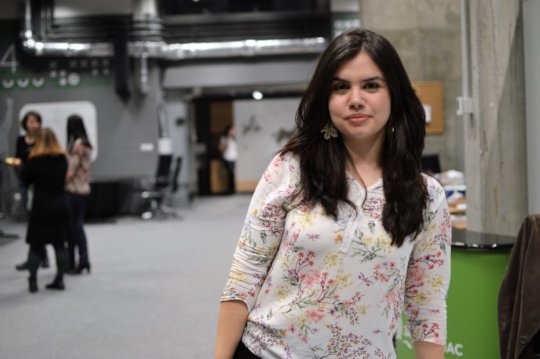 Dear TFB supporters,

On April 10, Teach for Bulgaria officially closed the 2018 recruitment season for incoming participants and we are really pleased to welcome the new ones, who will begin their training in the summer. As you know, the Academy is a part of the practical training for the incoming cohort of participants before entering the classrooms in September. This Academy is very important for developing their skills along with developing children's skills. Additionally, the Academy provides free summer education for over 1,200 children from low-income communities in Sofia every year. Thank you for your continuous support for Teach For Bulgaria's free Summer Academy.
In this report, I want to introduce to you one of our new participants from 2018 cohort – Gabriela. We've asked her a few questions. See below what her answers are, what motivates her the most and why she choose to participate in Teach for Bulgaria program.
Gabriela is 22 years old and she's a psychologist, graduated from Sofia University St. Kliment Ohridski. She says: In the next two years as a teacher I expect many. Many challenges, many successes, many changed destinies and many friendships for life.
If you have to present yourself in one sentence, what would it be?
I'm a psychologist with an enormous place in my heart for the cause of bulgarian education.
Why did you choose to apply for TFB program?
When the end of my bachelor's degree came, I was pretty confused where should I go and what should I do. I've decided to wait with my master's degree for many reasons. But I was certain that I would not be 'just stand there and watching'. I looked at myself and in my values. I realized that quality education has always excited me and that topic really set the fire in me. Then I thought how many people didn't have the same opportunities I had in my education. I said to myself - TFB would address these attitudes and beliefs of mine in the right direction. And that's how it happen.
What do you expect from the next two years?
I expect almost everything - many challenges, many successes, many changes destinies and many friendships for life.
What education do students need to be successful in real life and to be happy?
High-quality education that opens opportunities and motivates students for a better future.
We would really like to thank you for your support for this project. Your help allows us to attract more people like Gabriela, who are working for success of every child especially for underperforming children in Bulgaria. By supporting TFB Summer Academy, you give a chance for more students to participate in and to expand their skills and academic knowledge.
Links: