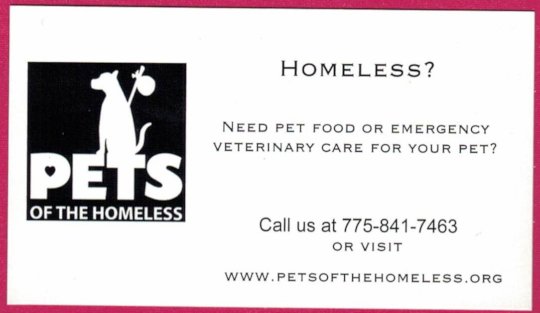 Every day we see an increase of homeless callers asking for our help. This will help to explain why: In an official UN letter to the US written in March 2019 – "More than 7,400 families are evicted in the US every day, resulting in the eviction of millions ever year. Rents in the US increased by 22 percent on average between 2006 and 2014, while average incomes decreased by six percent."
It is no wonder that homelessness across the US has increased. When you have a pet, the choices get complicated: a roof over your head at a shelter where pets are "not allowed", relinquish the pet to an animal shelter or sleep in your vehicle or the street with your pet. Most choose to keep their beloved pets.
Since we do not receive government funding, we rely on your support to help us pay for emergency cases like these recent ones below. (Note that some photos may be distrubing)
Case managers are averaging 20 cases a week.
Laura called Pets of the Homeless in July of 2018 seeking assistance for her dog, Tinkerbell, a 7-year-old female Chihuahua who had a hernia. Laura stays in a tent on the riverbed in the Ramona, CA area, and is disabled and receives SSI and food stamps. We approved an examination; however, she was not able to make her appointment.
Laura called us again in January of 2018, which is when we began verifying homelessness. We interviewed her again at that time. However, she did not have anyone call us to verify her homelessness.
We received another call from Laura in October stating that Tinkerbell still has a hernia and that someone called Animal Control about Tinkerbell. The officer was requiring that Tinkerbell have an appointment at a veterinarian to evaluate the hernia within a few days. Laura asked if the officer could verify her homelessness. We said "yes", and the officer called us about a week later and verified her living situation. We then were able to approve an examination.
Our Case Manager finally located a veterinarian who could do the surgery, Country Pet Hospital in Alpine, CA. After discussing Tinkerbell's condition and Laura's situation with the Office Manager, she spoke with the doctor. The doctor said he would do the surgery for our funding limit unless of course the condition was worse than expected. Laura scheduled an appointment with the hospital for October 23, 2019.
When Laura arrived with Tinkerbell, the Office Manager called us and asked if we had seen the hernia. We had not. She sent us the above photos. She said the hernia was very bad and the doctor was concerned that the muscles may be too weak to hold the stitches and he would do the best of his ability to fix the hernia, and also spay Tinkerbell as animal control required. After the surgery, the Office Manager said there were two hernia holes that needed repair and that the surgery went well. The Animal Control officer called and they confirmed the surgery including that the spay was completed.
We assisted with $800 for Tinkerbell's hernia and spay surgery that included catheter placement, IV fluids, spay, hernia repair surgery, injections, anesthesia, surgical prep and room, hospital care and cage sterilization. The hospital wrote off the remaining amount of $172.00.
Chloe is a 10 year old spayed female Sharpei Boxer mix who lives with her homeless human, Marcus, in a tent on BLM land in the Rogue River, OR area. Marcus called us because Chloe's leg was swollen badly for about 2 months now and she has been crying out in pain. We verified that Marcus is homeless and approved an examination at Animal Clinic of Rogue River.
The veterinarian called us after the examination. Chloe has a very large lipoma, causing impinging on nerves and muscle. The estimate to remove the lipoma was $600 - $815. We immediately approved a cytology.
The lipoma is pressing on nerves and the muscle that causes the leg to be intermittently lame. The veterinarian said it is big and wraps around half the leg. When he gets in there to surgically remove it, he can usually peel it out. He will not know until he starts the surgery. He said it is definitely causing pain. We approved the surgery to remove the lipoma.
The surgery was performed a few days later, and the doctor successfully removed it. We contributed $718.57 towards Chloe's care, which included examination, cytology, injections, anesthesia, nursing care, surgical preparation, surgical packs, mass removal surgery, IV catheter and fluids, and medications.
Bill from Oric, CA called us because his spayed female Border Collie mix had an ulcerated tumor on her side. Ashley is ten years old and Bill got her from a friend who passed away. He has taken care of her for 4 years and reached out to us seeking compassionate care. Ashley's mass on her side was open and raw. She would lick, chew and scratch at it. Ashley and Bill live in their tent in a thicket near the freeway. A homeless outreach team gave Bill our phone number to get Ashley assistance.
We are grateful that we were able to form a new partnership with Sunny Brae Animal Hospital. Dr. Hight and the office manager provided a seamless service in this urgent situation. Ashley had surgery and important evaluative care. Pets of the Homeless™ provided over $750.00 in surgical care and Sunny Brae provided $179.05 in discounted services.
If you have any questions please feel free to contact our national headquarters.
Links: