Dear Friends,
As I write this report to our supporters each case reminds me of the reason I needed to start this organization. Now into the sixth year my passion increases as I hear the voices of the homeless who are frantic to get help for their beloved companion who is in pain. The tears that we hear in their voices as they describe the injury or the illness and then the gratefulness that someone is listening and will help.
Since my last report Pets of the Homeless has been quite busy. From October 1 – December 29, 262 pets have been assisted with your donations. The breakdown is: 22 cats and 19 dogs were given vaccinations at wellness clinics that Pets of the Homeless sponsored. 56 cats and 165 dogs were treated for emergency injuries or illness.
Here is an example of a few of the cases:
Jacqueline, a victim of domestic violence, lives in her van with her dog, Ohano in Northern California. Ohano is a miniature pinscher and was not drinking; eating little and shivering. After many tests and x-rays the doctor gave Ohano a pain injection, special food and a prebiotic. The dog was stressed and turns out the owner had been giving the dog grapes which are toxic to dogs. Lesson learned.
Diana, who has been homeless in Southern Calif. for four years, called us about her two German Shepherds. Stormy's (8 years) hips are giving out and Junior (5 years) had bumps on his lips. Both dogs have been neutered. Stormy was treated with an exam, x-ray. The doctor suspects arthritis or hip displacement. He will be going back to the vet for a re-check and senior blood work. Junior had an exam, cleaned wound on lip, antibiotics and special shampoo.
A homeless veteran in Portland, OR called for help when her kitten, Chacha, started having diarrhea. After the exam, and fecal testing the veterinarian gave Chacha an antibiotic and her vaccinations.
Winnie, a male Datsun just wanted to be near his owner, Lorenzo. They live in a homeless community. Lorenzo was mugged over the Thanksgiving holiday weekend by other homeless men. Winnie did his best to protect his owner, but was kicked in the jaw. The broken jaw bone was protruding through the skin on the inside of the mouth. Winnie had surgery and is recovering nicely.
Baby Girl is a spayed, 2 ½ year old American Bull Dog. She went missing for 5 days and when she came back to her owner Celene she thought that Baby Girl had been hit by a car. She required surgery to clean her lacerations and suture them. Baby Girl is "all fixed up" and back with her owner.
Syble called when her two month old puppy was accidentally stepped on. She is homeless and lives behind a carwash in San Bernardino CA. Gizmo, a Chihuahua mix had a head and neck trauma. Doctor called and told us his eyes were rolled back and fluid was building up in his head; needed to have stint inserted in head and to stomach to survive. He could not treat the dog and it would have to go to a specialist. The cost would be thousands of dollars, the owner decided to have dog put down.
I know there are many worthwhile charities you can pick to support and we are very grateful for your past donations and hope that you will continue to help these precious pets that belong to the homeless. Homeless folks are often isolated and their pets help in so many, many ways. Your funding is so appreciated.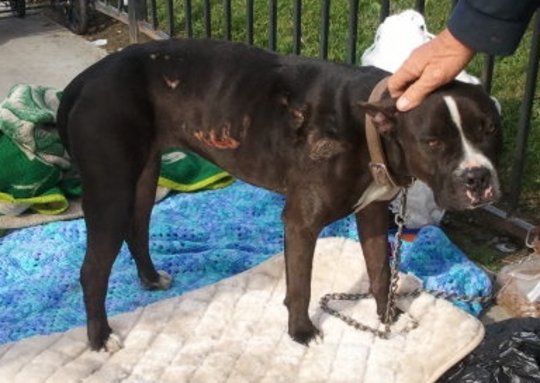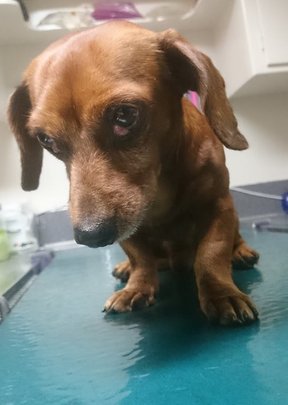 Links: