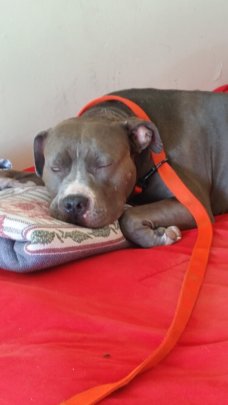 Pets of the Homeless has been really busy!
During August 8 – November 6, 2015, we took on 89 emergency cases. The invoices totaled $20,031. $818 was discounted by hospitals. Veterinary costs have risen like everything else and we thank our hospitals that have given us these deep discounts. Still the average hospital visit was $225. This would be out of reach for most homeless.
During the same period of time Pets of the Homeless sponsored 6 wellness clinics, in NM, OR & AR. These clinics saw 173 pets, most were given vaccinations and a basic exam.

A few examples of the types emergencies we handled:

Baby Girl is a six year old spayed pit bull who lives with her homeless owner on the streets of Sacramento, CA. Her owner has serious mental and health issues. POTH helped Baby Girl in July of this year as someone had kicked her hip and she wasn't putting any weight on it or eating or drinking. She has a ruptured cranial cruciate ligament and needs surgery that would cost too much at this time.

She called us again in a panic, as Baby Girl was attacked by another pit bull who apparently has killed eight other dogs. Baby Girl had a huge gash on top of her head, an injured ear and toe nail. The veterinary hospital provided a free exam and POTH paid for blood work, anesthesia, laceration repair surgery, pain and antibiotic medications.
The hospital said Baby Girl was very sweet and gentle. When they checked on her post-surgery she was trying to wag her tail.

Baby Girl's owner called post-surgery and wanted to thank us for helping her dog. She would like to somehow repay us. She said both of her dogs are everything to her. She is aware that POTH cannot help out much with the hip surgery because of this incident as we have a cap on the amount that we can spend on an animal. We have referred the owner to other nonprofits that will be able to assist.

Daisy, a 6 year old spayed female Shepherd Collie mix was at a shelter for more than a week and got sick. When her owner, a male who lives on the streets in Antioch, CA picked her up he noticed she was definitely sick. He called us to say that she wasn't eating or drinking, and had a brownish discharge coming from her nose.

Pets of the Homeless approved an exam, and she was diagnosed with pneumonia. In addition to the examination, POTH paid for x-rays, fluids, antibiotic injection and medications.

Zino
A homeless woman who lives in a Shelter in San Diego, CA for the last three months called after she was referred to POTH by FCIA. Her dog, Zino, an 8 year old neutered male Labrador mix had raw paw pads from walking around too much.

POTH assisted with having Zino seen by a local veterinarian who offered a free examination. POTH paid for an e-collar to prevent Zino from licking his paws and ointment.

We'd like to say a special thank you to everyone who contributed to help dogs like Baby Girl, Daisy and Zino. Every cent counts and we really appreciate your continued support. (Pets of the Homeless does not accept or apply for government funds.)

Thank you for anything you can do to continue to spread the word and help us. We're very grateful!
Be sure to visit our newly re-designed website where you can read about many other pets your donations have helped.

If you have any questions please drop us an email or call.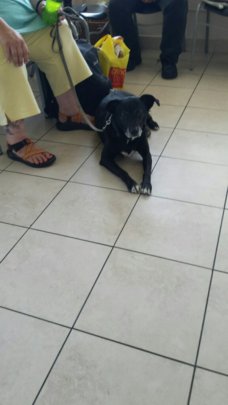 Links: