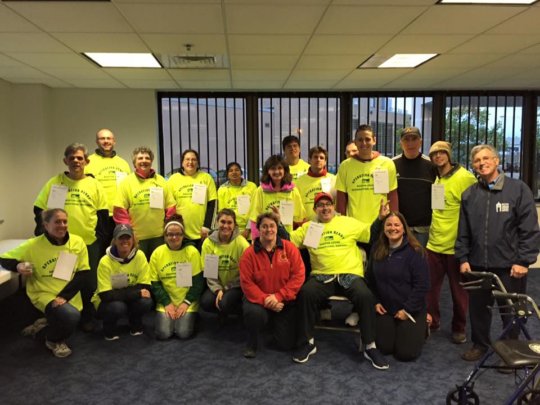 On Friday, October 2, 2015, The ALEC Program brought a team of participants to volunteer for Massport in their Operation Ready 2015 drill. The drill consisted of reenacting the Asianic Airlines Crash that took place in San Diego where there was a fatality and many injured passengers. Massport at Logan Airport reached out to ALEC to ask them to be a part of the drill. They wanted to include people diagnosed with an autism spectrum disorder and other intellectual and developmental disabilities so they could have the experience of evacuating passengers with disabilities off of a plane in an emergency/crisis situation. Over 180 passengers were boarded on a plane on a runway at Boston Logan International Airport on that cold and rainy morning. ALEC brough 18 participants- 9 of which were diagnosed with autism and other related intellectual and developmental disabilities.
The drill was a success, and our participants got to experience what it would be like to exit a plane in the event of an emergency and go through the triage process of emergency medical care and evaluation. The First Responders on the scene also received the invaluable experience of what it would be like to care for people with disabilities in a crisis situation and learned a lot about changing their approach and best meeting the needs of the passengers with disabilities.
After the drill was complete, Massport Fire gave our participants a tour of their Fire House.
Operation Ready 2015 was a HUGE success, and ALEC was a part of that!!!
We thank you for your support of this important program. With your help, ALEC is making sure that people diagnosed with an autism spectrum disorder and other related intellectual and developmental disabilities are prepared and kept safe during crisis situations and that our First Responders who are here to keep all of us safe have the education and knowledge base to best serve our most vulnerable citizens.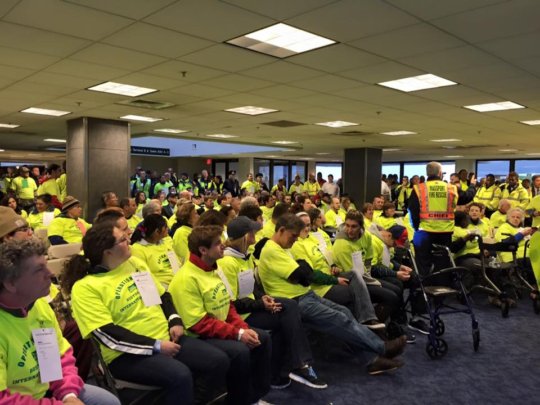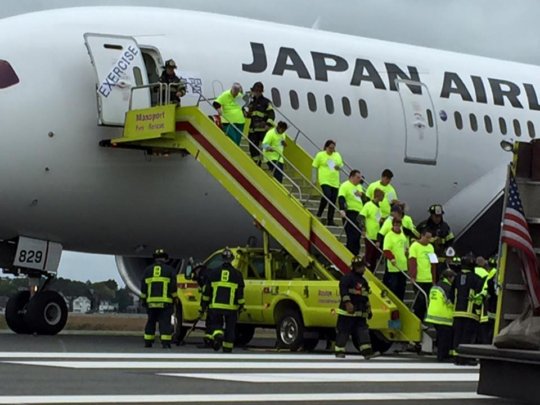 With the summer months upon us, The Arc of South Norfolk Family Autism Center's ALEC (Autism & Law Enforcement Education Coalition) is busy planning and scheduling trainings for First Responders throughout the United States. In June, the Fire, EMS and Police components were updated with current stats on prevelance rates of autism, wandering and elopement stats, as well as success stories regarding our training along with stories that justify our training program and the work we do with ALEC.
Did you know that Autism Spectrum Disorders impact 1 in every 68 births? Did you know that it is almost 5 times more common in boys than girls? Did you know that 20-40% of all people diagnosed with Autism Spectrum Disorders also have a seizure disorder? Did you know that nearly half of children diagnosed with Autism Spectrum Disorders are prone to wandering? Did you know that people with Autism tend to be attracted to water sources, and that accidental drowning accounts for approzimately 90% of lethal outcomes involving wandering?
These are the topics addressed in the ALEC trainings. Presenters teach First Responders how to identify behaviors and characteristics associated with Autism Spectrum Disorders and give them strategies and techniques on how to best handle crisis situations with this special population.
With your continued support, ALEC will train First Responders, AT NO COST TO THE POLICE, FIRE OR EMS AGENCIES RECEIVING THE TRAININGS to better serve the community at large.
ALEC- keeping people with Autism Spectrum Disorders and First Responders safe.
Thank you for being a part of our success! Since we first launched this project in an attempt to raise funds to support ALEC, we have surpassed the 34,000 mark for the number of First Responders we have trained with the ALEC Program. We couldn't have done it without supporters like you!
Links:
Well, you have done it again! We have reched our fundraising goal we put forth to you and your generosity has enabled us to meet and exceed our expectations!
We are so very happy to report that with your support we were able to:
Offer community-based programming during February and April school vacation weeks to over 100 children and teens and their families
Start a support group at a local Early Intervention organization where parents of children who are newly diagnosed with autism spectrum orders
provide outreach to other local organizations and make them aware that we are a resource for families and for people diagnosed with autism spectrum dirsorders
Provide Family Fun Days and continue to offer our social and recreational programming
We are so grateful for your support, and we hope you will continue to follow our organization and learn more about what we do at our website www.arcsouthnorfolk.org
We have posted a new project, Autism & Law Enforcement Education Coalition (ALEC), and are looking for funds to continue our First Responder training intitiative. To date, ALEC has trained over 35,000 First Responders and has received two grants from FEMA to bring their training to Fire Departments throughout the United States and to International Airports. We hope you will continue to support us as we provide services to people diagnosed with autism spectrum disorders, both directly and indirectly through training and education as well as information and referrals.
WARNING: Javascript is currently disabled or is not available in your browser. GlobalGiving makes extensive use of Javascript and will not function properly with Javascript disabled.
Please enable Javascript
and refresh this page.