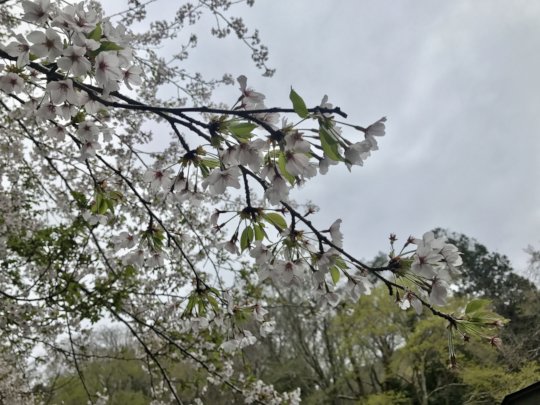 Thank you always for your support to provide opportunities for children in Kumamoto.
Spring is finally here! Cherry trees in MORIUMIUS have bloomed beautifully. Birds are back in forest providing soothing sounds everyday.
Some of the highlights we had was collaboration with local elementary school to make miso as well as to provide presentation opportunity about their town to international visitors. Miso is only made in winter when bacteria is not active and easy to control. Presentation was made to students from University of Hong Kong. Both opportunity gave students realized the rich resources their hometown has, and gain proud to be children of Ogatsu.
We now have date set to invite children from Kumamoto. We are going to invite children from October 6 through 8. This is the three day holiday in Japan. As we have started to invite children from Kumamoto back in 2015, this invitatin tour has been annual occatin for us. We feel that it is important to be away from Kumamoto, comapre and think about their lives from other location. Also, children can feel and learn from Ogatsu, a town devastated by tsunami in 2011 and still in a process of recovering.
MORIUMIUS is a place to provide sustainable learning opportunities for children. Children including ones that are living in difficult conditions, inviting children from Kumamoto is certainly a special occation for us. We are working with local partners to spread word and plan for the tour in October.
I will keep you updated for the tour. Thank you again for your support, without it the opportunity will not be created.
Warm regards,
Gentaro Yui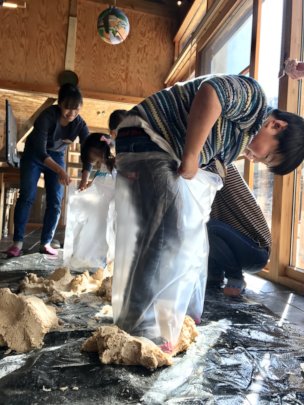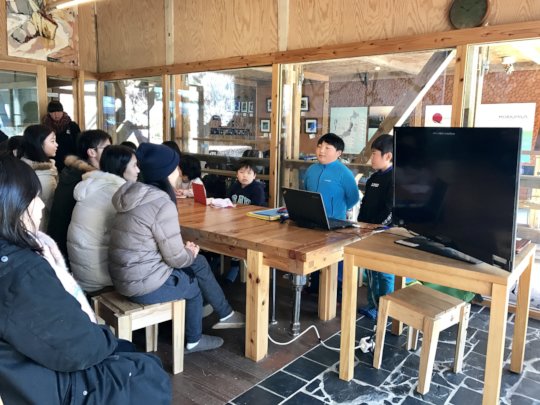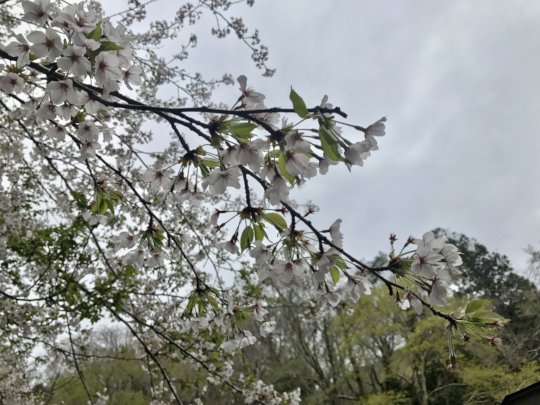 Thank you always for your support.
Partnership with local Ogatsu Elementary school is developing. Every month, students visit MORIUMIUS for a day in order to participate to our programs. Through those porgrams, they are able to feel/ sense how we can live sustainably with nature as well as gain proud of their community and environment. In February, students had a chance to present about their town Ogatsu to students from University of Hong Kong. University of Hong Kong send students over to Tohoku to learn about the disaster i 2011, and how people are living their lives since then. Children seemed to be very proud to talk about their home town, and students from University of Hong Kong were excited to hear and learn about the community.
In January, children from ROCKET Project stayed at MORIUMIUS. They are a group of children with unique talents/ abilities who do not wish to go to school. This project is organized by Tokyo University, in order to provide cutting edge learning opportunities for children in their own interest. This year, children who have strong interest in history came to research on the history of Ogatsu. Everyday, children went to homes of locals, to listen to their stories. Some children were able to hear about war days back in 16th century. As much as children were excited to hear those stories, locals were also very excited to share the history of their community.
Harvard Business School took a tour to MORIUMIUS three years in a row, this year with over sixty students and faculty members. It was a part of their Immersive Field Course, learning from Tohoku and entreprenuers in Tokyo. They seemed to enjoy the nature as well as touched by stories of what happened in 2011.
In March, fifteen children from foster homes in Tokyo and in Fukushima stayed for one week at MORIUMIUS. This tour was organized to invite children living in difficult conditions, to provide opportunities to go out from their homes to gain experiences in nature. They were so excited to be here in the nature, interacting with locals. Also, we have created assessment to measure learning values at MORIUMIUS.
We are happy to receive children as well as universities to provide unique opportunities in nature, in a still recovering community. Without your help, we would not be able to achive goals, providing sustainable learning opportunities to children and revitalize the community devastated by tsunami of 2011. I would like to ask for your continuous support.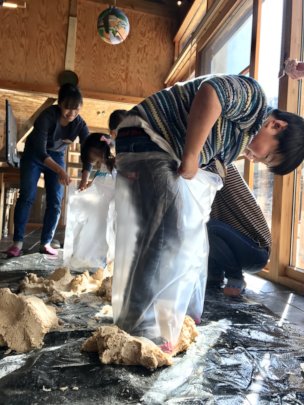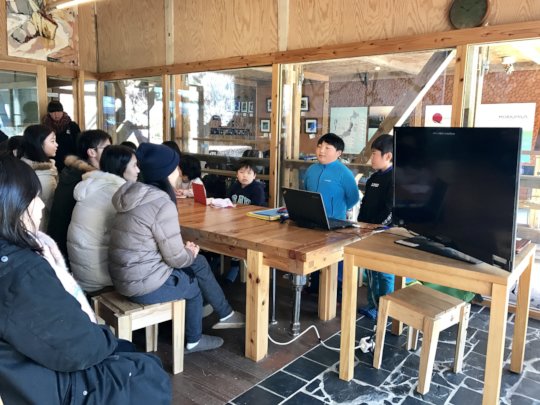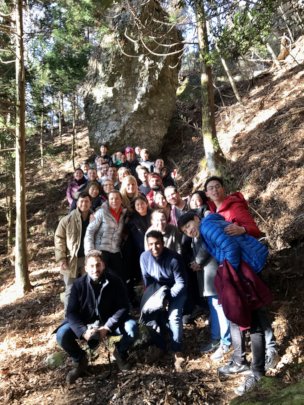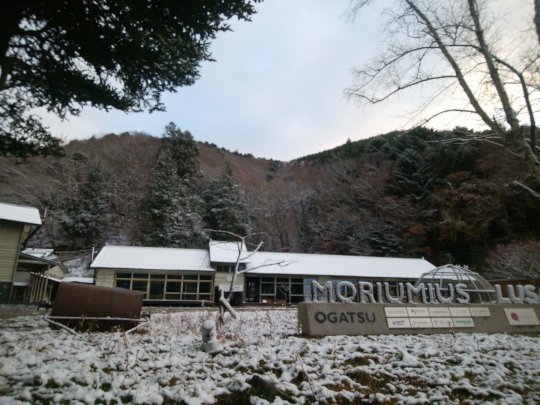 Happy new year! We are very thankful for your support in 2017. Last year was another special year for us, going into third year in operation receiving over one thousand children locally as well as internationally. Ninety four year old sturucture, former public elementary school is full of energy. Locals are feeling that their community once damaged by tsunami is revitalized. This winter has been a cold one, but we including animals are charging ourselves for spring/ summer season!
Local develepment is still slow. Permanent homes are almost completed, and locals are starting to coming back to their hometown. Local elementary school and middle school has opened its door in September 2017. There are many walls, about 9 meters tall, covering the coastal line to block big tsunami for the future.
We h
ave organized second invitation tour of Kumamoto children last summer, participating to our one week program. Mixed with children gathered from all over the world, they have engaged many experiences in nature, with local people, as well as sustainble methods at MORIUMIUS. They seemed happy to be away from the disaster area, seemed relaxed and enjoyed spending time with other children.
I am going to visit Kumamoto in order to meet and discuss with our local partner to invite children in 2018. Planning to invite in summer or in fall.
As Tohoku region becoming leader in reconstruction from disaster, I feel that we will keep trying to invite children from other disaster area. I hope being away from home create confort for those children as well as to feel the energy of reconstruction in ther area will empower them.
Thank you again for your support. Without it, we would not be able to provide unique learning opportunities as well as interaction to local communities. I hope to grow and continue this great venture so that the community will revitalize through education.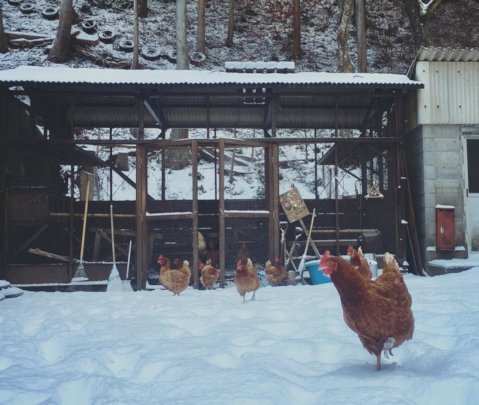 WARNING: Javascript is currently disabled or is not available in your browser. GlobalGiving makes extensive use of Javascript and will not function properly with Javascript disabled.
Please enable Javascript
and refresh this page.