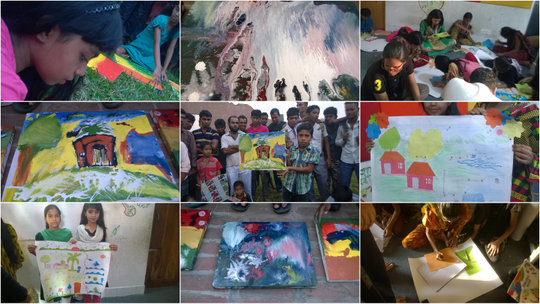 Field Report: Respect Water, Respect Life
The author of this report, Babli Biswas is a Web Developer with GraphicPeople, a subsidiary of New York based advertising agency AdPeople Worldwide. She is an invigorating volunteer at the Spreeha schools as a Arts & Craft and Graphic Designing mentor.
Last week we were trying to do something with a long term impact. Multiple teams, each consisting two kids, were handed a both white and colorful papers. The kids were asked to draw something that involves water and use the colored papers to cut drawn shapes according to their desire and paste it on the white paper. More elements will be handed out in latter classes. The purpose of this class is to bring out the creativity among the kids.
The result is phenomenal!
We're hoping that the kids will make something awesome in latter classes, enough for us to show in an exhibition. It's going to be two day session. And this was the first half. Kudos to these kids.
Btw, the photos were taken by one of the kids from the photography class!
Chamber Orchestra & National Monument Trip
Students and teachers from Spreeha's after-school center took part in a study tour of the Liberation War Monument in Dhaka recently as part of an initiative themed "Let's learn about the Liberation War, let's love our country." Spreeha took this initiative, thanks to invitations from partner organization Classical Music Academy of Dhaka (CMA). After the tour, the students also enjoyed CMA's stage presentation "Raham Ali'r Putul Nach (Doll Dance of Raham Ali)," a locally composed musical performance by chamber orchestra.
Meeting with Gates Foundation
Bill & Melinda Gates Foundation Co-Chair Bill Gates Sr., Senior Fellow Dr. Gary L. Darmstadt and others met with Spreeha CEO Tazin Shadid, Board Chair May Leong, Katherine Dick and Khawja Shamsuddin in early October. The Spreeha team gave an overview of the organization and the programs to Bill Sr. and others, who took a very keen interest on our vision and existing programs. Before the meeting, they received a guided tour of the Gates Foundation facilities.