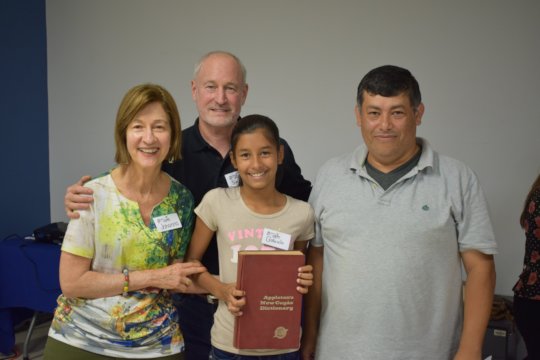 On January 27, 2018, CAA's Education Committee presented twenty-four escuela and colegio scholarship students with their first term scholarship vouchers, and cheered them on for another successful year in class. Having graduated from high school our first scholarship student December, 2016, we are pleased that two students are on track to graduate in December 2018. This program supports students in poverty to earn a high school education; and for most families, a graduation represents the first in the family!
And, we extended for the third year, a scholarship to our University of Costa Rica Social Worker (4th year student) who is again serving as the Scholarship Program Administrative Intern --- gaining valuable program administration and counseling experience with students and families. We are pleased that Fernanda again accepted this challenge.
At the awards event, the Committee presented six students with Academic Excellence Awards – five young women and one young man. These six students achieved GPA's at or above 94 and had excellent conduct scores. Not surprisingly, four of the six were repeats from last year. All six got special recognition vouchers that were redeemed for books of their choice at a local book store. And, some of these students needed an English/Spanish Dictionary, so one of our book-loving Education Committee members was able to supply dictionaries that she acquired from book exchanges---see photo of student with dictionary, her father and CAA Education Committee members. With a bit of work, we hope to see 9-10 students in this elite group in 2019!
Although not all of our students are hitting these high marks, we continue to encourage them to make the most of the public education available here in Costa Rica. One of the young men scheduled for graduation this December is an outstanding volleyball player whose star high school aged volleyball team competes in Costa Rica and in tournaments in Panama. For this student to advance to the university level, he will need to pass the university entrance exams and keep his grades up – although devoted to volleyball, his focus on academics is equally critical for his future university, professional, or employment goals --- after he is no longer able to spike that ball, he will still need to be able to make a living!
Minimal family financial resources creates real challenges for these students to excel in class, competing against students from more advantaged families with better access to the Internet, computers, and homework assistance from better educated parents or tutors. But, these CAA scholarship students are putting in the effort necessary. With just a small amount of financial assistance, and by working harder, many of these students are able to level the playing field and achieve excellent grades. And, CAA has encouraged students to take advantage of an after-school tutoring and assistance program that is available to students in one specific barrio of San Ramon.
With the support of GlobalGiving donors and our volunteers in Costa Rica, the Community Action Alliance has been able to provide $3427 in educational support for the first half of school year 2018 and we expect to add 3 other late nomination students this month, All total, the Education Committee has planned to provide almost $8,000 in educational support for the 2018 school year ending in December.
With your help, we are all contributing to a better tomorrow--one student at a time!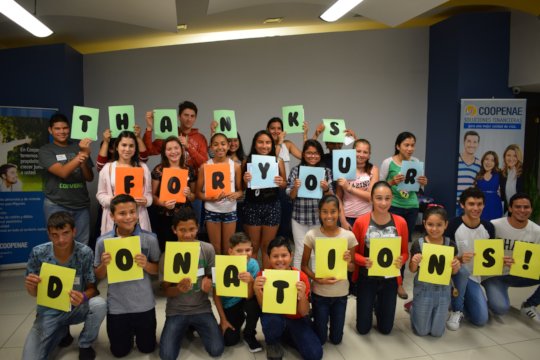 Links: