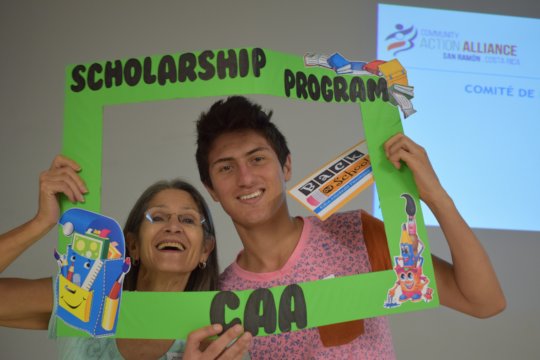 In our August 2018 report, we highlighted the three CAA Educational Scholarship Program students that are scheduled to graduate high school in a few days, and our attempts to get these students focused on follow-on vocational or university training. However, those exciting possibilities are now up in the air. A broad-based Costa Rica labor union strike, instituted the first week of September, shut down most of the public schools in Costa Rica 3- 4 weeks after the Second Term began. The public school teacher's strike continues as of this report, although almost all of the other public union employees returned to work 4-5 weeks ago. So, although health care services have resumed, public education students are still being held as hostages.
The public labor walk-out was called because of a necessary, but unpopular, fiscal bail-out proposal to increase taxes and reduce government public spending to address a long-standing fiscal imbalance that is no longer sustainable. This fiscal law was about to be approved by the national assembly when public workers, including about 63,000 public school teachers and administrative staff, began the strike. Unfortunately, the students are caught in the middle of this economic dogfight and will receive only 3-4 weeks of instruction during this 4 month school term.
What does this mean for our three potential high school graduates? At a minimum, this strike has ruined what typically is a very joyous time for most graduating high school students and graduation parties will have a cloud over them. But, the impact of the ongoing strike is much more serious for these individual students and undermines the country's educational framework. These students lost out on most of their final term in high school, but for graduates, the impact may be longer lasting.
In order to properly graduate, the students must pass the "bachillerato" high school exit exams. The closure of schools and absence of teachers caused the cancellation of exam preparatory classes for students, the actual exams had to be delayed until sufficient "volunteers" could be assembled to help conduct/monitor them, and some test content also had to be deleted given that the students didn't get relevant instruction in this final term. Additionally, newspapers just reported that the absence of school administrators at work means the exam grades have not been certified and reported to the national database. These students are in limbo regarding having successfully completing the tests.
However, students in private schools have not been affected and these students will be way ahead of public school students in applying for and being accepted into the public universities next year. And, they will be first in line (if not first in "need") for available financial scholarship assistance, because public school students will be delayed in making application for university admission and confirming that they can get financial assistance.
Absent financial assistance, CAA's scholarship students will not be able to afford university or continuing vocational training courses. We talked to one of our graduating students about the impact of the strike: he had minimal preparation for the bachillerato exams, has no idea how he scored given the delay in reporting the results, is very uneasy about his ability to enroll into university and get financial assistance next year, but he is quite ready for the drama to be over and get to the graduation party!
Although most informed observers understand the need for fiscal reform, there is legitimate debate regarding the appropriate balance of reduction provisions and which groups should take cuts – police, teachers, health care, roads, education and poverty assistance, and the list goes on and on. Whatever is ultimately included in a fiscal reduction/tax package, many observers agree that the country's investment in education is critical to Costa Rica's progress towards a more technically capable labor force to meet the skill requirements necessary to support the growth of the new economy that is replacing agriculture.
To sustain growth, additional preparation for jobs in the new econony is critial. Young adult unemployment (15-24 age group) is estimated at 22%; over half of the Costa Rican population has not completed high school and is deemed insufficiently trained for the new economy; and the country's finances are at a crisis point and not sustainable (October, 18, 2017 report by the 34 member Organization for Economic Cooperation and Development). To reduce this youth unemployment situation and meet the needs of expanding business, a proposal is being advanced to formalize Dual Education programs combining on-the-job training with traditional education in partnership with businesses and public education. And, earlier this year, Costa Rica initiated a 4 year comprehensive review of public academic/technical training programs, combined with an expanded English Second Language requirement, to better prepare graduates for higher technology and tourism sector jobs that are increasingly important to earning higher wages in a changing Costa Rican economy. But, absent funding and cooperation from the public education system to solve the fiscal crisis, these worthy initiatives will be frustrated.
The "legality" of the public teacher's continuing strike is pending a final resolution in the Costa Rican courts and that will determine if this teacher's strike will be treated as a "paid vacation", or if teachers will suffer financially while refusing to work. However, for many citizens including the private business sector, the court of public opinion has already ruled---holding public education hostage is an injustice to vulnerable students and a disservice to the country. And, exceptionally generous (relative to the private sectors) public salaries and benefits/pensions must be reduced if Costa Rica is to avoid sovereign default for domestic internal or external financial obligations.
As a small group of volunteers working diligently to foster education in San Ramon, Costa Rica, we have found these last 3 months to be very difficult to watch, but in some cases a cause for inspiration as some parents have undoubtedly encouraged their children to continue to study at home despite the school being closed. The Community Action Alliance's volunteers remain committed to help our scholarship students graduate high school and to support them as best we can. Although our graduating students may have been cut short on Trigonometry or Calculus by the strikes, they certainly got a lesson in Civics by watching the national gridlock that is directly impacting their plans for the future.
Your continued support through GlobalGiving is a good way to keep the dreams of these students alive in Costa Rica despite these politically and educationally challenging times. With the reality that the government will need to reduce educational financial support for poorer families, our group of CAA scholarship students will need even more assistance going forward. Please help us make a difference!