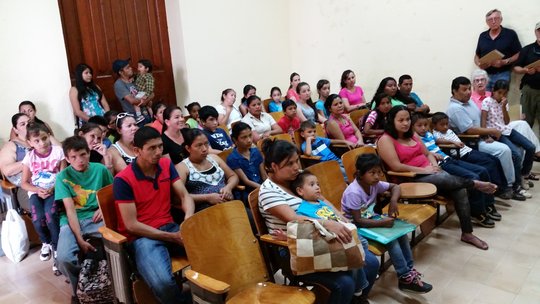 On Friday, January 23, 2015, at the San Ramón Regional Museum, the Community Action Alliance (CAA) distributed scholarship certificates (redeemable only for school supplies, shoes and uniforms) to 23 young students in the greater San Ramon area; and of whom 19 were elementary students and 4 were high school students. Each of those selected was nominated by a teacher or school administrator as performing at or above grade level and in need of financial assistance in order to remain in school.
The sonrisas y abrazos (smiles & hugs) of these happy students and parents at Friday's presentation tell the real story—one of encouragement, opportunity, and gratitude. CAA volunteers and globalgiving.org donors can all take pride in the success of these students, and continue to support them as they work toward high school graduation, and possibly a university degree.
CAA had originally planned to fund 20 scholarships for the first academic period of 2015, but because of the generosity of donors in the US and Costa Rica through Globalgiving.org, an additional $623 was raised in November, enabling CAA to provide scholarships for an additional 2 elementary students and 1 high school student, bringing the total number of scholarships to 23 awarded in this first period of 2015. This represents a financial commitment of 2,500,000 colones or the approximate equivalent of $4,720. Other CAA Education Committee fund-raising activities last year provided funding for the initial 20 students.
We will be able to increase the number of scholarships awarded in June, 2015 in the middle of the school year. Thanks to the generosity of GlobalGiving donors, CAA has already received $4,455 in donations, nearly 30% of our goal of $15,000, insuring an additional 20+ students will be able to continue their education who would not otherwise have been able to do so.
Our goal of assisting 60 students is within reach with your support and with that of your friends and family members. The need in the San Ramon area is great and we hope you will consider making an annual donation to help further the dreams and aspirations of these hard-working students. A little bit of money goes a long way.