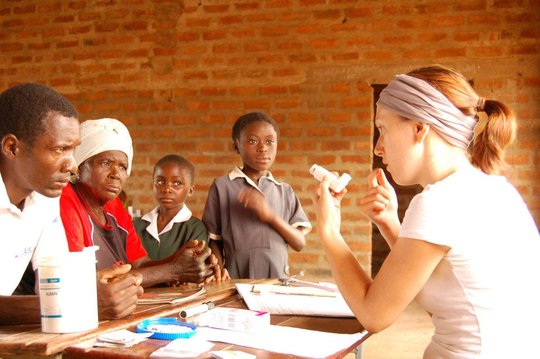 Over the past 3 years, On Call Africa has focused on bringing healthcare to where it is needed most. It's operation is based on three pillars. The first uses mobile clinics to take healthcare directly to nine isolated communities in rural Zambia. The second focuses on health education, as prevention really is always better than cure. The third involves working to strengthen existing healthcare systems, including training local health workers and ensuring they are properly equipped to care for the immediate health needs of their community.
To date, On Call Africa volunteers have treated in excess of 25,000 patients, many whom had never previously met a doctor. We are proud to be recognised by the Zambian Ministry of Health as a provider of essential medical services in Zambian's Southern province.
It is imperative in this work that On Call Africa is well integrated into existing services and works alongside, supporting rather than replacing current healthcare providers.
Collaboration with the Kazungula District Medical Office and partnering with medical staff from local rural health centres ensures our partners are able to engage more frequently with the populations they serve.
Over the past 3 years, together with these partners, On Call Africa has ensured that hundreds of children received a full programme of immunisations, enabled access to HIV testing and counseling, provided women with the opportunity to access family planning services and distributed thousands of male and female condoms.
Access to clean drinking water and malaria have continued to dominate our health education discussions. We have therefore linked with other NGO's operating in Zambia which has allowed us to deliver water purification treatments and mosquito nets to those who need them most. We hope by establishing further links with locally based charities, that we will also be able to introduce bore holes in some of our most remote areas of operation.
Over the second half of this year, our focus has been on organisational longevity. A temporary break in mobile clinics has allowed On Call Africa to take steps towards expanding the organisation. Thanks to the overwhelming support of Rotary clubs throughout Scotland, as well as in Zambia, On Call Africa is now in a position to buy a brand new Toyota Land Cruiser ambulance. The ambulance will be fully equipped to transport essential medicines and equipment out to remote villages and allow the transport of critically unwell patients from these isolated areas to their nearest hospital. The health worker training programme is in its final stage of development and will be rolled out in 2015 across all nine areas, aiming to provide comprehensive training to eighteen community health workers. Finally, to ensure On Call Africa can sustain these advances, the position of On Call Africa UK coordinator has been created and we hope to have the position filled by the end of January 2015.
As 2014 draws to a close, we would like to take this opportunity to express our sincere gratitude to all of our volunteers and supporters, old and new. We are humbled by your generosity. It is only with your kindness, hard work and the belief in what we do, that we are able to continue this work.
Everyone at On Call Africa wishes you a very happy and healthy New Year.