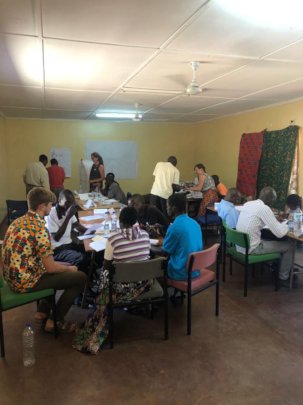 On Call Africa aims to improve access to healthcare in rural Zambia. We work to strengthen and augment, rather than replace, the capacity of existing health services. We do this in three ways: Treating, Teaching and Training.
During the last 3 months we have placed a particular emphasis on the training element of our work, which is key to building capacity and ensuring that our work has a sustainable impact, and brings long term change for the communities that we work in.
On Call Africa aims to achieve a system of sustainable healthcare in the areas we work in by increasing the capacity of community health workers (CHWs) to attend to the health needs of their village. Our volunteers train CHWs directly and help to make sure they are motivated to perform their role effectively, as well as working to improve their access to essential medicines and to better integrate their role with existing health services.
We recently completed our mid term review with 14 CHW's who are currently undergoing training. During the review training was delivered over the course of a week by On Call Africa volunteer doctors in partnership with nurses from the Rural Health Centers that our CHW's represent. During the week we held lectures, and ran interatcitve workshops and focus groups on: serious illness, gastrointestinal diseases, respiratory disease, and malaria with a focus on how to identify and diagnose conditions, and how to determine whether the patients can be treated locally, or whether they need to be referred to their Rural Health Centers, or the District Hospital.
In addition to covering these key topics, the CHW's were also trained on delivering key health education messages relating to nutrition, clean water and malaria with the aim of reducing the prevalence of diseases and illness related to these areas.
We are delighted to report that our cohort of 14 CHW's are all progressing well with their training, and we cannot thank our supporters enough for supporting our work and enabling us to embed high quality CHW's into the existing health systems, ensuring that our work will have a long term and sustainable impact in Southern Zambia.