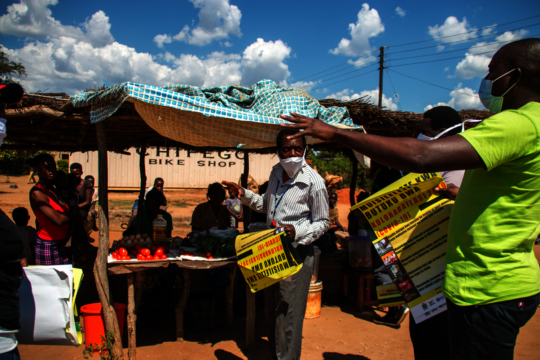 In March we made the difficult decision to send our volunteers home, and cancel clinics for the forseeable future. We felt that the risk of bringing doctors into Zambia, from the UK represented too great a risk. We also felt that the mobile nature of our clinics that transports people from urban areas into rural areas, where we bring together large groups of people, would represent a significant risk to rural populations where the health system is ill equipped to support them.
National level response
In order to ensure that we could continue to support our Community Health Workers (CHWs), and the communities that we support, we contacted the Ministry of Health (MoH) to better understand what response they had planned for rural communities and how we could contribute to this. It became apparent that the Ministry of Health was focussing its efforts on preventing the spread, and had not yet considered how it would protect and support rural communities. On Call Africa were asked to share our thoughts on how we intended to support our CHWs remotely, and whether this could be scaled nationally. After consulting with various partners and exploring options we put together a proposal for consideration by the community health unit at the MoH. The community health unit asked On Call Africa to join the units response to COVID-19, and asked us to present to partners on our activity, encouraging them to work through the MoH to ensure a co-ordinated response.
At the first meeting of the Community Health COVID-19 response network partners expressed concerns about the lack of standardised protocols and guidelines for all organisations to work towards. In response to this the MoH asked On Call Africa to develop protocols and guidelines for national use. We responded quickly, recruiting a team of virtual volunteers who were all working with COVID-19 in the UK, and had experience of working in rural Zambia. Working in partnership with MoH, CIDRZ and DfID, the team rapidly developed guidelines. Partner organisations were given the opportunity to contribute and feedback before the guidelines were finalised and adopted. We were later approached t support the develop of continuation of TB services protocols by MoH.
Southern Province
Within the Southern Province we have supported the response by acting as a link between the Provincial Health Office, NGO partners and the communities that we work in. Our efforts have been focussed in the following ways:
Advising NGO's on how to best support the communities they work in
Advising NGO's on how to best support a co-ordinated response through the provincial health office
Poviding handwashing facilities, disinfectants and PPE to provincial health office
Donating medicines and facilitating deliveries to health centres
Supporting the district health offices to conduct community sensitisation
Over the next few months we will continue to support a co-ordinated response at a regional level, and support the adaptation of national guidelines as the situation evolves.
The World Health Organisation has categorised Zambia as one of the high risk areas for Coronavirus (COVID-19), due to high levels of tourism and the low capacity of the health system to deal with an outbreak of the virus. While there have been no reported cases of COVID-19 in Zambia to date, we recognise that this does represent a big risk to the communities we work in, and the nation as a whole. We also know from extensive research carried out in the areas that we work that there is poor access to handwashing faclities, and limited understanding of when and how handwashing should be carried out.
In February and March, alongside our usual clinical activity, we have placed an increased focus on health education around handwashing, recognising the symptoms of coronavirus, and limiting travel to Livingstone to avoid the spread of the virus if it comes to Coronavirus. Our aim is to prepare communities and limit risk should COVID-19 reach Zambia. In addition to providing health education about handwashing, we have also provided handwashing facilities and soap at key locations, such as schools, churches, health posts and key meeting points to ensure that communities have the facilities to put their learning into practice.
Improving handwashing will also go a long way to reducing the spread of communicable diseases in the communities, and will help to tackle the rising number of cases of Diarrhoea that we have been seeing since the drought started in Zambia in 2019. Our health education sessions have been fun and interactive, particularly in schools where our volunteer doctors have been setting students handwashing challenges, competitions and races, as well as using songs to help enforce key messages in an interactive way.
"Thank you for visiting and donating the hand basins to the school. We really appreciate for they will help avert pending tropical diseases among our pupils in the school. Thank you for the health talk you gave and the demostration of your and love. God bless you. We hope to see more of you."
Esther
, Simonga Primary School Headteacher.
As the year draws to an end we would like to send out a huge thank you to all of you who have volunteered, advised, supported and donated to our work over the last year. Many thousands of patients living in the villages have benefited in so many ways from your commitment and contribution.
There are exciting plans ahead for our work in Zambia next year. Next year we'll be extending On Call Africa's services to many more communities. We have plans to further increase the impact of the work within the existing communities with whom we work. We've had important discussions with the local health authorities about how we can develop our training and help strengthen health systems.
We recently received this message from someone who's been supporting the work of the charity for almost five years:
"It's been great to see the work in Southern Province develop during 2019. The vision of the charity continues to be truly inspirational, and it's been remarkable to witness the selfless commitment and generosity of volunteer doctors and community health workers and the dedication of the trustees and staff. It's also enormously exciting and fulfilling to see how the charity is now poised for even more exciting times ahead."
Thank you all for your support and encouragment.
Have a Happy Christmas and a Good New Year.
The On Call Africa Team
WARNING: Javascript is currently disabled or is not available in your browser. GlobalGiving makes extensive use of Javascript and will not function properly with Javascript disabled.
Please enable Javascript
and refresh this page.