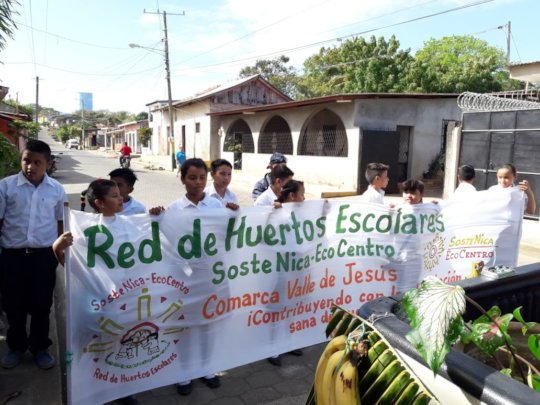 Every year, the Nicaraguan national government awards the "Cleanest City in Nicaragua" prize. And every year, the prize is won by Nagarote. This year, SosteNica's EcoCentro was invited by the Mayor's office to participate in a parade honoring Mother Earth, thanks to our school garden efforts. EcoCentro's multi-year project continues to garner attention and appreciation.
Mario Alemán, delegate of the Ministry of Education for the municipality observed: "SosteNica is doing so many things for our schools that we, as a ministry are not capable of doing. Sostenica has well prepared support teams, they supply tools and plants to our schools, and most importantly they transfer knowledge to our children. These kids are our future, and with the seed that SosteNica is sowing we have great hope for that future."
Children from Valle de Jesús marched proudly in the parade: "This is the first time our school has received so much support. We never imagined that an organization would provide assistance, training and dedicate so much time to our children. Today we have SosteNica and my students feel that they are part of the organization. Their gratitude is so immense that they were willing to participate in the Mother Earth Celebration parade for the first time." said a very happy Professor Hermongenes. She directs and teaches at the Valle de Jesús school.
Each year, the school garden program adds additional schools. In 2018, the program will impact more than 600 children attending seven rural schools. That represents a lot of families, as well as faculty trained through the students. This year, thanks to ongoing and recurring donations we are adding Candelaria School to our list of participating schools. With the students, we have already begun building the new fenced in garden area.
Unlike in the US, the Nicaraguan school calendar runs from February to November. December and January are vacation months. During the school vacations, most school gardens are deactivated until February when replanting begins.
12 year-old Heysel and 10 year-old Yuri, two Valle de Jesús students, report that they are learning a lot. "We are excited to reactivate our garden ... let's eat tomatoes, squash, watermelons, papayas. We are so happy. We don't mind, even if we need to water the plants during vacation. Sometimes we go to school just so our plants do not die."
That is true dedication. Students going to school during their vacation!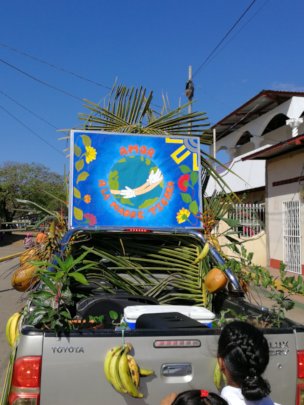 Links: