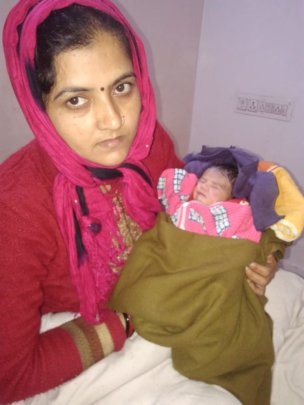 In this report, we would like to share the story of Kamlesh in her voice
"I am Kamlesh, am 24 years old, a resident of Panki Gangaganj a small village in the Kanpur district, Uttar Pradesh. I was married to Prabhat in the year 2016. In 2018, I got the good news from the elders that I am Pregnant. This is my first baby. I wanted to go to the doctor as soon as possible as I have observed in my old village that people visit Doctor after getting the news of the pregnancy with the support of Merrytarang Worker.
But I was restrained for not visiting the doctor as they cost a lot. Further, the elders informed that there was no need to visit as they would be enough for the delivery. This is my first baby, I don't want to take any kind of risk. As soon as, I visited my old village, I contacted Merrytarang Worker. She helped me to contact the Merrytarang Worker of my nearby area. My area's Merrytarang worker referred me to Apna Merrygold Hospital that had not charged any money for my check-ups and delivery. She not only supported me in all the checkup and delivery for 9 months but also counseled my village community about the importance of institutional delivery. When I had my first checkup, I got to know that there could be complications in my pregnancy because of my low weight. The doctor informed me not to worry as it can be handled with proper care. Last month, I delivered my first baby.
Whenever I think about the past in which I had the pressure for not visiting the doctor, I feared that what could have been happened to my baby. After My delivery, I come to know about the sponsors who employee Merrytarang workers and avail my free delivery.
I would like to thanks the GlobalGiving Donors and HLFPPT for saving my first happy and healthy Baby."
We are touched by her story and realized that there are many other Kamlesh who still can't reach us. We would like to ask your support to reach them.
Dear Donors,
We would like to thank our donors for the generous support for the Project "Saving Mothers and Babies with Innovative Tools". Under this, we are providing quality simulation-based healthcare training to service providers. The objective of these sessions is to improve maternal and child health by providing high impact, low-cost training tools for health workers and facilities.
The simulation-based training of innovative tools is essential, effective and required for saving lives at birth. High-quality simulation can substitute up to 50 % of clinical hours in pre-service nursing education.
Training was conducted for nursing students in Pushpanjali Nursing College, Agra, UP with your support. In the training, demonstrations on complex birth scenarios and newborn resuscitation were done. These demonstrations were done with the help of innovative tools like MamaNatalie, Neonatalie, Penguin Suction etc. A total of 35 students were trained.
Rani, a nursing student shared that this kind of training are very important for us as it provides real-time and hands-on training. It prepares us for handling the patients and difficult situations in advance.
Priya, another nursing student shared that we had not only learned but also applied the knowledge to handle complex baby delivery. It is a very effective way of learning.
There is a need to train and equip these Health service providers with these lifesaving tools so that improved care can be delivered and better health outcomes would lead.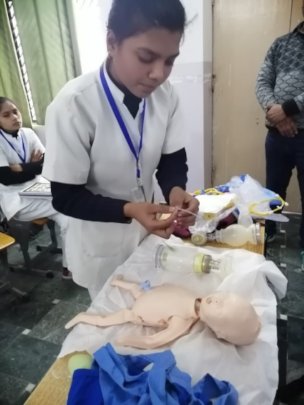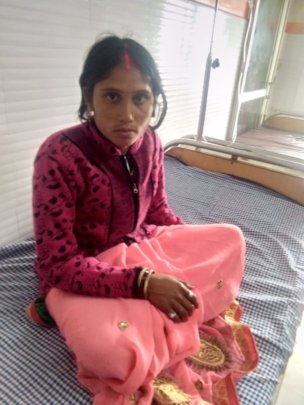 Dear Donor,
We would like to thank our global giving donors for providing continuous support our Project "Poor Couples to Access Family Planning". Your kind contributions are giving them chance to understand more about Sexual and Reproductive Health.
In this report, we would like to share the story of Sita, a 28 year old woman with multiple sclerosis who requested a contraceptive method with a lower failure rate as she already had 4 kids due to the failure of condom usage.
Sita and Rakesh got married at very early age. She was pregnant with her first child when she was 21. Both husband and wife happily welcomed the blessing in their life. They had decided to have two children only for their family. But Sita got pregnant with the fourth kid after 5 years. Rakesh and Sita were concerned because of failure rate of their contraceptives. Rakesh is the sole bread earner in the family. Big size of the family was limiting the resources for survival. They had never consulted a doctor because of the cost and distance. In 2018, Our Merrytarang worker who started covering their area Saidpur also, became the helping hand for the family. She showed them the path and referred them to a nearby facility that will not charge anything and provide them right choice of family planning method. After discussion about potential risks and side effects, an IUD was inserted. Both of them are very much happy that she had decided to adopt this method.
This kind of facilities has been possible because of your kindness. It would be very hard for us to reach and serve the underprivileged area without your support. But there are still many untouched area in India especially in Uttar Pradesh where community needs the guidance at right time and for making right choices in their life. To serve in every hard to reach area, we would require your support.
WARNING: Javascript is currently disabled or is not available in your browser. GlobalGiving makes extensive use of Javascript and will not function properly with Javascript disabled.
Please enable Javascript
and refresh this page.