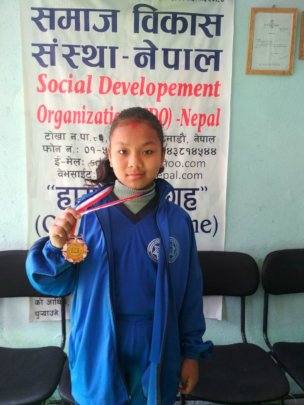 Dear friends,
Namaste and Greetings,
It's our great pleasure to share with you all friends the Quarterly progress report of SDO-Nepal's child-home-orphanage for the duration of 21 October,2019 to 16 January 2020 as follows:
1) Our story:
"Drastic changes happened only in the 7 months of period at ROSHANI's life" ! .Its just seven months of Roshani's arrival at SDO-orphanage. On her arrival, she could not pronounce the English words and solve the math too. However, in the 2nd-TERM-EXAM RESULT of class-3 conducted on Dec, Roshani received GPA: 3.66(91.50 %) out of 4.00. She is well disciplined, industrious and friendly.
ROSHANI, was born at the family suffering from extreme poverty. Her father was severely affected from Paralysis for many years without any movement and also DIED 1 year ago due to this disease . Again the more dark days started on ROSHANI's life when her mother re-married and went to next village after the death of her father, leaving her 7 children un-cared and un-looked after . We can imagine the life of ROSHANI how she herself and her 7-siblings survived for existence. Seeing the worst condition of these children, villagers gave them some food, some gave used clothes . You all know well, giving like this was not regular , so these children always survived working as a labor whatever the work they find at their village".
2)Achievements:
a)Educational progress of children:
Children have received the OUTSTANDING and EXCELLENT Result in 2nd -TERM-EXAM of Dec. The TOP-5 ACHIEVERS are:

* PRATIKSHYA, class-3, GPA: 3.71 (92.75 %)
*ROSHANI, class-3, GPA: 3.66 ( 91.50 %)
*DOLMA, class-5, GPA: 3.44 ( 86.00 %)
*SUSMITA, class-5, GPA: 3.35 ( 83.75 %)
*SRIJANA, class-4, GPA: 3.29 (82.25 %)
Rest girls also received good results in this exam.
b) Extra Curricular Activities:
* DOLMA, Class-5 is awarded with MEDAL on ENGLISH-ESSAY-COMPETITION.
* PEMBA, class-4 is awarded with MEDAL on DANCE-COMPETITION.
* SRIJANA, class-4 participated on stage dance show during parent's day function.
* DOLMA and SUSMITA of class-5 received 2nd and 3rd- PRIZE respectively and are awarded with copy and pen.
* SARASWATI,class-8 participated on observation tour to Nagarkot Tourism area. And DURGA, class-7 is participated on observation tour to Narayan hiti Museum and Changunarayan Temple areas.
* Similarly, SRIJANA, KARISHMA, PEMBA, DOLMA, SUSMITA, ROSHANI, PRATIKSHYA and SABITA participated on Educational tour and PICNIC at Nilbarahi, Bhaktapur.
3) Others:
Respected maam SUNITA and MINA from National Child Rights Council/ GoV of Nepal supervised the orphanage on all ongoing activities i.e. personal records, medical records, educational records of children, renewal and constitutional status of organization, income-expenditures, hygienic and tidiness status of hostel, kitchen, bathrooms and surroundings as well as hot water, water supply along with entertainment and recreation of children. They advised us all the indicators are fulfilled at SDO as per the rules and regulations by Nepal government.
The winter in Kathmandu is freezing cold. Hence, we installed the GAS-GYESER for hot-water at orphanage.
PRATIKSHYA,class-3 celebrated her 10th-BIRTHDAY at orphanage.
Winter vegetables radish, mustard leaves, turnip etc are growing well on child managed kitchen garden.
Children celebrated New year-2020, Christmas, Dashain, Dipawali, Rakshyabandhan, Teej, Maghe Sakranti feast and festivals with great joys.
4) Financial status:
During this 3 months of period we paid for food /water purchased/ hygiene -$ 300. School dress purchased- $ 35. Tution fee paid $ 40. Children's educational tour and picnic expenses paid- $ 50. Electricity charges paid-$ 51. Care-Giver and Tution Teacher's salary paid- $ 338. House rent paid- $ 690. Garbage/waste mgmt. paid-$ 35. Gas Geyser purchased-$ 90.
5) Our kind Gratitude and Acknowledgements:
i) We are always Grateful to our most-respected-DONORS for your precious DONATIONS through GlobalGiving to ensure the lives of these children !
ii) Similarly, we are also thankful to you all beloved friends for your love and support with cash, foods, cloths stationery and accessories at our office to ensure the lives of these children.
THANK YOU ALL!!
Dear friends, from the love and support from all of you, our hopes are sprouting and getting encouragement to protect more needy children and run the orphanage sustainably. But, due to the highly increasing market price day by day and rapidly increasing education costs, it is being hard to provide the fundamental needs to our orphans and abandoned children. Your every donation is precious and will bring the significant changes on the life of these orphans and abandoned children. we look forward for your continuous support, encouragement and hoping that you will spread your kind words to support on our Cause. These are also your own children. Before closing, we SDO and all the children would like to extend our heartiest thanks to GlobalGiving Team, Our valued Donors and Supporters who have been supporting to our children!
With kind gratitude !