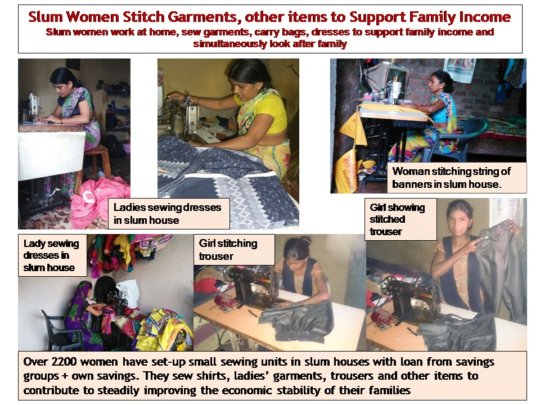 With urbanization, there is rapid increase in slum and informal settlement populaiton. Most such people work in odd jobs, as casual or semi-skilled labourers, loading and unloading labour and workers in factories on small wages.
Slum families usually have uncertain and meagre income from labour, small trade, vending, factory work, semi-skilled work. UHRC mentored slum women have set-up small sewing units in slum houses with loan from UHRC mentored women's savings groups and own savings.
Over 2200 women sew shirts, trousers, ladies' garments, carry bags and other items to contribute to steadily improving the economic stability of their families.
This way, working at home they support family income as well as look after children, family and housework.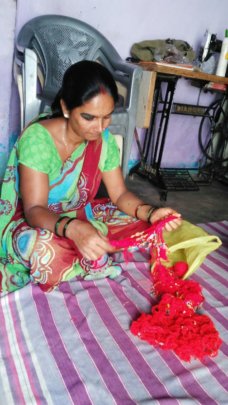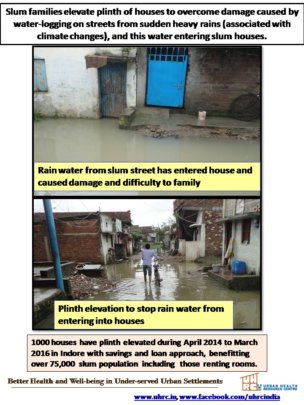 Slum families raise plinth of houses to overcome damage caused by water-logging on streets from sudden heavy rains (associated with climate changes), and this water entering slum houses.
In Indore, a fast growing city of over 3 million, climate change has contributed to sudden heavy rains during the months of June to September, which causes distress to slum dwellers.
UHRC's social facilitators encourage slum women's group members and families to improve their houses brick-by-brick.
Utilizing the collective social needs funds that UHRC has trained slum women's groups to generate, utilize for loans and manage records of, families have steadily elevated plinth of houses to prevent rain water from entering house.
During April 2014 to March 2016, over 1000 slum houses have elevated their plinth in Indore with UHRC guided savings and loan scheme, benefitting over 75,000 slum population including those renting rooms.
Direct program cost of encouraging 180,000 urban slum/informal-settlement population in Indore to improve dwellings was about Indian Rupees 20 per person per year.
Links: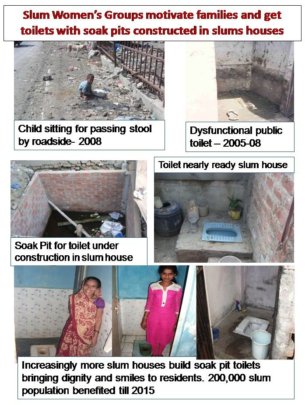 This is the story of transformation from being forced to live in indignity to incrementally building soak-pit toilets in slum houses that has been unfolding over the past several years across 415,000 urban deprived population n Indore and Agra.
Earlier very few slum houses had toilets. Gradually UHRC's social facilitators motivated formation of women's groups, also encouraging them towards building toilets in houses through hygiene sessions which explained how feco-oral transmission of infection takes place.
UHRC gradually motivated slum women's groups to develop and mange slum-level social needs funds which offered loan to members for health needs including constructing low-cost soak-pit latrines in houses.
With sustained efforts of several years approximately 50 per cent families among the 415,000 population have constructed toilets. Girls, women and men use toilets and do not face the indignity of needing to urinate and defecate in the shrinking open space. Infections are also far few as is observed with reducing illness, notably diarhhoea.
Your solidarity and support is very important for over 415,000 slum, urban vulnerable population where 1700 slum women's, children-youth groups endeavour towards improving overall well-being and lives of their communities.
https://www.globalgiving.org/projects/self-reliance-and-resilience-in-slum-womens-groups/
Links:
WARNING: Javascript is currently disabled or is not available in your browser. GlobalGiving makes extensive use of Javascript and will not function properly with Javascript disabled.
Please enable Javascript
and refresh this page.