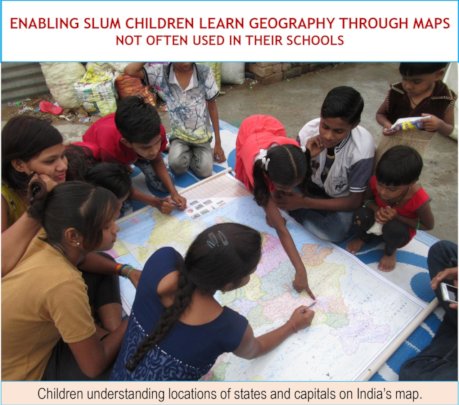 Most Indian schools catering to disadvantaged children often lack basic resources to teach (for e.g. charts, supplementary books, maps) which deprives children in absorbing basic concepts like understanding prominent geographical features of India and the world. Maps play a crucial role in enhancing the right brain faculties to retain visuals associated with facts. Learning geography through maps can enable children to grasp images and relate to country's prominent relief features easily.
Sessions of geography quiz are conducted in slums. Children are encouraged to understand the concept of directions i.e. North, South, East and West on the map. Children use a large map of India to identify major states and capitals along with the direction along and understand their location. Children are then given small unlabelled maps to identify, mark and write the major landmarks on the map. They subsequently use the large map of India to check and confirm the landmarks they have marked and written on their small maps.
Such sessions are useful to complement children's understanding of Geography which is limited owing to maps not being used in schools.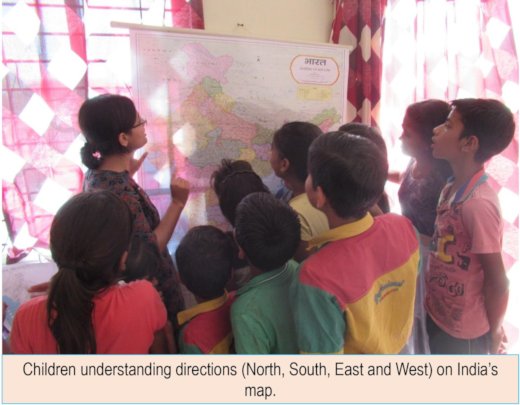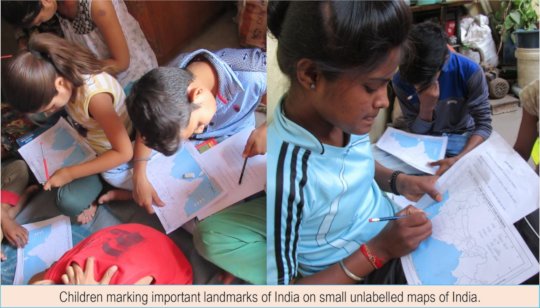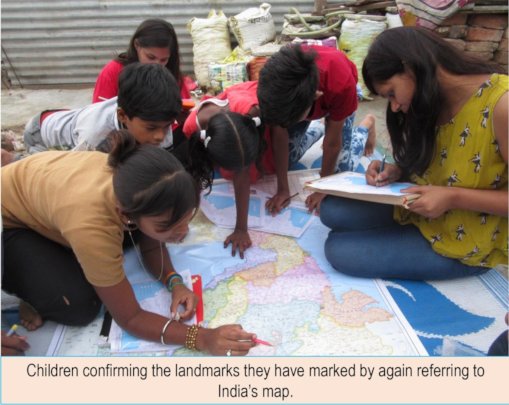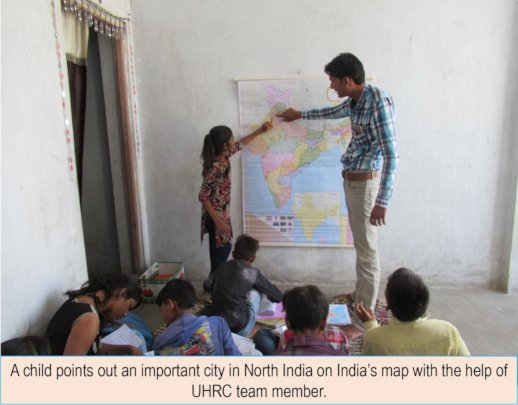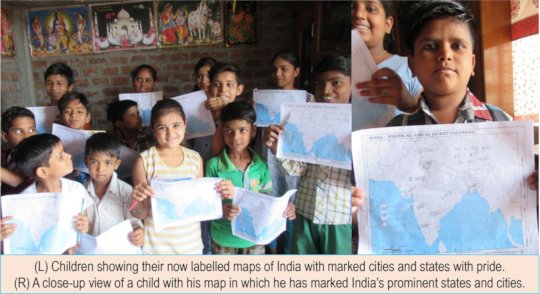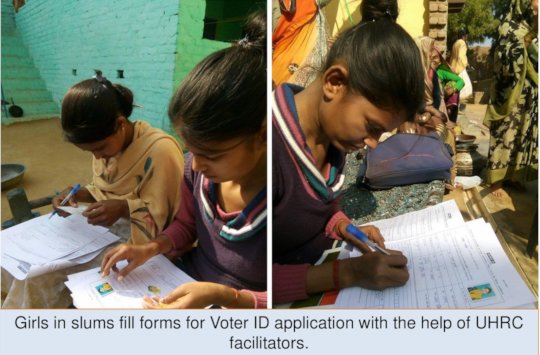 The Challenge: Voter ID Card (for those >18 years) is a common form of Government picture ID and address proof in India to avail schemes, services and entitlements. Slum women and girls in a male dominated society are unaware of how to obtain Voter ID. This deprives them of Government services, schemes and entitlements. For example, a slum woman in labour was denied hospital access for not having ID proof of the city. Voter ID provides legitimacy to slum dwellers for electoral rights and to negotiate for services.
Effort: Regular capacity building sessions of women's groups and information about Government services, importance of Government ID, of address proof and steps to obtain them (documents required, where to be submitted) are conducted by UHRC facilitators. With motivation, women and girls gradually develop confidence to submit documents to the authorities and obtain Voter ID.
Outcome: About 30000 persons from Indore and Agra (above 18 years) obtained Voter ID card during 2016-18. Voter ID in addition to being a Government ID, address proof, enabled women exercise their democratic rights as legitimate citizens during elections. They gently assert their democratic value as voters while negotiating with elected Ward Councillors. These efforts are also resulting in overcoming the notion of illegality associated with slums.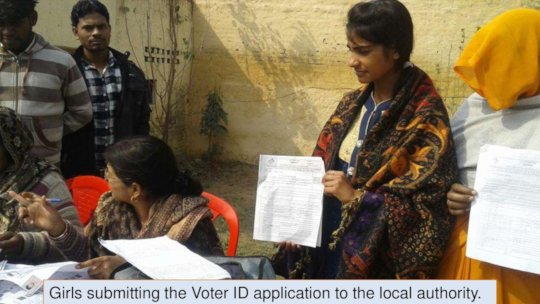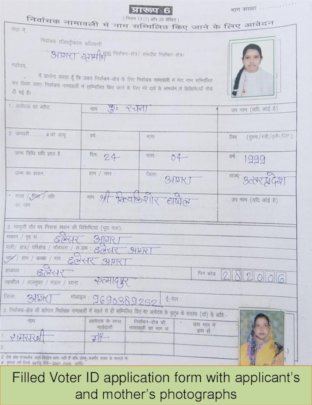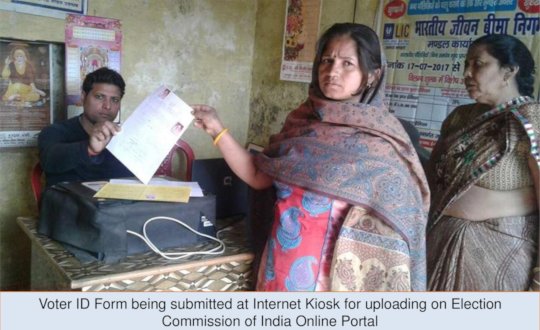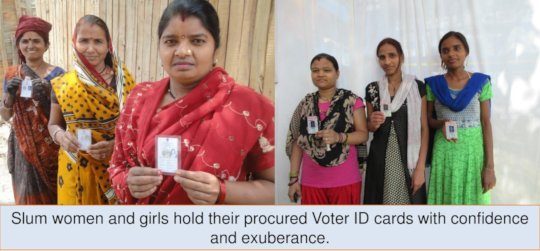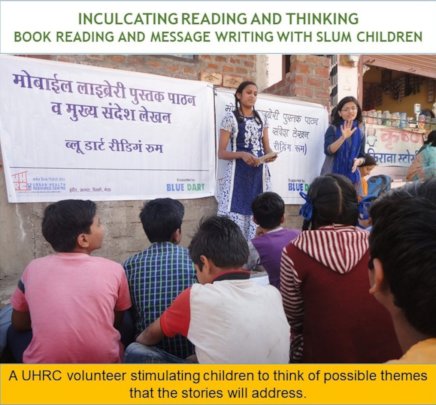 Sessions of book reading are periodically held with slum children in the slum areas of Indore and Agra. Children manage a mobile library of books containing stories primarily based on moral themes. After reading, the children are stimulated to understand and think the learnings they inferred from the stories and write 4-5 messages. This activity complements the modest education provided by government and private schools in slums or near slums. This exercise is a positive stimulant towards inculcating the habit of reading and introspection. This effort enables slum children to gain exposure to books beyond their school textbooks and think and discuss interesting stories and themes.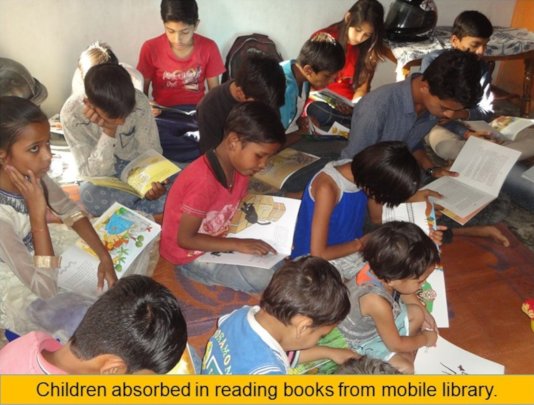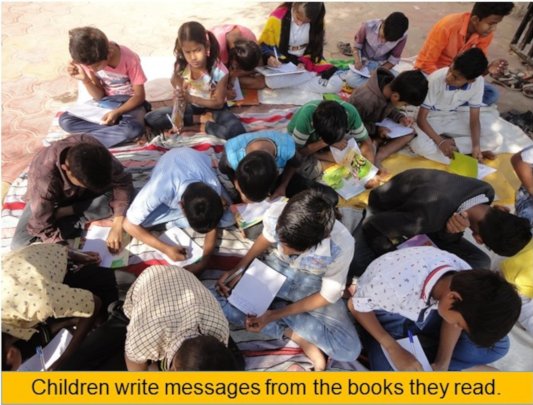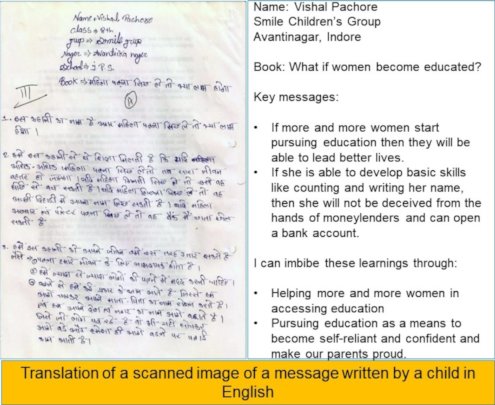 WARNING: Javascript is currently disabled or is not available in your browser. GlobalGiving makes extensive use of Javascript and will not function properly with Javascript disabled.
Please enable Javascript
and refresh this page.