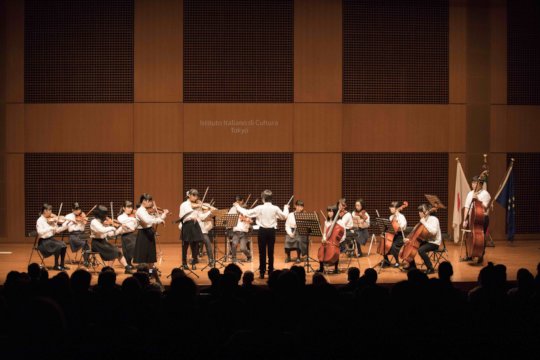 On April 5, 2018, members of Soma Children's Orchestra held a mini-concert at the Italian Cultural Institute. "Italy" reminds us that the Cremona International Violin making School donated four violins and one viola to this orchestra. Furthermore, we have continuously received warm support from diplomats of the Embassy of Italy, Tokyo.
Giorgio Starace, the ambassador of Italy to Japan, greeted at the beginning of the concert. He told it was great pleasure to have a special opportunity like this. Even though many foreign people in Tokyo evacuated from Japan all at once soon after the Great East Japan Earthquake (2011), the Embassy of Italy kept its usual operation all the time. Since Italy is well known for earthquakes and has recovered from many disasters just as Japan, they have a strong sympathy for Japan. Mr. Starace gave each member of the orchestra a "friendship badge" which shows the national flags of Italy and Japan with a wish of long lasting our friendship.
The program consisted of Corelli's Concerto Grosso No.4 in D major, Vivaldi's "L'estro Armonico" No. 6 in A minor and 2nd movement from Rossini's Sonata for Strings No. 6 in D major. All the composes are Italian. Children's gracious music resonated the audience.
At the reception after the concert, some members asked an embassy staff why the land of Italy looks like a boot. Then he answered that it is because Italian people love football very much and the Sicily island at the foot of Italy has a shape of the ball all as they hope. The children were happy with his very humorous reply. In addition, they had an opportunity to interact with Her Imperial Highness Princess Takamado, a strong supporter for El Sistema Japan, who generously attended this concert.
Grazie mille! We deeply appreciate the Embassy of Italy and the Italian Cultural Institute to make such a wonderful opportunity to interact with all of them. May our friendship last forever.
We also highly appreciate continuous support given by our global giving partenrs - thank you!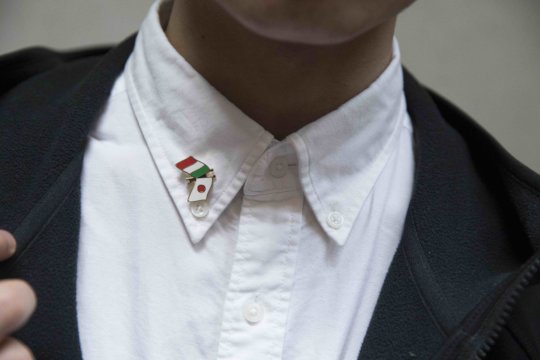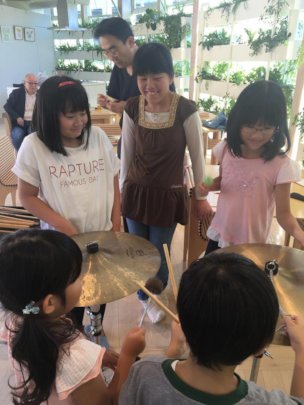 Composition Classes for Children in Fukushima
Since 2013, the Friends of El Sistema Japan has been organizing composition classes with Dai Fujikura, a composer with a strong belief that we are all creative by nature. Mr. Fujikura invites guest musicians to participate in his classes, each of whom plays a different instrument – everything from the soprano saxophone to the shamisen, a three-stringed traditional Japanese musical instrument. Children first listen to instrument demonstrations, and then compose pieces of music of their own. This process takes approximately 30 minutes, which to many people may seem rushed.
While Mr. Fujikura's instructions are kept to a minimum, two points are stressed: the first is to feel free and able to create whatever comes to mind, and the second is to remain open and not judgmental about your own and others' work. Rid of the fear of making mistakes, children are able to freely express themselves and create compositions in record time. According to Mr. Fujikura, children often take a liking to "weird sounds". In fact, the pieces composed by participants are often so unique that even experienced guest musicians find the compositions challenging to play. It is inspiring to see how children's eyes shine when they witness their ideas and compositions being translated into actual music.
Thanks to the generous supporters like you, we can provide free music education for children like these composition classes. We assure you that, despite various hardships, the children are building life skills by the means of creating music with others.
We appreciate your continued support from the bottom of our hearts – thank you!!!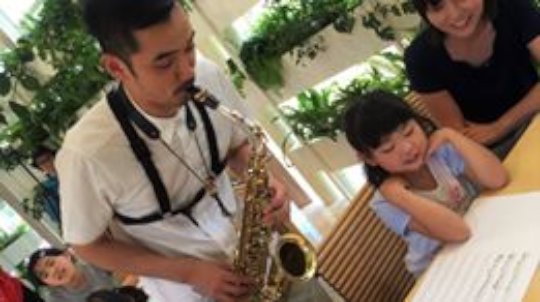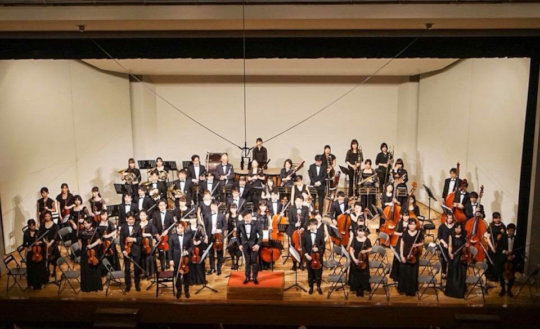 Runa is a proud alumna of the Soma Children's Orchestra. After having experienced the devastating Great East Japan Earthquake in Fukushima, she joined the Soma Children's Orchestra and found the joy of playing music. She left the small town of Soma last year to pursue her college education in Tokyo but has kept her passion for music – she knows first-hand how music can help heal emotional wounds, make friends and create beautiful harmony with them.
Runa never forgets how the Soma Children's Orchestra served "like a school" for her. After the Fukushima nuclear disaster, many families in Tamano District, where she grew up, chose to evacuate to other areas. As a result, the number of school children dropped sharply. Having been one of only a handful of students who remained in Tamano District, Runa recalls how excited she was when she found out about the Soma Children's Orchestra. "I immediately signed up but, learning other children were all younger, I felt insecure. It did not take long to break the ice, however. Everybody was very friendly", Runa says. The orchestra turned out to be a place where she could not only learn to play the violin but also meet and make new friends from other districts in Soma.
Today Runa and 2 other girls from Soma, Haruka and Momoka, made their debut at a charity concert held in Tokyo. They played as part of the Fellow Orchestra, an amateur orchestra that supports good causes through music. The core members of the Fellow Orchestra, in fact, have been traveling to Fukushima to support the Soma Children's Orchestra on a pro bono basis. Seizing an opportunity of playing together with big brothers and sisters who used to teach them, the freshman girls could not conceal their excitement. "It's like a dream." At the same time, they have become aware of their new role – yes, it is time for them to become big sisters. "I want to further develop my skills and pass it onto the younger generation because that's the gift I received from the Soma Children's Orchestra", Runa describes enthusiastically.
Ticket sales of the charity concert supported by Runa, Haruka and Momoka will partly go to the Soma Children's Orchestra. It has been nearly 7 years since the Great East Japan Earthquake and tsunami, but we still recognize the need for continuous support for affected children in Soma. The waning donor interest is a major concern for us. Your contribution has been and will continue to be used in a meaningful way. We appreciate your support very much and sincerely hope you will stay with our children – thank you!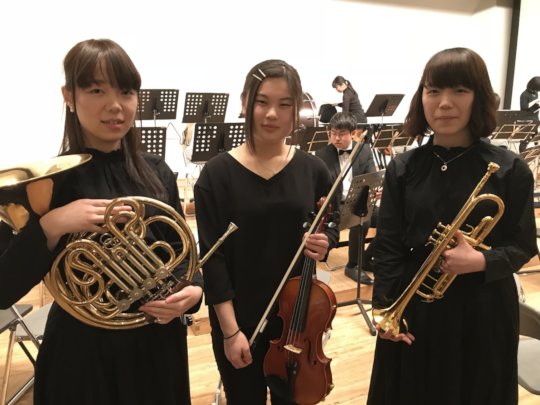 WARNING: Javascript is currently disabled or is not available in your browser. GlobalGiving makes extensive use of Javascript and will not function properly with Javascript disabled.
Please enable Javascript
and refresh this page.