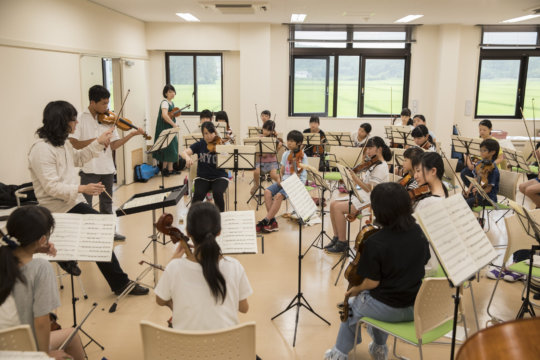 It's a beautiful time of year – the summer. The Soma Children's Orchestra was joined by the members of the Otsuchi Children's Orchestra for a joint summer music camp in Soma, Fukushima.
Soma boasts its extensive rice paddies. They become so lush and green in the summer, exhibiting a sense of peacefulness. The town, however, still remains negatively affected by the 2011 Great East Japan Earthquake and the following nuclear accident. Crops sales are not on the up because of the persistent reputational damage caused by the nuclear meltdown. Local fishermen continue suffering from reduced catches of fish and shellfish. Otsuchi, where the Otsuchi Children's Orchestra was formed nearly 3 years ago, is another coastal town impacted by the 2011 disaster. It has been experiencing a significant population decline, which led to consolidation of local schools.
Despite the challenges, the children from the two places are striving hard for their dreams. "I enjoy playing in the Soma Children's Orchestra because we help each other, teach each other and become better players all together", says Haoto, a 6th grader violinist. She joined the orchestra 4 years ago and has made many friends since then. "In the Soma Children's Orchestra, it does not matter if you are in different grades or go to different schools or whatever. We grow in connection with others"
An orchestra is composed of individuals, all performing their own roles yet expected to be in sync with one another. When teamwork is in place, it delivers harmony most beautifully. Michitaro, a 4th grader violinist from Otsuchi, says, "I go to the El Sistema Japan's string class three times a week. My friends join me there, and we all play together. That's what I like about it." At the summer camp, he and other children of the Otsuchi Children's Orchestra had a chance to play Pachelbel's Canon D and Mozart's Eine kleine Nachtmusik with the Soma Children's Orchestra. "Because there were more of us participating in one orchestra, there were more mistakes we made. So, we had to practice again and again, but I liked it. Our music became more sublime", Michitaro described with enthusiasm. It was a whole different experience from the Otsuchi Children's Orchestra practicing alone, and the same went for the Soma Children's Orchestra.
Thanks to the generous supporters like you, we can provide free music education and organize events like this summer retreat for children. We assure you that, despite various hardships, the children are building life skills by the means of creating music with others.
We appreciate your continued support from the bottom of our hearts – thank you!