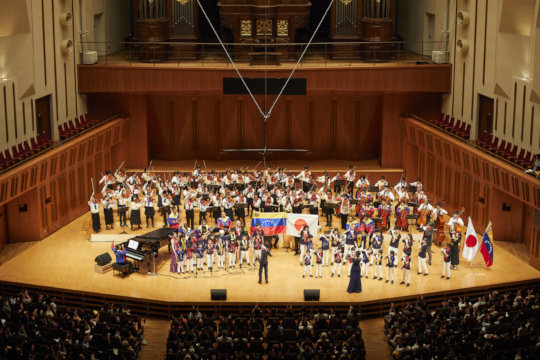 The big moment— El Sistema Festival 2018 Review
On a fine December Saturday, "El Sistema Festival 2018 — El Sistema Gala Concert" was held at the Tokyo Metropolitan Theater. The concert consisted of two parts. The first part was the performance of children orchestras from Soma, Otsuchi and Komagane where we are delivering a day-to-day assistance. The second part was the performance of Tokyo White Hand Chorus and Venezuelan vocal ensemble "Lara Somos" in the very presence of Her Imperial Majesty Empress Michiko.
Children challenged with a young maestro

The first part started with Mozart's famous "Eine Kleine Nachtmusik" (Serenade No. 13 in G major KV 525). The orchestra of the children from three cities was conducted by a spirited young maestro Enluis Montes Olivar from Venezuela, the birthplace of El Sistema. Enluis encouraged children to enjoy playing as well as to aim toward further height. 79 children from elementary to high-school-age were led by the lively and fluent conductor to make brilliant sound together.
The unique "sound" made from diverse expressions
After the short intermission, the second part started. As stated previously, it was a great honor to hold this part in the presence of Her Imperial Majesty Empress Michiko. The part was the performance of two vocal groups from Japan and Venezuela — Tokyo White Hand Chorus and Lara Somos.

Tokyo White Hand Chorus consists of two teams. One is the voice team with visually impaired children and the other is the hand-sign team with hearing impaired children. They performed "Furusato no Sora" (literally means "The sky of the old home") and "Edelweiss" with two conductors — Mr. Tsuchino and Ms. Colon who had taught them for the concert. Some children looked nervous at the beginning of their performance, but they finally were able to sing relaxingly.

Lara Somos is a Venezuelan vocal group including some players of ethnic instruments. They performed four songs such as "The girl from Ipanema" in mellow sound. After that, the hand-sign team of Tokyo White Hand Chorus reappeared and played three songs such as "Sukiyaki" and "Venezuela" together. Children in the White Hand Chorus had a lot of rehearsals to perform on the same stage with Lara Somos whom they had been admiring. They looked really delighted to play together and their feeling seemed to be shared through the whole audiences.
"Play together, grow together" — what El Sistema is aiming at

At the end of the concert, all musicians performed "Yuyake Koyake" and "Alma Llanera" together. Yuyake Koyake (literally means "afterglow") is a nursery rhyme everyone knows in Japan and Alma Llanera is a song regarded as the second national anthem by Venezuelan people. Everyone inside the hall seemed to feel nostalgic when they heard the songs. We believe the whole audience could feel that music could be inclusive and connect people of diverse background and culture. That is what El Sistema is aiming at.

After the concert, children who made great performances said excitedly;
"I'm finally satisfied with my performance although I couldn't do it during rehearsal"
"Awesome!"
"With friends, I can do what I can't do it alone"
"Great fun to play together!"


We also highly appreciate continuous support given by our Global Giving partners — thank you!
On August 12, 2018, members of Soma and Otsuchi Children's Orchestra played in "Sound! Harmony to the Restoration in OKINAWA Vol.3" concert held in Naha City, Okinawa Prefecture with members of Sendai Junior Orchestra (Miyagi) and Naha Junior Orchestra.
Board members of Ryukyu Philharmonic Orchestra (parent organization of Naha Junior Orchestra) who have strong connection with Tohoku, the region hit by the Great East Japan Earthquake 2011, started these concerts to encourage people in Tohoku from Okinawa. It was the third concert and the joint orchestra was formed with children from Iwate, Miyagi, Fukushima (these three prefectures belong to Tohoku region) and Okinawa prefecture.
Usually they play in separate places, so they could practice together only in a short period of time since members from Tohoku had arrived in Okinawa. They were nervous at first but were able to open up to each other while practicing repeatedly. In the concert, they played a total of 10 pieces, ranging from classical music to traditional music in Tohoku and Okinawa. On the same day, some members of Children's Orchestra in Tohoku also had another concert in their hometown, so they remained there. Members in Okinawa were thinking of other members in their hometown and wondering if they were also playing at that moment.
It was a valuable opportunity not only to play together but also to learn the history and culture of Okinawa. Okinawa consists of tropical islands with tragic history as a field of one of the bloodiest battles during WWII in the pacific. Three years have passed since the interaction began. And now they feel close to the area they are living in each other. In case of earthquakes or typhoons, they are anxious about the safety of each other. We hope that a wonderful interaction through music will last long. We would like to express our sincere thanks to everyone playing together and Mr. and Ms. Uehara of Ryukyu Philharmonic who prepare for such opportunity every year.
We also highly appreciate continuous support given by our global giving partenrs - thank you!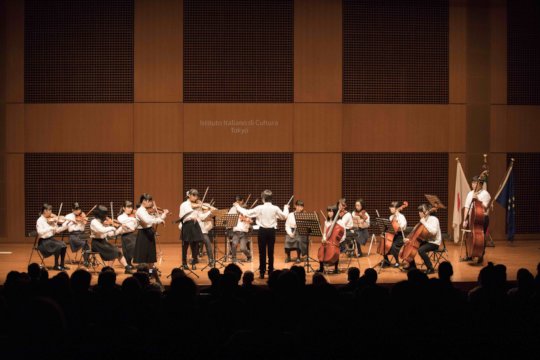 On April 5, 2018, members of Soma Children's Orchestra held a mini-concert at the Italian Cultural Institute. "Italy" reminds us that the Cremona International Violin making School donated four violins and one viola to this orchestra. Furthermore, we have continuously received warm support from diplomats of the Embassy of Italy, Tokyo.
Giorgio Starace, the ambassador of Italy to Japan, greeted at the beginning of the concert. He told it was great pleasure to have a special opportunity like this. Even though many foreign people in Tokyo evacuated from Japan all at once soon after the Great East Japan Earthquake (2011), the Embassy of Italy kept its usual operation all the time. Since Italy is well known for earthquakes and has recovered from many disasters just as Japan, they have a strong sympathy for Japan. Mr. Starace gave each member of the orchestra a "friendship badge" which shows the national flags of Italy and Japan with a wish of long lasting our friendship.
The program consisted of Corelli's Concerto Grosso No.4 in D major, Vivaldi's "L'estro Armonico" No. 6 in A minor and 2nd movement from Rossini's Sonata for Strings No. 6 in D major. All the composes are Italian. Children's gracious music resonated the audience.
At the reception after the concert, some members asked an embassy staff why the land of Italy looks like a boot. Then he answered that it is because Italian people love football very much and the Sicily island at the foot of Italy has a shape of the ball all as they hope. The children were happy with his very humorous reply. In addition, they had an opportunity to interact with Her Imperial Highness Princess Takamado, a strong supporter for El Sistema Japan, who generously attended this concert.
Grazie mille! We deeply appreciate the Embassy of Italy and the Italian Cultural Institute to make such a wonderful opportunity to interact with all of them. May our friendship last forever.
We also highly appreciate continuous support given by our global giving partenrs - thank you!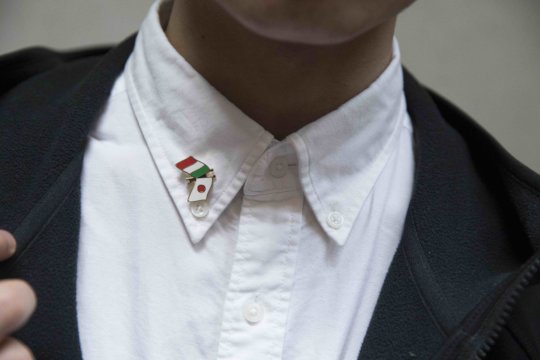 WARNING: Javascript is currently disabled or is not available in your browser. GlobalGiving makes extensive use of Javascript and will not function properly with Javascript disabled.
Please enable Javascript
and refresh this page.