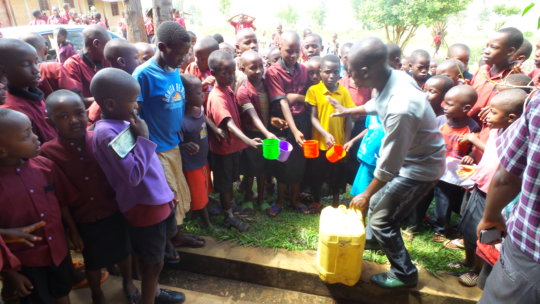 CHRISTMAS AND NEW YEAR GIFT!
Let us together enjoy Christmas and New Year Seasons' Holiday.
In Burundi, Christmas and New Year days, people expect for 4 things to happen in their families and community: (1) Celebrate Jesus' birth day (2) Worship and Thanks Giving to God, (3) Eat good food and drink, (4) and parents buy new clothing to their children and husbands to their wives.
These two celebrations are going to be celebrated when we were not able to pay our teachers' salaries for Octobre, November and December 2015. You can imagine how they will be feeling.
I am very grateful to our donors and friends, and friends of friends who are making their donations to help JRMD continue to provide education to the underprivileged children, schooling at Iwacu Kazoza School. If one person was to try do this work alone, it would be impossible. This is only possible through partnership and joining hands together to build the society and the world we want that each one of us is longing to see and live in. Because of your donations, the school is now providing education to 497 underprivileged students during this school year 2015-2016.
Our current needs:
To pay teachers' salaries for October, November and December 2015, we need $8,340.
To provide student materials and uniforms to 112 children from very poor families who are now schooling in our school (at Iwacu Kazoza School), we need $4,500.
Digging a well and building a water tank for the orphanage and Iwacu Kazoza School will cost us $20,000.
Your Christmas and New Year donation will enable us to provide clean water to the orphanage and 497 students schooling at Iwacu Kazoz School and surrounding community of the above mentioned school; pay teachers' salaries and purchase student materials including school uniforms. You can now make your Christmas and New Year Gift through the following link: https://www.globalgiving.org/projects/providing-education-to-450-youths-in-ruhagarika/
Our total school budget is $65,646 for this school year 2015-2016. This budget will enable us to pay teacher's salaries, buy student and teacher's books, school supplies and purchase new benches.
I know there are a lot of other ways you could have spent this money, but you believe in our cause, so you chose to invest it in our project. Because of this investment, I want you to feel like part of our team. We're in this together. I want our success to be your success. We give thanks to our donors and GlobalGiving for making possible the education of these children, who could not have access to education without your financial help and prayers.
Prosper Ndabishuriye
General Coordinator and Founder