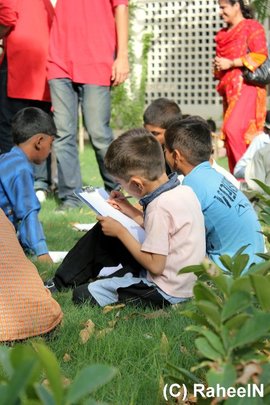 We are back to share with you last quarter's report of Zindagi Trust I-am-paid-to-learn schools across Pakistan
I Am Paid To Learn schools graduate: A total number of 253 students graduated in June, 2010 across Pakistan. Out of 253 students 80 students showed their interest to continue their studies.
New Entry: An intake of around 500 children for K.G classes started their studies in I-am-paid-to-learn schools across Pakistan. The admission process was started in the month of May'10 and was completed by June'10. Preference was given to the siblings of children already in schools.
Expansion of Secondary Education for Zindagi Trust graduates: With the support of our donors we have achieved a mile stone of expanding our PTL primary schooling scope to secondary education for our promising primary graduates. A good number of cooperative schools across Pakistan agreed to support us in this noble cause. Finally, third batch of 80 Zindagi Trust graduates have been registered with various cooperative schools.
Summer Camp 2010: It was an exciting and memorable academic term for Zindagi Trust PTL schools primary graduates across Pakistan. Schools were on break for summer vacation during which summer camps were organized by our partner private schools. Every year this is the time when PTL schools students enjoy and have fun related activities.
Generation School Organized Summer camp at Zia Colony Campus-Karachi. It was a touching experience for Generians visiting a school in the slum area. The children there were very enthusiastic and greatly enjoyed the skill-developing activities planned for them. At the end of the summer camp activities, children were awarded shields and gifts. It was a satisfying experience for both the schools. Everyone did a great job and had fun with the bright children, enjoying heart warming community service!
On-going Assessment: On going assessment techniques have given positive results on students' learning. On going assessment was carried out on daily classroom teaching to measure teaching and learning outcomes. The main focus of on-going assessment is to develop students' conceptual understanding of different subjects, rather than passing tests and examinations. Students were assessed on their on-going assessment and were promoted to next grades. This year academic result was 99% which is rated as excellent.
Teachers' Capacity Building: Since Zindagi Trust's inception, special focus has been laid on teachers' capacity building. Teachers are exposed to a variety of teaching / learning strategies and methodologies through which they try to make learning interesting and effective. Every six month academic team at Head Office reviews Teachers' Training manuals. It is also one of the greatest achievements that teachers showed confidence putting into practice newly acquired knowledge and skills in a congenial environment in their respective schools across Pakistan.
Response from Donors: It is heartening to note that our concept of providing education to the less privileged at their door steps is receiving patronage with our donors through Globakgiving. Their response has encouraged us to bring further improvements so as to evolve the programme to meet the needs of the time. We look forward to their continued support.We also look forward to an active participation from our donors in as far as bringing improvements in our programme is concerned. Suggestions and guidance from our donors is very valueable to us.