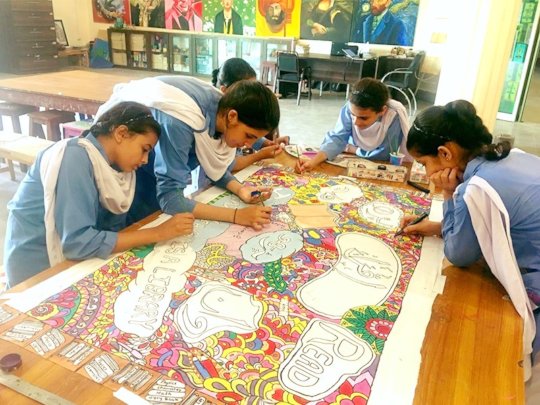 We have had an exciting last few months at our adopted government girls' schools, Khatoon-e-Pakistan (KPS) and SMB Fatima Jinnah (SMB). Read on to find out.
Art Program gets stamp of approval from world renowned artist
We had the pleasure of hosting globally acclaimed artist Imran Qureshi at one of our adopted government girls' school - Khatoon-e-Pakistan Government Girls School. He observed the student artwork that was on display in our beautiful art room as well as a class that was under way. We got to share with him the various assignments and activities which constitute our innovative Art Program and also shared our vision behind teaching art at government schools. Qureshi, who is also a faculty member at the National College of Arts, the premier arts education institute of the country, said "The way art is being taught here I have not seen at any other school, including expensive private schools, in fact, a few of the pieces on display here could easily pass off as the work of my own university students!" He specially appreciated the objectives behind each assignment and the focus on exposing students to a variety of complex mediums aimed at helping schools move beyond the traditional perception of art being limited to a painting or a drawing.
The best part was that our students got a personal introduction to his work and the philosophy behind it. They also got a chance to help create his installation titled "the Garden Within" - a comment on the current ecological situation in Karachi depicted through a massive mountain of crumpled sheets of paper on which his own art was printed - at the historic Sadequain Gallery at Frere Hall for the Karachi Biennale 2019 (a public showcase of art throughout the city). Through their participation, students learned how art can be used to express their socio-political beliefs and the different ways in which artists can interact with their environment. You can listen to Imran Qureshi's comments and view our students creating the Garden Within here.
Enriching art field trips
The Karachi Biennale is an innovative art forum, through which the work of almost 100 local and international artists was displayed at public locations throughout the city to bring art into the public sphere. 200 Students from KPS and SMB visited showcases at Frere Hall, Ibn-e-Qasim Park, and the Karachi Zoo, where they experienced installations, interactive performances, films, paintings and sculptures, all centered on the theme of ecology and the economic, social and cultural aspects of it. Students were guided by art researchers and curators who informed the students on how the artwork was created. One of the students' favorites was an installation titled 'Stitch a tree' which features the work of expert women embroiders of the country, reflecting the distinct identity of Pakistani embroidery and the importance of these women's contribution to cultural, economic and social life.
In addition to our budding artists, our art teachers from SMB took part in an assisted visit to Ibn-e-Qasim Park where they viewed over 50 installations concentrated on showcasing how the city has turned into an ecological disaster, and later took part in a lively discussion on art education and art in public spaces with educationists from 10 other institutions.
Pottery comes to KPS
Students began learning how to create and design pottery as part of the Pottery Club which started recently at KPS. 50 students from grades 6 to 10 learn from our expert pottery teacher during the club period held once a week. Stay tuned for the next report to find out an exciting project the young potters have been working on!
Students beat out private schools to win banner competition
Art students from KPS won the first prize in the banner competition organized by the Children's Literature Festival, edging out their compatriots from private schools all over the city. The banner featured artwork reflecting their love for reading along with a charming wish: I pray heaven is a library! They later accepted their award from the Commissioner of Karachi at his office.
Research shows that teaching children art at school leads to improvement of students' academic, social, and emotional outcomes. A randomized Control Trial study of 42 elementary and middle schools with over 10,000 third- through eighth-grade students found that an increase in arts educational experiences for school children led to a significant improvement in standardized writing scores, increased in interest in school and college aspirations and a reduction in disciplinary infractions.
Please consider donating today to support arts education in government schools and nurture future creative thinkers.