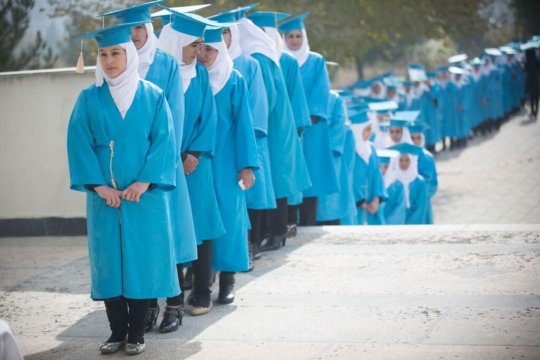 More than 100 Afghan women in Kabul graduated with a state-approved high school degree on November 21st! Afghans from all walks of life attended the ceremony-- from high-ranking government officials and diplomats to families and friends of the graduates, everyone was excited to see Afghan women succeeding. Even the media made an appearance! TOLO, an Afghan news station, reported on the graduation and interviewed AAE's founder, Hassina Sherjan.
The beautiful thing about an AAE degree is that our students are abound with options after they graduate. Some may choose to stay at home to raise their children, but others may choose to work in their communities, teach at an AAE school, or go on to university. The key word is options: with an education, Afghan women have so many more choices than they did before, and they will improve their families and communities no matter what they choose.
None of this would have been possible without you, our treasured partners for peace. The AAE team cannot express how truly grateful we are for your continuned support. If you feel so inclined, we'd like to extend an invitation. 3,000 AAE students across Afghanistan need a sponsor to ensure they can graduate just like their sisters in Kabul. For just $30 a month, you can be that sponsor and know your contribution is making Afghanistan more peaceful by the day.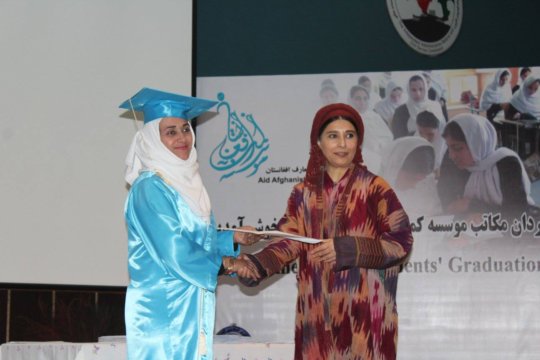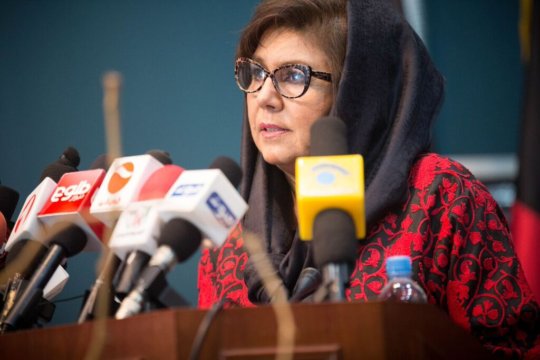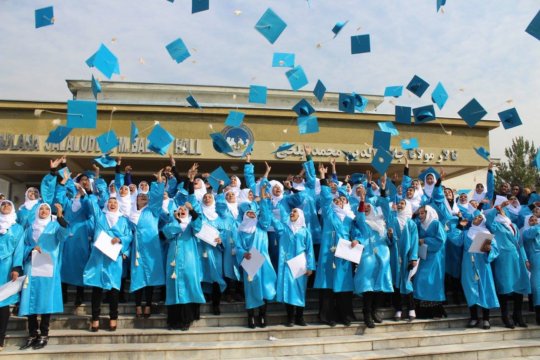 Links:
On Monday, October 26th, a devastating earthquake hit northeastern Afghanistan. Our team was immediately concerned-- we have several schools in Badakhshan. Because of the remoteness of the area, it took several days for information to reach our team in Kabul and new information is constantly streaming in.
We are happy to say that so far, all of our students are safe, but many of their homes and neighborhoods were destroyed in the quake. 20+ families in the Khash district of Badakhshan are in need of immediate aid, as are 30+ families in the neighboring Parwan province. So far, the damage is estimated to cost upwards of $20,000, and these numbers will increase dramatically once we hear from our two schools in central Badakhshan, where the damage is most severe.
Winter is approaching quickly and our students cannot be left homeless. To help northeastern Afghanistan recover as quickly as possible, we have launched an earthquake relief fund here on GlobalGiving.
Friend, you have always been a loyal supporter of our mission to Afghanistan and, more importantly, to our brave students. I ask that you take a moment to consider the enormous damage this earthquake has caused to our students' livehoods and how long it will take to recover this already-impoverished region. With that in mind, I implore you to please go to our earthquake relief fund and give and share as you are able.
Thank you for your dedication and long-standing support.
Sincerely,
The AAE Team
Links: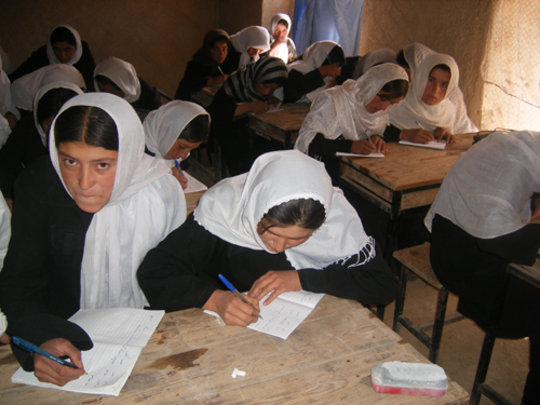 Most people can't imagine a life where your husband-to-be burns your books because he doesn't want you to go to school. For Asifa, a 28-year-old sixth-grade student in Kabul, no imagination is required: this is her reality. She was married to a much older man just after she finished third grade.
Asifa tells her story best: "During our engagement, my fiancé burned all my books and I couldn't do anything by cry and cry. Every time I found a book, I secretly read it. My only dream was to study and be an educated woman. Now that I am much older and have two children, I finally convinced my husband to let me go to school. I went back to my school, where I studied up to third grade but they didn't take me because I was married and old now. Also, all my classmates were at university and I had to attend fourth grade. I learned about AAE schools and I am very happy to be here now and I look forward to completing my education after all."
Because of AAE's widespread recognition, respect, and accelerated education for marginalized Afghans, Asifa has something new: hope. The peaceful and prosperous Afghanistan of the future will be built by hopeful Afghans like Asifa. With partners for peace like you, we're well on our way to building hope, student by student.
Links:
WARNING: Javascript is currently disabled or is not available in your browser. GlobalGiving makes extensive use of Javascript and will not function properly with Javascript disabled.
Please enable Javascript
and refresh this page.