Thank you very much for donating to earthquake recovery efforts in Afghanistan after the October earthquake. We have been able to disburse all the donations to needy families in the Khash district of Badakhshan province, in northeastern Afghanistan. Each family received about $140, which they used to begin rebuilding their houses, buy food, or pay for funeral expenses for lost loved ones.
The AAE team has full confidence in the people of Badakhshan and other organizations working to improve livelihoods post-disaster. Therefore, we will not be collecting any more funds for earthquake recovery efforts. Your support to the people of northeastern Afghanistan has been invaluable and they pass along their gratitude.
If you would like to continue supporting the people of Afghanistan in the quest for a peaceful and educated society, please consider sponsoring an AAE student at this link.
Thank you once more for choosing to support Afghan people affected by the earthquake. Afghanistan has been made better because of you.
Links: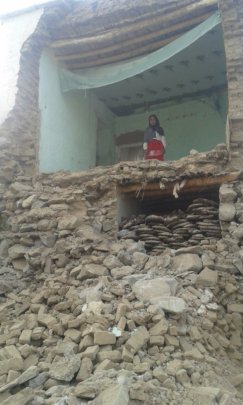 News from students' families after the Badakhshan earthquake traveled slowly. Because of massive damage to telecommunications infrastructure and the isolation of the affected areas, weeks passed without a word. As soon as we received the first set of funds from GlobalGiving, a team of AAE staff headed up the mountains of the Hindu Kush into the Khash district of Badakhshan.
Thirteen families in Khash received the donations you generously provided. Thankfully, all of AAE's students are safe, but some of their family members were not as lucky. Some of the families had to pay for funerals for loved ones lost in the earthquake. Nearly everyone's house was either badly damaged or destroyed, so many families chose to use the money to begin rebuilding their houses and buy food. Those whose houses were destroyed are either living with relatives or in tents.
Khash district is among the most remote parts of Afghanistan, nestled away in the mountains far from the cities. In fact, AAE was the first organization to reach these families-- large international aid organizations had not yet made it to such isolated areas.
But on the cusp of what is expected to be a bitter winter, we cannot forget the residents of Khash. No one else is acting, and few organizations know Khash and Afghanistan like us. AAE-- and you, in particular-- seem to be the only hope for the people of Khash.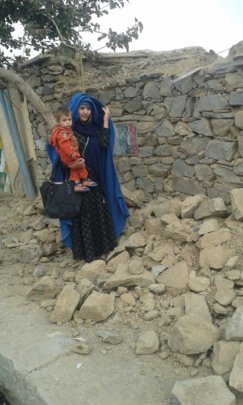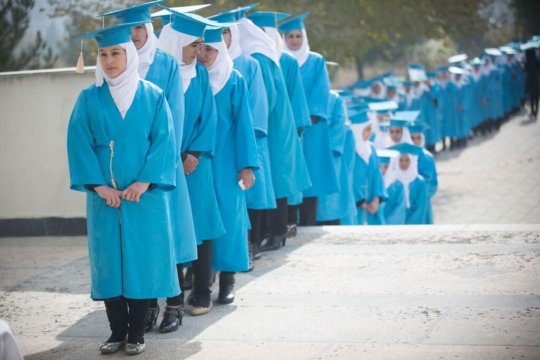 More than 100 Afghan women in Kabul graduated with a state-approved high school degree on November 21st! Afghans from all walks of life attended the ceremony-- from high-ranking government officials and diplomats to families and friends of the graduates, everyone was excited to see Afghan women succeeding. Even the media made an appearance! TOLO, an Afghan news station, reported on the graduation and interviewed AAE's founder, Hassina Sherjan.
The beautiful thing about an AAE degree is that our students are abound with options after they graduate. Some may choose to stay at home to raise their children, but others may choose to work in their communities, teach at an AAE school, or go on to university. The key word is options: with an education, Afghan women have so many more choices than they did before, and they will improve their families and communities no matter what they choose.
None of this would have been possible without you, our treasured partners for peace. The AAE team cannot express how truly grateful we are for your continuned support. If you feel so inclined, we'd like to extend an invitation. 3,000 AAE students across Afghanistan need a sponsor to ensure they can graduate just like their sisters in Kabul. For just $30 a month, you can be that sponsor and know your contribution is making Afghanistan more peaceful by the day.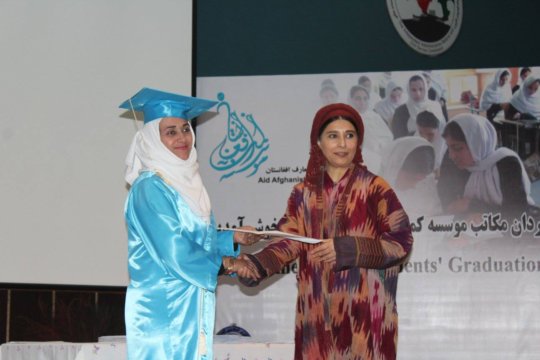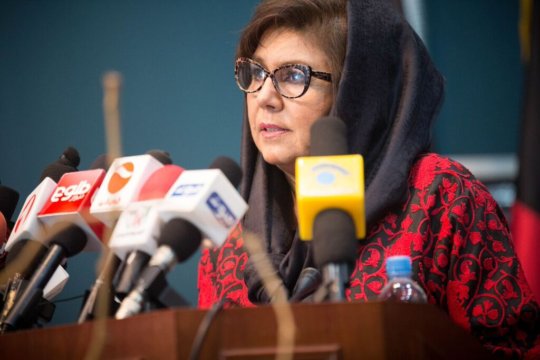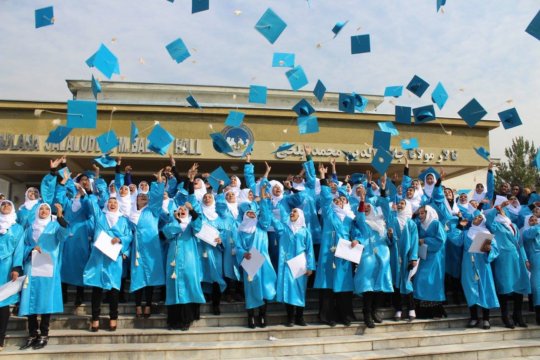 Links:
WARNING: Javascript is currently disabled or is not available in your browser. GlobalGiving makes extensive use of Javascript and will not function properly with Javascript disabled.
Please enable Javascript
and refresh this page.