Remember Anisa, the AAE graduate studying law after putting 9 children through medical and law school? She's made her way onto Al Jazeera!
Click here to watch Al Jazeera's interview with Anisa.
When she was growing up, Anisa dreamed of going to school but her father wouldn't allow it. When she married at 16, her father-in-law and husband opposed her education as well. But after every single one of her 9 children graduated high school, then university, then medical or law school, Anisa decided it was her turn.
Even though most of her fellow students could be her children, "Anisa has changed the minds and beliefs of most of her classmates," says her professor. "Her presence in the class and pursuing her education has convinced her classmates that a woman, no matter her age, can study and be self-confident and self-reliant and can achieve her goals through education."
Many people in Afghanistan are still against women's education, but Anisa refuses to listen to them. "I don't care what anyone says about me. They say that by studying at this age, what will I end up with? My response is that I will continue my education and pursue my master's and PhD. I will continue studying for my entire life so I can serve my society and my country if I get the chance. I want to be a defense attorney and fight for the rights of women whose rights have been disregarded."
Anisa hasn't let anything stand in her way. And we won't either- that's why we work every day to make sure everyone in Afghanistan has equal access to education.
Links:
Thank you very much for donating to earthquake recovery efforts in Afghanistan after the October earthquake. We have been able to disburse all the donations to needy families in the Khash district of Badakhshan province, in northeastern Afghanistan. Each family received about $140, which they used to begin rebuilding their houses, buy food, or pay for funeral expenses for lost loved ones.
The AAE team has full confidence in the people of Badakhshan and other organizations working to improve livelihoods post-disaster. Therefore, we will not be collecting any more funds for earthquake recovery efforts. Your support to the people of northeastern Afghanistan has been invaluable and they pass along their gratitude.
If you would like to continue supporting the people of Afghanistan in the quest for a peaceful and educated society, please consider sponsoring an AAE student at this link.
Thank you once more for choosing to support Afghan people affected by the earthquake. Afghanistan has been made better because of you.
Links: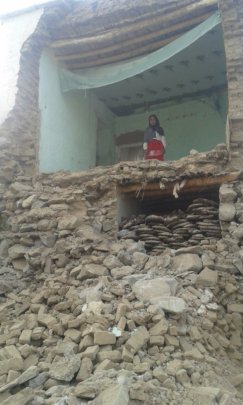 News from students' families after the Badakhshan earthquake traveled slowly. Because of massive damage to telecommunications infrastructure and the isolation of the affected areas, weeks passed without a word. As soon as we received the first set of funds from GlobalGiving, a team of AAE staff headed up the mountains of the Hindu Kush into the Khash district of Badakhshan.
Thirteen families in Khash received the donations you generously provided. Thankfully, all of AAE's students are safe, but some of their family members were not as lucky. Some of the families had to pay for funerals for loved ones lost in the earthquake. Nearly everyone's house was either badly damaged or destroyed, so many families chose to use the money to begin rebuilding their houses and buy food. Those whose houses were destroyed are either living with relatives or in tents.
Khash district is among the most remote parts of Afghanistan, nestled away in the mountains far from the cities. In fact, AAE was the first organization to reach these families-- large international aid organizations had not yet made it to such isolated areas.
But on the cusp of what is expected to be a bitter winter, we cannot forget the residents of Khash. No one else is acting, and few organizations know Khash and Afghanistan like us. AAE-- and you, in particular-- seem to be the only hope for the people of Khash.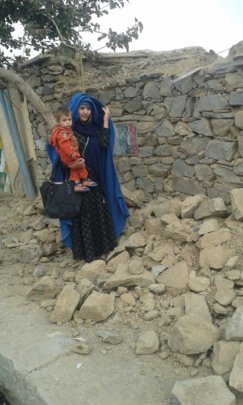 WARNING: Javascript is currently disabled or is not available in your browser. GlobalGiving makes extensive use of Javascript and will not function properly with Javascript disabled.
Please enable Javascript
and refresh this page.