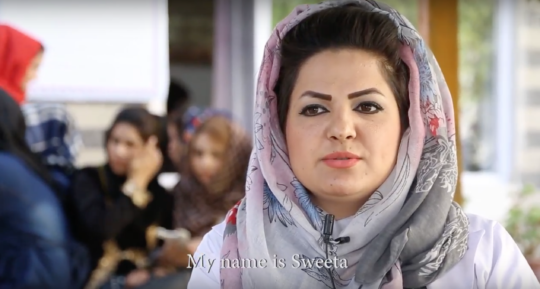 There is no one reason why girls miss years of school in Afghanistan. Some get married young. Some flee war for safety in Iran. Some have to work to support their families. Some simply do not live close enough to a school for girls. More often than not, the reason is a combination of circumstances.
Sweeta, an AAE graduate from Kabul, got married when she was young. She had to stay home and care for her children, so she missed school for ten years. However, she always dreamed of finishing school and having a career. When she learned about AAE's accelerated education program that takes students of all ages, she decided to go back to school. After she graduated, Sweeta studied midwifery. Today, she's a midwife at a government hospital in Kabul.
Click here to view a video of Sweeta's story.
Without AAE, Sweeta could have kept wishing forever—without the opportunity to actualize her dreams. Our goal is to help girls and women like Sweeta finish their education, no matter their circumstances. We're there every step of the way to make sure they have the support they need. Even after graduation, the AAE team helps students make smart career choices and continue to university. AAE graduates even meet to mentor and support each other. Right now, we're training graduates to work in the AAE office as office managers, executive assistants, and human resource officers.
Your donations helped Sweeta become the midwife she always wanted to be, which in turn will give her children the educational and financial support they need to succeed. One by one, educated women are bringing peace to Afghanistan.
The holidays are coming soon, including Giving Tuesday on November 28, and we hope you'll include our brave students in your year-end giving plans. GlobalGiving is continuing to offer a match on donations to AAE through the Safer World Fund, which supports organizations like ours working for peace in Afghanistan. Additionally, there is a $75,000 incentive fund which will be divided up proportionally among all donations on Giving Tuesday, November 28.
These matching funds, combined with your donations, mean we can continue to help women of all ages achieve their dreams— no matter why, or how long, they missed school.