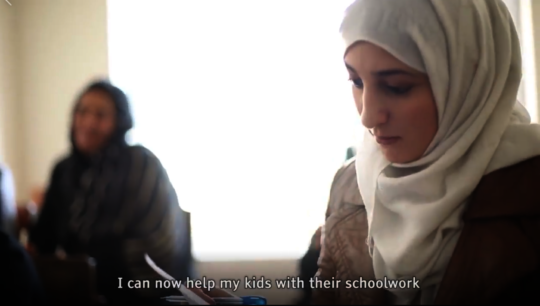 Dear friends,
Hello from Kabul! We've had a busy few months working with women and girls across Afghanistan to help them reach their educational dreams. In February, Aid Afghanistan for Education was awarded "Best Practice in Financial Management" by the Afghan Institute for Civil Society, and also received certifications in program management and delivery, internal governance, strategic planning, and other areas. Learn more.
In March, our founder and director Hassina Sherjan traveled to Oxford in the United Kingdom to speak at the World Literacy Summit. She spoke with other world educators about the issues that current education systems produce around the world: individuals programmed with information, instead of people who can think critically for themselves. Hassina believes standard education does not produce happy and joyful people, which contributes to unrest in the world. She also discussed the need for a new international development approach to support long-term programs instead of short-term projects.
We also celebrated International Women's Day in March with the release of an updated video about AAE's impact, which follows the stories of four women we've worked with over the years. Foruzan, a mother studying in 12th grade; Rona, a math teacher who was once a cook at the first AAE school; Anita, a graduate that became a midwife; and Hamida, who recently graduated from the American University of Afghanistan. Watch the video here.
Mother's Day in the United States is on May 13, and we're thrilled that GlobalGiving is helping us honor Afghan mothers by organizing a Mother's Day campaign! From May 1 through 13, you can donate in your mother's honor to support Afghan women's education. For the mother who has everything, a donation supporting other mothers can be an amazing gift. If you start a new monthly donation, it will be matched 100% by GlobalGiving.
We're so grateful to have your support for Afghan mothers like Foruzan, who tells her story in the video linked above. And to every mother reading this, have a very happy Mother's Day!