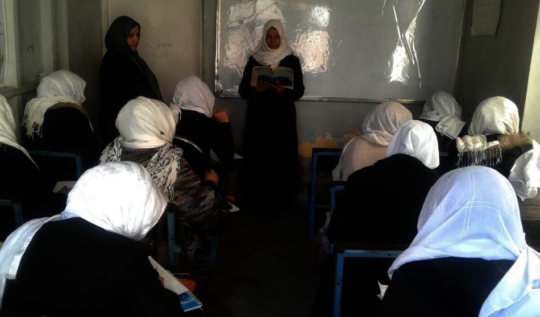 Dear friends,
Thank you so much for your continued support of Aid Afghanistan for Education's schools and students. Times are turbulent in Afghanistan, but it brings our team comfort knowing we can count on your support. Today, I'd like to introduce you to two students who have overcome monumental challenges to pursue education.
First, meet Mariam. At 35 years old, she's attending 12th grade - her final year - at an AAE school in Kabul. Not so long ago, Mariam was unable to attend school because her brothers and father wouldn't allow her. They didn't believe it was necessary for women to go to school. Before she knew it, she was engaged to her cousin, and that marriage quickly turned abusive. After her husband died, she returned to her parents' home.
Mariam's father abused her as well, and she became depressed because her in-laws took her children when her husband died. Finally, after Mariam's father died, she discovered AAE and went back to school. Her two children returned to her, and the three of them rented a room together. Mariam cleans houses when she's not at school to support her children. Despite her challenges, she enjoys school and learning, and is looking forward to getting a better job to provide for her family.
Maneeja is another Kabul student. At 23 years old, she's studying in 10th grade. She's returning to school after seven years after her father forced her to work to help support her family. Maneeja originally tried to return to a public government school, but they told her she could not study there since she had been gone so long. Evening school was the only option, but that was not possible since women should not be out of the house that late alone.
After that, Maneeja learned about AAE schools, and attends school in secret. If her father finds out, he will force her to quit. Maneeja still sews in the evenings to earn income for her family.
Both Mariam and Maneeja have overcome seemingly impossible family challenges to go to school. We're so proud to offer them accelerated, quality education so they can learn, engage in civil society, educate their families and children, and contribute to a peaceful Afghan future. Thank you for all you do to support students like Mariam and Maneeja - we couldn't do it without you.
And finally, happy New Year! Afghanistan celebrated Nowruz, Persian New Year, during the spring solstice on March 20. May each and every one of you have a new year filled with light, peace, and prosperity.