Thank you so much for all your support to help Aid Afghanistan for Education create new women's schools in Kabul. There is a great need for schools like ours, providing remedial accelerated education to mothers, widows, and returned refugees. For now, though, we have to put this project on pause and focus on supporting the students already in our community.
This year has brought incredibly difficult times to us all with COVID-19, and in Afghanistan, we have faced delays with the government and funding gaps. We are hopeful for the future, and know that our community is invested in helping us serve more students.
While we are closing this GlobalGiving project, we will continue raising funds to support students through our main project, which you can learn more about here.
Thank you again for your generosity—we are so thrilled and encouraged to have your support! We hope that you and your family are taking care and keeping safe.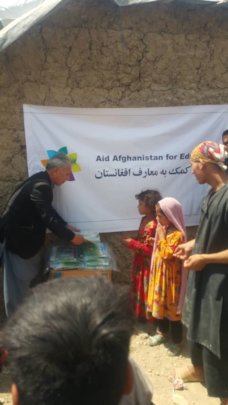 The outbreak of COVID-19 severally affected education in Afghanistan. At the outset of the outbreak, schools were closed, and 8.7 million children couldn't attend school. AAE's schools closed as well.
The Ministry of Education instructed students to continue their education from home by attending the education programs through radio and televisions. However, this solution isn't affordable to most of families, especially the internally displaced people and returned refugees, a key population that we work with at AAE.
To contribute to the continuous education during the outbreak, AAE initiated the distribution of learning materials to highly marginalized children. In the first phase, AAE mapped the IDPs and returnees camps in Kabul, and through close coordination with the Kabul Education Directorate, distributed educational materials to 300 children.
Tracking the result of the initiative, the target beneficiaries identified the learning materials useful to their continuous education. Hanifa, a third-grade student, said, "When the schools closed, I was advised by the school management to stay at home. My family couldn't afford the costs of the self-learning materials. So, I had to continue learning without the needed materials. When I received the learning materials from AAE, since then, I am effectively learning, and I can read and write by myself."
In the next phases, AAE will expand the distribution of learning materials to highly marginalized students.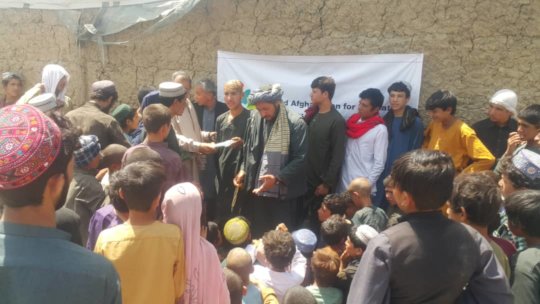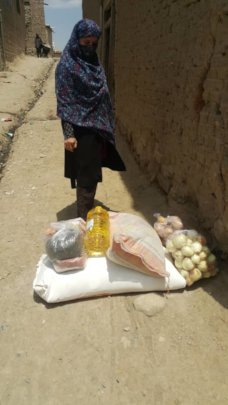 Hello dear friends,
All of us here at AAE hope you and your communities are keeping safe, wherever you are. Schools around the world are closed because of the pandemic and AAE schools are no exception. Afghanistan does not have the infrastructure to support e-learning, so education for many students is simply on pause until this virus passes.
As such, this project to open new schools is also paused. All this global uncertainty presents a challenge when planning, but we are committed to the education of women and girls in Afghanistan, and are hopeful for the future.
Our team has been busy responding to the needs of our particularly vulnerable students, including some who are widowed, single mothers. Their work at tailoring shops or schools has stopped and they have no income. We have been distributing packages of food and cash to support them while the city is essentially closed.
It is not easy working in Afghanistan, and COVID-19 adds an extra layer of difficulty. Please keep safe and well, and we will do our very best to do the same.
WARNING: Javascript is currently disabled or is not available in your browser. GlobalGiving makes extensive use of Javascript and will not function properly with Javascript disabled.
Please enable Javascript
and refresh this page.