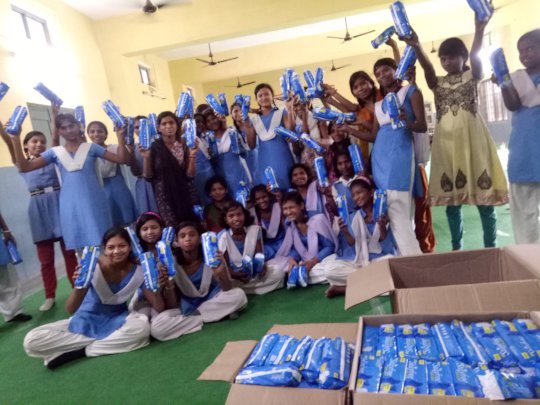 Menstruation and menstrual practices are still clouded by various taboos and social-cultural restrictions resulting in adolescent girls remaining ignorant of the scientific facts and hygienic health practices, which sometimes result into adverse health outcomes.
Adolescent girls constitute a vulnerable group, particularly in India where the female child is often neglected. Menstruation is still regarded as something unclean or dirty in Indian society. The reaction to menstruation depends upon awareness and knowledge about the subject. Although menstruation is a natural process, it is linked with several misconceptions and practices.
With an objective to provide critical information & knowledge regarding menstrual hygiene and safe practices, we conduct several workshops & awareness sessions for adolescent girls residing at orphanages / child care institutions in some rural parts of India.
Recently, sanitary napkins were distributed to 140 girls from different child care institutions in locations Katni, Chindwara, Indore, Ujjain & Khandwa within the state of Madhya Pradesh.
We have also carried out various orientation and awareness sessions around menstrual hygiene on different topics such as -
1. Basic menstrual hygiene
2. Safe disposal of sanitary napkins
3. Dealing with menstrual cramps
4. Importance and use of sanitary napkins
5. Adolescent health program which covers important information on bodily changes and dealing with these
Our staff at other locations in different states of India are also running similar programs with girls at other child care institutions.
We see that girls are opening up, discussing their personal hygiene issues with doctors, making an effort to maintain personal hygiene which is helping them overcome hygiene related issues such as rashes, itches. Most importantly, girls are very happy to be able to use sanitary napkins as they step out to go to school with confidence!