Hi there! Not too much of an update at this time. Due to the COVID-19 Pandemic Uganda is on lockdown, so the kids who live at House of Hope full time are there carrying on with daily life as usual, but there is no school and no one is allowed to leave the property.
All the kids who have homes or family members who are willing to take them in have gone there, and we expect them back after the lockdown is over. Until then, we are just hunkered down and trying to behave outselves as much as possible!
Hopefully we'll have a fuller and funner report for you next time.
Thank you for your continued dedication. With your love and support support the hopeless are hopeful.
Happy new year to you all.
Thank you for all the support you gave us in 2019. We wouldn't have made it thru without this support.
We concluded the school term with joy since our children passed and were promoted to higher classes. Angela was 3rd out of 23, Flavia was 7th out of 35 and David scored 20 aggregates which is Division 2.
During the year, the children have had several intervals of illnesses but the major one was (and still is) for Flavia. She has been on and off with intervals of serious illnesses. She responds differently to her drugs. However, she's OK as I write this. In general, we need a lot of social support for our well being. I have attached the children's end of term reports.
(Unfortunately due to GlobalGiving's policies we are no longer able to include copies of the children's report cards)
We plan to have photos of the chirldren for you soon.
Thank you all again for your continued love and support.
Stephen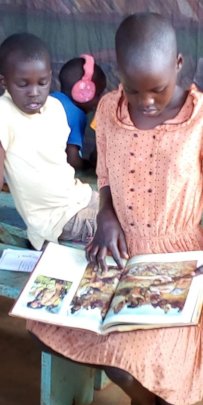 "We've got to pause and ask ourselves,how much are we doing to make the young ones love books?"
~ David, GRU Librarian
When I was little my mother read to us every night before bed. It started with basic kids picture books that were mostly pictures and has simple plots, and ended with classics like Hatchet and Bunnicula. It was a luxury really- one that I did not realize I has until I came to Uganda. Here, most families do not have children's books. Many parents are illiterate and while cultural folklore is passed down through the art of storytelling, it differs from the indulgence of books.
Our libraries add a bit of that luxury that I had as a child. While our librarians are not reading the kids stories at bedtime, they do welcome children of all ages and sit with them and they are read stories. They explain the stories and translate them into the children's native tongue. They widen the children's imaginations and open up their worlds so when the kids are a bit older- they can read on their own.
It's a small thing in the grand scheme of things, but to these kids, the libraries are a pretty big deal.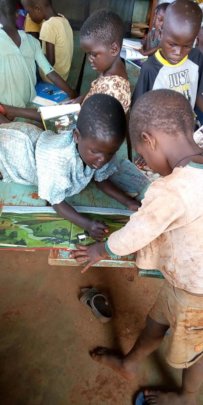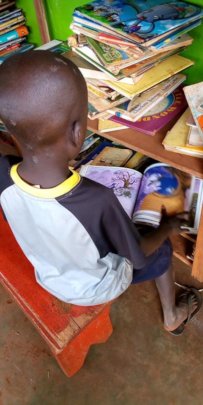 Links:
WARNING: Javascript is currently disabled or is not available in your browser. GlobalGiving makes extensive use of Javascript and will not function properly with Javascript disabled.
Please enable Javascript
and refresh this page.