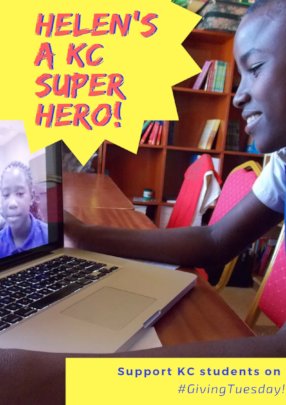 Over the years we have provided project reports that shared the many initiatives that Kenya Connect has inaugurated to break down barriers to education and to empower and engage students and teachers to be successful in the 21st century. These robust programs are a result of donors like you who support our work, and more importantly the students in Wamunyu.
Today we want to share a few stories of our Kenya Connect Super Heroes. Your past support has helped Helen, the third daughter of a wood carver and subsistence farmer, use a computer for the first time. Considering that Helen and most of our students lives with no electricity, this is quite a feat. With access to technology classes, Helen learned how to use computer assisted design and a 3D rpinter to create a small solar flashlight. Helen dreams of being a nurse, and having access to Kenya Connect's enrichment programs is helping her pursue her dream.
Another Super Hero is Evans. Evans has been part of the English ACCESS program and has exhibited strong leadership skills and has won recognition by the U.S. Embassy as a member of the ACCESS program. He loves reading and acting and would like to be an architect. The son of a casual laborer, Evans is dreaming big and is already contributing to his community.
Mutua is the only child of a single mom who works as a tailor. He is extremely bright and outgoing and would like to be a teacher. He has taken a number of computer classes including coding and 3D pritning. Mutua loves to sing and dance and is seen as a leader.
And we have Carol, a joyful girl with physical and cognitive impairments. She is in the prevocational class at the Wamunyu Special School. Her mother is single and a peasant farmer. Carol loves singing, reciting choral verses and poems. An avid knitter, Carol plans to do this as a career. Carol is also a champion handwasher and encourages her peers to wash up!
These are just four of the 17,000 Super Heroes that we work with each day. Students in rural Wamunyu face so many barriers to education. Support from donors like you have made a profound impact on these students.
Will you continue to support us in 2018 with a gift on #GivingTuesday or by year end? All gifts on #GivingTuesday, November 28 will be matched and recurring gifts will be matched by 200% through the end of December.
On behalf of the Kenya Connect Team, please accept our continued heartfelt thanks. You, too, are heroes for supporting our life changing work.