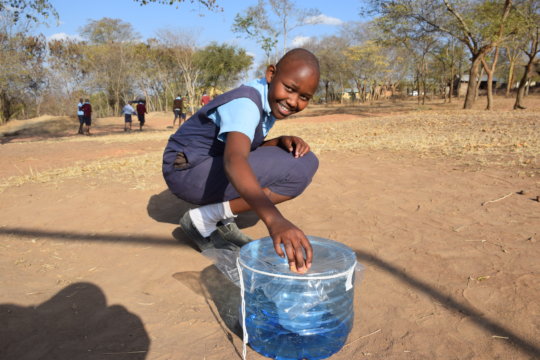 "I am happy when I see students doing new things and loving it. One of the teachers at Kituiu Primary School asked what I am teaching students because they are very excited anytime I arrive at the school for the LUV class." Patrick Munguti, Director of Technology and Education Programs.
Since September Kenya Connect has expanded our technology classes with the expansion of LevelUp Village (LUV) classes. Focused on science,158 students at three of our partner schools in grades 5-8 are taking the following classes: Global Inventors, Global Water Crisis and Global Scientist.
Combining hands-on learning with digital course content, students in the Global Scientist Class are learning about building aquifers and how human activity can pollute the water in the aquifers. Experiments using filtration and distallation give students a clearer understanding of the challenges of clean water. Using the scientific method, students in the class will work with their peers in the U.S. to design a project.
Students in the Global Water Class are also learning about the challenges of clean water and issues surrounding drought. The students in Wamunyu know first hand about the crisis that they and their families face when the rains don't come. As a result of Climate Change, the rains have shifted and are not coming as frequently. This class helps the students learn about solutions. Using Tinkercad, an online design program and following engineering design cycle, the students are creating a design to solve water problems and print it using 3D printer.
Global Inventor, has been a favorite class of Wamunyu students. It solves the problem of the lack of light at their homesteads through creating a solar light using Tinkercad and our 3D printer. Students in the US, who partner with our Kenyan students, learn about the challenges of the lack of energy infrastructure and work alongside with their peers to develop a solution.
Thanks to donors like you, we are able to expand our students' horizons and knowledge through these dynamic, fun and interactive classes. Your support provides the technology infrastructure, internet and staffing to ensure success for our students.
Teacher Kivuitu, Kambiti Primary School remarked, "Students are so excited to learn in the LUV classes. The technology accompanying the classes makes them more authentic and exciting to the students."
These classes are one of our strategies to empower and engage our students and teachers with 21st century skills and learning. Thank you for supporting the work of Kenya Connect and opening our students' minds through these invigorating and exciting classes! If you're not doing so already, follow Kenya Connect on Facebook, Instagram and Twitter for a daily update of our work!
Asante Sana!