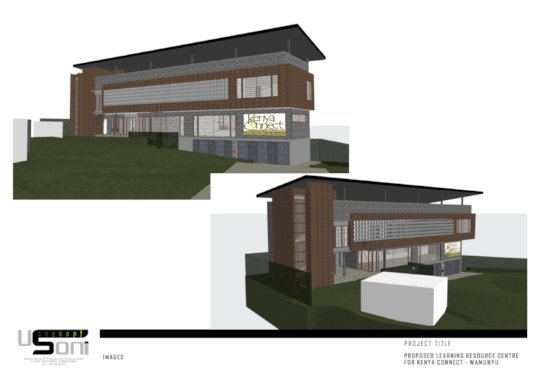 The Kenya Connect LRC Annex drawings are complete and we are counting down the days to our November ground breaking! Since our highly successful July match day, we have revised the original building design to include an "open-air" rooftop terrace that will enable us to hold additional workshops, meetings, and events with a lovely view of Wamunyu! We have also expanded the space for the library to accommodate our growing book collection, program needs, and places for the students to read and study.
The drawings have been submitted to the county government for permitting, and as soon as the permit is granted, we will begin digging the foundation. In the meantime, thanks to a grant from PayPal Gives, we are digging a well on the property which will allow for clean water to be used in the buidling and for the use of nearby residents. With hundreds of students, teachers, and community members visiting each week, having a source of water is essential, especially during periods of drought. Our staff is also investigating the best means to ensure stable internet access for the LRC Annex and are eagerly planning the interior design of the library.
The LRC Annex is possible because of donors like you who believe in our work to lift a community through the power of education. We will be sending an updated report in November of the official ground breaking. As the construction commences, we will be posting on our social media channels: twitter, facebook, and instagram, and we'll send regular reports. If you haven't followed us on these channels, please do so you can watch the progress of the building as well as learning more about our community led work.
We are still seeking to raise $20K for the project, so if you are so moved, we invite you to make an additional donation on GivingTuesday, December 1. This year our friends at GlobalGiving have 1 MILLION in incentive giving funds so ALL gifts will receive some type of a match!
Last week, Gloria, one of the students in our LitClub shared what she thought about our literacy programs. "I like LitClub because we read stories like "The Princess and the Pea." They make me become more creative and then I have stories to share with my younger siblings. I always check out books from the Kenya Connect library. My favorite storybook is "The Stepsisters" which teaches about honesty."
Thank you for making our dream become a reality and helping us to build a proper library for Gloria and the 18,000 students in our community.