An anonymous donor will match 100% of donations to $1000 after noon on April 30 EST but before 11:59PM.
________________________________________________________
Thank you CW Friends for all you have done for CW
You have raised just under $20,000 toward the Chicuchas Wasi School Budget, now shortfall $35,000. If we are awarded the $5000 in bonus money we will be closer to fund the budget.
We could not do this alone!
_________________________________________________________
•LAST DAY OF CHALLENGE•
•100% Donation Match starts April 30 EST
•Begins noon EST
•Tell your friends who might appreciate this offer and will donate.
__________________________________________________________
•Last Day to win bonus $$•
Your support is truly appreciated and heartwarming to us all at CW.

Links: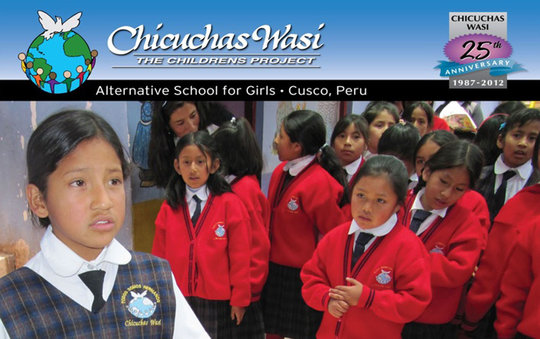 YOU

raised $16,000

toward the Chicuchas Wasi School budget, PLUS the possible $5,000 in bonus money if we hold our #2 and #1 ranks. We began this GG challenge April 1, with a $49,000 budget shortfall to fully fund CW's $131,000 budget for 2013. With your donations and the bonus $$ we lower our shortfall to $28,000.

You did this!

Every one of our 115 students will benefit from your generosity.
NEW SURPRISE GlobalGiving BONUS DAY--15% Donation Match -- April 24 12:01 am EST (The allocated $3,000 runs out in a few hours.)
http://www.globalgiving.org/projects/educate-a-poor-girl-cusco-for-economic-family-survival/?rf=ggWidget
At CW school for undervalued girls we emphasize empowerment and self-confidence. This past week CW tackled a long held belief by uneducated rural men and women: "women have not voice, nor vote." Rural women have been taught that they are inferior to men and destined to suffer from hunger, poverty, rape, beatings, and inability to care for their children because they are women. Women believe that they have no power to make decisions to change the gender inequality that keeps them impoverished and silenced.
To provide our students with greater understanding, CW school Director Ruth organized a CW school election to elect a school Mayor. Every class nominated a candidate, and that class helped their candidate prepare for the debate against the other 8 candidates. A moderator was chosen to keep order and monitor the time allocated for candidate to speak. The stage was set like an actual debate setting and props were loaned to CW by the Government org that oversees elections. The debate was presented to all 115 students to listen, learn and to think about so they might make a good choice for school Mayor. Secret ballots were filled out and the Mayor was chosen. Every girl student is finding her voice and how to use it, and our students will know how and why they must vote to bring equality to all indigenous women and girls of Cusco.
We are changing the lives of poor indigenous girls little by little, and YOU are making it possible.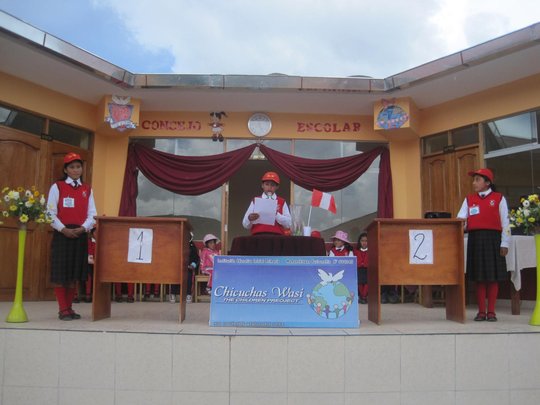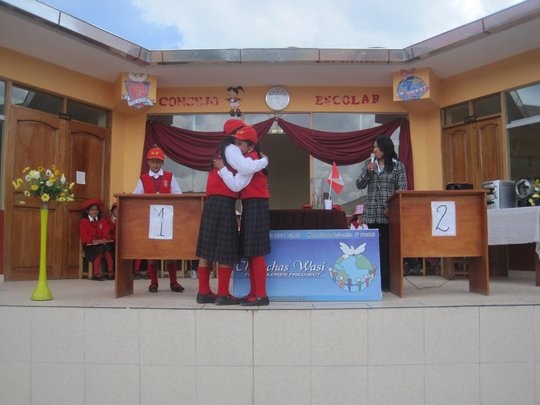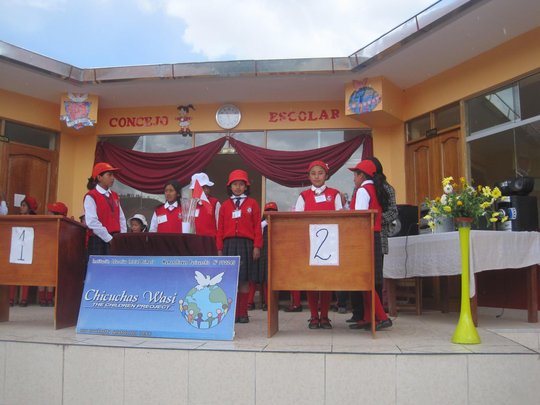 Links:
Attachments:
YOU did it! Thank YOU so much. On day 2 we reached $5,000 and secured a permanent place on GlobalGiving (GG) online fundraising org for Chicuchas Wasi School. We are ranked #1 today and could win the large $$ bonus award GG offers- won't be decided until end of challenge on April 30. To win we must keep our #1 position. Counted are: donations amounts and numbers of individual donors, and our position on top.
Today is Day 9 of the challenge and YOU have donated $10,560 to date, reducing our 2113 school budget shortfall to $43,040 remaining to fully fund the 2013 CW school budget of $131,000. The CW fundraising GlobalGiving campaign continues forward, now we are secured on GG, to fund our shortfall.
Your donation matters, from $10.00 to $1,000.00 USD your dollars go directly to support the CW School. All U.S. management and administration expenses are donated by the California Board of Directors. If you already donated thank you, if you were waiting please do it now.
Chicuchas Wasi is a small, grassroots nonprofit that has somehow survived 26 years YOU are wonderful and this support is BIG for us!
---------------- Please Donate TODAY! --------------
The Bonus awards will not be decided and awarded until April 30
Your donation really matters. Thank you from all of us at Chicuchas Wasi School for Girls.
Links:
WARNING: Javascript is currently disabled or is not available in your browser. GlobalGiving makes extensive use of Javascript and will not function properly with Javascript disabled.
Please enable Javascript
and refresh this page.