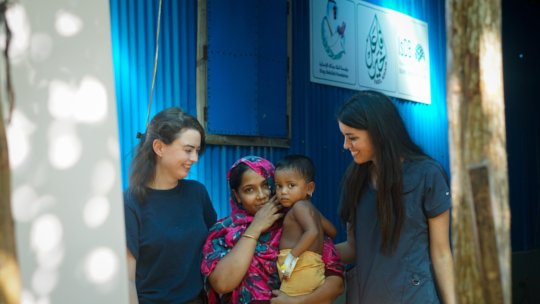 The Hope Field Hospital started small with important ambulatory services for primary care and reproductive health including diagnosis, observation, consultation, treatment and intervention.
Today, the hospital, is a place where livesaving miracles happen everyday.
Maternity services
This HOPE Field Hospital is the first field hospital for women (it is estimated that around 1M refugees are living in the Rohingya Settlements, 70% of them are women and children) staffed by national and international professionals.
The most important part of the maternity services is that this field hospital has surgical capacity.
24/7 Emergency Obstetric Care in HOPE Field Hospital for Women;
EmOC or emergency obstetric care refers to the functions necessary to save lives.
These include:
Administer parenteral antibiotics
Administer parenteral oxytocic drugs
Administer parenteral anticonvulsants for pre-eclampsia and eclampsia
Perform manual removal of placenta
Perform removal of retained products
Perform assisted vaginal delivery
Perform surgery
Perform blood transfusions
Furthermore, pediatricians are specially educated and trained in diagnosing and treating illnesses in infants, children and adolescents. Most important, this is a bargain by virtue of the illnesses and injuries that are prevented, keeping the child healthy potentially for a lifetime.
Neonatal care
The importance of an onsite NeonatalCare Unit is key in delivering a healthy baby. Pregnancy and childbirth are important steps in any family's life. Childbirth, especially, is a complex process that requires a great deal of physical and emotional strength from both mother and baby.
The HOPE Field Hospital for Women provides around-the-clock care to sick or premature babies.
All of this is possible because of generous people, like yourself.