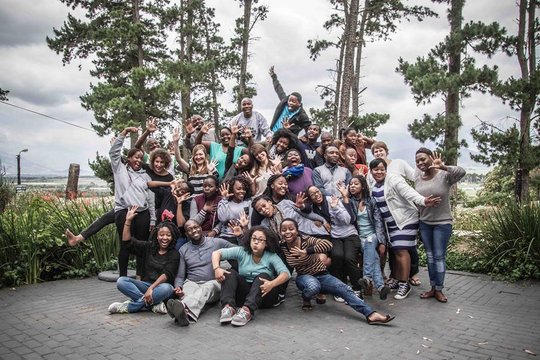 Every year IkamvaYouth arranges two weeks' intensive tutoring which takes place during the Winter School holidays ('Winter School'). Winter School is one of the most expensive aspects of our model as the learners have to be transported from their local branch to the venues and we also cater for our learners whilst they are there, often it is the only meal our learners will eat that day. This year close to 1,000 learners participated in Winter Schools across the country. IkamvaYouth's volunteer tutors did not disappoint as they attended with such motivation and determination to ensure that the Winter School of 2014 was a great success.
During Winter School not only do our learners participate in intensive tutoring sessions but they also attend workshops and events with our partner organisations. For example, South African Astronomical Observatory ran workshops on the night sky, Capitec ran workshops on financial literacy and HIV testing took place at all winter schools. Many young minds were inspired during IkamvaYouth's Winter Schools and many dreams took a giant leap towards their fulfilment.
An addition to our model this year was Matric Camp in the Western Cape for our Grade 12 learners who are completing their final year of school. This year due to their rural location the Grade 12s from our Eastern Cape Branch, Joza, were transported to the Western Cape so that they could participate in matric camp. The first day saw all the learners arriving at the site and participating energetic team-building exercises to help break the ice as learners started interacting more freely across the branches. True to IkamvaYouth culture, tutoring started in earnest from day one and the learners spent the rest of the afternoon working through past exam papers and Answer Series guides.
Throughout the camp learners took part in a variety of activities aimed at preparing them for their final exams and tertiary studies: from intensive tutoring and exam practice to workshops around how to study effectively and evening self-study times.
Whilst the camp is a serious study boot camp, with tutoring happening from early in the morning until late into the night, the learners found the time to energise themselves through an impromptu talent show; an evening of singing, dancing, stand-up comedy and drama.
Sixolisiwe Sibebosi, a volunteer tutor, said: 'The matric camp was very productive. Firstly everything was well prepared, the kids were hungry to learn and that motivated me. IkamvaYouth has changed my life; I passed my matric because of IkamvaYouth'
Bonke Sibunzana, a learner said: "What I liked about matric camp was how committed the tutors were. They encouraged us to use the tutoring time wisely. I also like how united we were as Ikamvanites. Everyone showed love and support for each other"
Thank you for your continued support of IkamvaYouth. Without you, our work would not be possible.
Links: