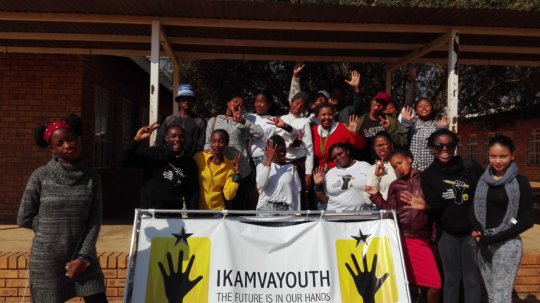 Every Winter School holiday IkamvaYouth hosts its annual Winter School- A two week intensive tutoring programme, coupled with; real life career guidance and exposure to various career paths, through targeted field trips, leadership and life skills workshops, which include voluntary HIV/AIDS testing.
This year was no different- with averages of over 80% attendance, learners enrolled in 16 of our IkamvaYouth branches came out in scores. Our 2017 Winter School program ran from July 3 - 14. Speaking to learners who attended this year's Winter School, it appears that much of the success of the programme stems from the positive tutor experiences they encountered.
An essential component of IkamvaYouth's Winter School is covering academic content. Tutors helped the learners in answering questions they found most difficult in their various subjects.
Boitumelo, Grade 10 learner from the Mahikeng branch said she particularly enjoys the interaction with the tutors and knowledge sharing with her peers from other schools, during Winter school. "My teacher at school usually shouts and screams, but when I come here I know that the tutors will help me. Winter school has helped me with revision and especially things that I did not fully understand during the last term. It also helps a lot to have learners from other schools because we share the different topics covered at our [respective] schools."
Thapelo, Grade 11 learner from Mahikeng finds the Winter School programme to be very beneficial to his studies. "The tutoring has been really helpful especially in Maths and Physical Sciences. The tutors encourage us to ask questions." He said he intended to pursue a career in either Analytical Chemistry or Chemical Engineering.
Samukelisiwe, Grade 12 learner from the Umlazi IkamvaYouth branch has the following impression of the programme: "Winter School had a huge impact on my academic life, through it I was able to tackle some of the questions that were challenging me the most. It gave me time to focus on all my subjects. With the help from tutors I was able to learn more and grow academically. I am grateful even for the career guidance which opened my eyes to all opportunities out there waiting for me as a matriculant. IkamvaYouth ROCKS!"
Albert, 27, one of Mahikeng branch's committed tutors said that the programme was not only valuable for the learners but equally fulfilling for himself as a tutor. Albert, who has been tutoring at the Mahikeng branch since 2015, is an Information Technology (IT) graduate. Although he completed a degree in 2013, challenged with a physical disability he has not been able to find employment in the Mahikeng and surrounding areas, where he would love to be based. Despite his immediate challenges, which could have easily led him astray, he has not been deterred but instead found purpose in paying it forward to the learners from his community.
"The tutoring has given me so much experience, I know a lot of things now. You see with IT you often deal with just computers. Now with these kids you realise you have to adjust, to say you are not just working with printers but you are dealing with people."
By his own admission many of his peers who have pursued careers in scientific fields, like IT often lack in social and interpersonal skill- something he has had to hone while tutoring at the branch.
"There some people who sit behind computers, from computer to computer from morning till you knock off. You find that sometimes you hardly socialise. The moment you are with people you struggle to integrate and feel like you often lack in this."
He said that because learners often struggle grasping concepts he has had to improvise and pull in communication skills he did not even know he had.
Albert has since the 1st of August found employment and has relocated to Johannesburg. We hope he will continue paying it forward at one of our Johannesburg based branches!
We would like to thank all our donors, who opened up their hearts and donated to our worthy cause and thus enabled to us to make a difference in the lives of over 2000 South African Youth through the IkamvaYouth branches! Your contribution made our Winter School programme a massive success- Thank you!
For any further information please visit our website: http://ikamvayouth.org/